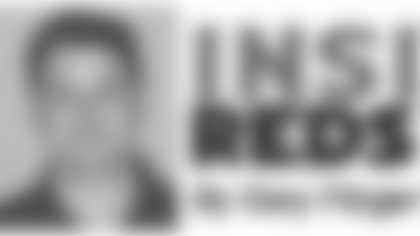 The Redskins' draft room is sure to be a hectic environment come Saturday afternoon.
With the 13th overall pick in this weekend's NFL Draft, team officials have plenty of options.
Select a quality player and potential starter? That could be the safest bet.
Trade up? It's a possibility, although sometimes difficult to do without mortgaging the future.
Trade down and acquire more picks? That's a possibility, too.
Redskins owner Daniel M. Snyder, executive vice president of football operations Vinny Cerrato and head coach Jim Zorn say there are prepared for anything when the draft gets underway.
"It can get very hectic in there," Cerrato told reporters in a pre-draft briefing at Redskins Park on Wednesday.
He recollected on last year's draft when the Redskins completed a trade with the Atlanta Falcons, acquiring three draft picks, just before time expired on their selection.
"I think we got the trade done with Atlanta with about six seconds left," Cerrato said. "You have to do a lot of things in the time you have [to make a selection]. You have to talk to the teams back and forth.
"Other teams are calling you, and then you've got to get the league on the phone to complete the trade. And then you've got to get your card up there with who you're taking."
The Redskins have spent the last two months preparing for every scenario that could occur on draft day.
Teams are evaluating the draft board and targeting trade partners, he said.
"Right now, everybody is willing to go up, back, whatever," Cerrato said. "You don't know what happens until Saturday. There are deal-makers and there are pretenders. Some teams are just searching to see if they can get an unbelievable deal."
The Redskins have five picks--just two in the top 80--in this year's draft. They traded their second-round pick as part of the Jason Taylor trade last July.
Team officials have targeted needs at offensive tackle and defensive end, two positions that typically carry a high premium in the draft.
The Redskins could trade up into the top 10 and draft an elite offensive tackle, such as Virginia's Eugene Monroe or Alabama's Andre Smith, or an elite defensive end, such as Texas's Brian Orakpo.
With so few picks in this year's draft, though, do the Redskins have the ability to trade up into the top 10?
Said Cerrato: "I think anything is possible. It's just what you're willing to give up."
Trading down would allow the Redskins to acquire additional picks and possibly address both offensive line and defensive end.
"I think sitting where we are at No. 13, there's a chance because there are teams who could come up for a quarterback or a running back or a corner," Cerrato said. "But you can't trade back if nobody calls. We've been in that situation before, too.
"The times you can get more picks are if a several teams want your spot. If there's [a prospect] two teams are coveting, then you have a chance to get a better deal. Kind of like last year--we really didn't know and then Atlanta called last-minute."
The Redskins have two starting-caliber right tackles in Jon Jansen and Stephon Heyer and they signed veteran defensive ends Phillip Daniels and Renaldo Wynn in free agency.
So the team can go into the draft and not necessarily feel obligated to select an offensive tackle or defensive end.
Another need position for the Redskins is outside linebacker.
Several quality linebackers prospects, such as USC's Rey Maualuga and Brian Cushing, should be available when the Redskins pick at No. 13.
Ultimately, the player the Redskins end up with will depend on how the draft plays out.
"It depends on who's there and how we feel about the players, compared to who else is there," Jim Zorn said. "There is always more than one guy there that you have to make a decision about."
Staying patient and level-headed is the key to thriving as those decisions are made, he added.
"In the draft room, the thing I noticed last year was being aware," Zorn said. "You know, there is kind of a heightened awareness about everybody and I think that is a very important element to the draft room.
"You have to be very alert and aware, even as you are calm and patient. You have to be very aggressive in any situation that can come up. That's what I saw in our room last year, and I imagine it will be the same."