There would be no heartbreak at Qwest Field this time.
The Redskins used a strong ground game, efficient passing and an opportunistic defense to defeat the Seattle Seahawks 20-17 on Sunday.
It wasn't the magnitude of a playoff game, like the Redskins' last two visits to Qwest Field, but it was still a hard-earned win.
It was a needed win, too.
The Redskins put an end to a two-game losing streak and improved their record to 7-4 on the season. They remain tied with the Dallas Cowboys for second place in the NFC East.
Clinton Portis, slowed by a sprained knee the last two weeks, was in top form against the Seahawks, rushing for 143 yards on 29 carries to lead the offense.
Jason Campbell shrugged off some early sacks and played mostly mistake-free football. He completed 20-of-33 passes for 206 yards and one touchdown, a crisp 8-yarder to Antwaan Randle El.
The defense was able to get some pressure on Seattle quarterback Matt Hasselbeck, sacking him twice.
LaRon Landry and Shawn Springs recorded interceptions, the latter effectively ending the Seahawks' last chance to rally.
At the game's outset, the Redskins' offense struggled to get into rhythm, as Campbell was sacked twice in the early going.
The Seahawks took advantage, starting their second drive of the game near midfield.
Running back Maurice Morris broke free for a 44-yard gain, with Landry making a touchdown-saving tackle.
The Seahawks had settle for a 45-yard, line drive field goal by kicker Olindo Mare.
The Redskins responded, with Campbell guiding the offense downfield. Campbell scrambled for a 17-yard pickup, and then he tossed a 20-yard pass across the middle to Santana Moss.
Campbell's third-down pass to Chris Cooley was off target, so the Redskins had to settle for a field goal attempt, too.
Suisham's 49-yarder was short and hit the crossbar. No good. The score remained 3-0 Seahawks.
Midway through the second quarter, the Redskins moved into scoring range, with Portis picking up chunks of yards. On one carry, Portis followed a punishing block by Mike Sellers to gain 20 yards.
The drive nearly stalled when Moss was flagged for unsportsmanlike conduct after he got in a shoving match with cornerback Josh Wilson.
Moss made up for his gaffe by drawing a 21-yard pass interference penalty on cornerback Kelly Jennings to the Seahawks' 14-yard line.
Cooley caught a 10-yard pass to get the Redskins closer.
One play later, Ladell Betts burrowed through blocks by Pete Kendall and Chris Samuels for a 1-yard touchdown run.
Late in the second quarter, the Seahawks took the lead back behind strong running of Morris.
Hasselbeck capped the drive by throwing a pass in the flat to Morris, who plowed into the end zone for a 4-yard touchdown catch.
Seattle got off to a strong start in the second half when Brown returned the kickoff 55 yards to the Redskins' 45-yard line.
The Redskins' defense stepped up, though, as a blitzing Rocky McIntosh sacked Hasselbeck to stop the Seahawks momentum.
Mare's 53-yard field goal attempt was wide right.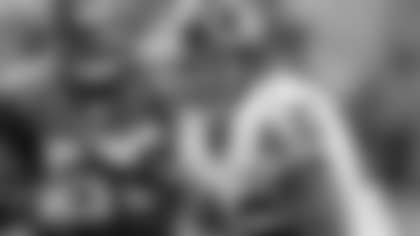 Redskins vs. Seahawks](/media-gallery/photos/week-12-redskins-vs-seahawks/373A5729-66B8-4C1F-9D54-CCC35C5C1C59)

Campbell followed the field goal miss by throwing passes to Moss for 15 yards and Mike Sellers for 12 yards.
On a key 4th-and-1 play at the Seahawks' 16-yard line, Portis found space to the left for a 3-yard gain.
The drive stalled, so Suisham came on for another field goal attempt. This time his 26-yarder sailed through, and the game was tied at 10-10.
On Seattle's next drive, Landry made a diving interception of a Hasselbeck pass and returned 13 yards to the Seahawks' 32-yard line.
Campbell found Cooley on a short pass to the right, and Cooley broke a tackle down the sideline to pick up 21 yards.
One play later, Campbell threw a sharp pass across the middle to Randle El. He eluded a tackler and dove into the end zone for an 8-yard touchdown catch.
The Seahawks responded, though, as Hasselbeck quickly guided the offense downfield.
On 3rd-and-8 at the Redskins' 31-yard line, Hasselbeck threw a pass across the middle to wide receiver Bobby Engram for a 21-yard pickup. Shawn Springs had solid coverage, but Hasselbeck and Engram were able to connect.
On the next play, Hasselbeck threw to tight end John Carlson, who had a step on Rocky McIntosh in coverage, for a 10-yard touchdown pass. The game was tied again at 17-17.
The Redskins kept the pressure on.
Campbell found Moss on a slip screen, and the wide receiver broke a tackle down the left sideline for a 24-yard pickup. Then Campbell found Randle El for a 10-yard gain and Malcolm Kelly for a 7-yard pickup.
The drive stalled in the red zone, as Sellers could not hold on to Campbell's 3rd-and-1 pass.
Suisham connected on a 22-yard field goal to give the Redskins the lead back.
The Redskins would get the ball back with 7:05 left in the game, but the offense was backed up at its own 4-yard line.
The Redskins' running back picked up 9 yards on his first carry, then broke loose for an 11-yard gain.
And then Portis burst past a block by Samuels to get into open field. He was dragged down after a 20-yard gain.
On 3rd-and-6 at the Redskins' 48-yard line, Campbell fired a clutch 13-yard pass to Moss for a first down.
The clock continued to dwindle on the Seahawks.
Disaster struck when Betts fumbled as he was being tackled to the ground. Safety Brian Russell appeared to jar the ball loose from Betts' arms and defensive end Baraka Atkins was there to recover the fumble.
So the Seahawks had one more chance.
Hasselbeck fired a pass downfield to wide receiver Koren Robinson, but the ball was under-thrown. Springs was there to pull in the interception.
DeAngelo Hall and Landry covered Springs up to try to keep a Seahawks player from trying to strip the ball.
---
The Redskins travel west to Seattle to take on the Seahawks on Sunday, Nov. 23 at Qwest Field. Kickoff is 4:15 p.m. ET.
Qwest Field uses FieldTurf artificial surface. The stadium seats 67,000.
The Redskins are 3-1 in road games this year. They have won three in a row on the road following a Week 1 loss to the New York Giants at the Meadowlands.
It's sure to be a critical NFC game for the Redskins, who are 5-3 in the conference. The conference record is often used to determine tiebreakers for the playoffs.
It's also the first of two West Coast road trips for the Redskins this season. In Week 17, the Redskins travel to San Francisco to play the 49ers.
The Redskins are 1-1 against the NFC West this season, with a 24-17 win over the Arizona Cardinals and a 19-17 loss to the St. Louis Rams. Both games were at FedExField.
The game against Seattle is a homecoming for Redskins head coach Jim Zorn, who was the first-ever starting quarterback for the Seahawks franchise. He played for the Seahawks from 1976-84 and then returned to the club as quarterbacks coach from 2001-07.
The game will be televised on FOX. Matt Vasgersian does the play by play with color commentary by J.C. Pearson. Nischelle Turner serves as the sideline reporter.
On radio, the game will be broadcast locally on ESPN 980. Larry Michael handles the play by play with color commentary by Hall of Famers Sonny Jurgensen and Sam Huff. Rick "Doc" Walker serves as sideline reporter.
---
PROJECTED STARTING LINEUPS
OFFENSE
Pos.
Redskins
Seahawks
WR
89 Santana Moss
18 Koren Robinson
LT
60 Chris Samuels
71 Walter Jones
LG
66 Pete Kendall
66 Mansfield Wrotto
C
61 Casey Rabach
65 Chris Spencer
RG
77 Randy Thomas
77 Floyd Womack
RT
76 Jon Jansen
75 Sean Locklear
TE
47 Chris Cooley
89 John Carlson
WR
82 Antwaan Randle El
83 Deion Branch
QB
17 Jason Campbell
8 Matt Hasselbeck
FB
45 Mike Sellers
43 Leonard Weaver
RB
26 Clinton Portis
22 Julius Jones
DEFENSE
Pos.
Redskins
Seahawks
DE
99 Andre Carter
91 Baraka Atkins
DT
96 Cornelius Griffin
92 Brandon Mebane
DT
64 Kedric Golston
99 Rocky Bernard
DE
55 Jason Taylor
55 Darryl Tapp
LB
54 H.B. Blades
56 Leroy Hill
LB
59 London Fletcher
51 Lofa Tatupu
LB
52 Rocky McIntosh
98 Julian Peterson
LCB
27 Fred Smoot
21 Kelly Jennings
RCB
22 Carlos Rogers
26 Josh Wilson
SS
48 Chris Horton
24 Deon Grant
FS
30 LaRon Landry
25 Brian Russell
SPECIAL TEAMS
Pos.
Redskins
Seahawks
P
1 Ryan Plackemeier
9 Jon Ryan
K
6 Shaun Suisham
10 Olindo Mare
H
1 Ryan Plackemeier
9 Jon Ryan
LS
67 Ethan Albright
49 Jeff Robinson
KOR
31 Rock Cartwright
26 Josh Wilson
PR
82 A. Randle El
30 Justin Forsett
---
The Redskins and Seattle Seahawks have played 15 times, with the Redskins holding a 9-6 lead in the series.
In the regular season, the two teams have played 13 times, with the Redskins leading 9-4 in the series.
The Redskins and Seahawks have met twice in the postseason.
On Jan. 5, 2008, the Seahawks defeated the Redskins 35-14 at Qwest Field in the Wild Card round of the playoffs.
Antwaan Randle El and Santana Moss scored a pair of touchdowns early in the fourth quarter to take a 14-13 lead, but the Seahawks ralled with 22 unanswered point to win the game.
Todd Collins was 29-of-50 for 266 yards and two touchdowns, but he threw two interceptions that were returned for touchdowns in the fourth quarter.
In the 2005 NFC Divisional Playoffs, on Jan 14, 2008, the Seahawks prevailed 20-10 at Qwest Field, moving on to the NFC Championship game and ultimately Super Bowl XL.
The Seahawks took the lead late in the second quarter when quarterback Matt Hasselbeck tossed a 29-yard touchdown pass to wide receiver Darrell Jackson. Then, early in the third quarter, Hasselbeck scored on a 6-yard touchdown run.
Mark Brunell threw a 20-yard touchdown pass to Santana Moss to make the score 17-10 early in the fourth quarter, but the Redskins could get no closer. Brunell finished with 22-of-37 pass completions for 242 yards and one touchdown.
The late Sean Taylor led the defense with six tackles. The Redskins could not generate enough pressure on Hasselbeck, logging no sacks in the game.
The most recent regular-season meeting between the Redskins and Seahawks was Oct. 2, 2005, when the Redskins defeated the Seahawks 20-17 in overtime at FedExField.
Nick Novak kicked a game-winning field goal on Washington's first possession of overtime to give the Redskins the win.
The last time the two teams met at Qwest Field in the regular season was Nov. 3, 2002. The Redskins defeated the Seahawks 14-3 on two touchdown passes by quarterback Shane Matthews.
---
REDSKINS 2008 RANKINGS
Offense
Rank
Yards/Game
Total Offense
13
336.3
Rushing Offense
5
139.4
Passing Offense
20
196.9

Defense
Rank
Yards/Game
Total Defense
4
276.4
Rushing Defense
5
84.3
Passing Defense
10
192.1
SEAHAWKS 2008 RANKINGS
Offense
Rank
Yards/Game
Total Offense
31
253.8
Rushing Offense
19
108.3
Passing Offense
31
145.5

Defense
Rank
Yards/Game
Total Defense
28
380.7
Rushing Defense
21
115.5
Passing Defense
31
265.2
---
FAMILIAR FACES ON THE SEAHAWKS
Quarterbacks coach Bill Lazor served as an offensive assistant with the Redskins from 2004-05 and quarterbacks coach from 2006-07. He helped develop Jason Campbell during his first two seasons as a starter.
Running back T.J. Duckett played for the Redskins in 2006. He logged 38 carries for 132 yards and two touchdowns in his only seasons with the Redskins.
---
REDSKINS-SEAHAWKS NEWS & NOTES
-- Zorn Returns to Seattle
Simply put, Jim Zorn is a legend in Seattle.
Zorn was the first starting quarterback for the Seahawks franchise in 1976 and played there for nine seasons, establishing franchise records. He is one of only eight players inducted into the Seahawks Ring of Honor.
Zorn was the quarterback for the first-ever Redskins-Seahawks matchup in 1976. He completed 9-of-20 passes for 128 yards and one touchdown in a game the Redskins won 31-7 at RFK Stadium.
Zorn played three times against the Redskins. He was 36-of-79 for 455 yards, two touchdowns and five interceptions. He had a passer rating of 46.1.
After his playing days, Zorn returned to the Seahawks franchise in 2001 to serve as quarterbacks coach under Mike Holmgren. He helped develop the skills of quarterback Matt Hasselbeck, a three-time Pro Bowler.
Zorn was named head coach of the Redskins last February. He still maintains ties to the Seattle area, but he has started to put his stamp on the Redskins as he transforms the offense into a West Coast system used by Seattle.
"It'll be an interesting game from the standpoint of me going back to Seattle," Zorn said. "But I'm going to look at it as the next test. I don't want to caught up in the whole thing--'I was there, now what do I think?'
"I've got to get our guys prepared against a very good Seahawks defense. Their offense has been struggling, but Matt Hasselbeck is back and he can beat you. He can beat you. We have a lot of work to do this week."
-- Former Seahawks Return to Seattle
Redskins cornerback Shawn Springs, left guard Pete Kendall, running back Shaun Alexander, safety Mike Green and punter Ryan Plackemeier are former Seahawks.
Springs was the Seahawks' first-round draft choice in 1997 and he played seven seasons in Seattle before signing with the Redskins in 2004. He earned his only Pro Bowl berth as a member of the Seahawks in 1998.
Kendall was the Seahawks' first-round draft choice in 1996. He spent his first five seasons with the Seahawks, establishing himself as a starting NFL offensive lineman.
Alexander, Green and Plackemeier signed with the Redskins on Oct. 14 this year.
Alexander, a first-round draft choice of the Seahawks in 2000, played for the Seahawks from 2000-07.
He owns at least a share of 24 Seahawks franchise records, including career touchdowns (112), rushing yards (9,429) and attempts (2,176). He was named league MVP following the 2005 season in which he helped lead the Seahawks to Super Bowl XL.
Plackemeier was with the Seahawks in Week 1 before getting released. A sixth-round draft pick by the Seahawks in 2006, Plackemeier had 11 punts in the Seahawks' season opener.
Green, a 9-year vet, played in Seattle from 2006-07.
In addition, Redskins defensive end Phillip Daniels, who is on injured reserve rehabbing a knee injury, is a former Seahawk.
Daniels was a fourth-round draft choice of the Seahawks in 1996. He played four seasons in Seattle, developing into a front-line starter. He had one of his best seasons in 1999, recording a career-high nine sacks.
-- Zorn's First Season As Head Coach
Jim Zorn is 6-4 in his first 10 games as Redskins head coach. He is aiming to lead the Redskins to their third winning season in the last four years.
Zorn is looking to become the seventh Redskins head coach to record a winning record in his first year at the helm.
The list of first-year head coaches with winning records includes Ray Flaherty (7-5 in 1936), Dutch Bergman (6-3-1 in 1943), Dudley DeGroot (6-3-1 in 1944), Dick Todd (5-4 in 1951), Vince Lombardi (7-5-2 in 1969) and George Allen (9-4-1 in 1971).
Seven first-year head coaches finished their rookie campaign with a .500 mark, while 12 finished with a losing record.
When Jim Zorn was hired as Redskins head coach, he brought with him two assistant coaches with ties to Seattle.
Sherman Smith, offensive coordinator, played running back for the Seahawks from 1976-82. He was a second-round draft choice by the club. For his career, Smith compiled 3,429 yards with Seattle, making him the Seahawks' all-time leading rusher at the time he departed the team.
Stump Mitchell, assistant head coach-running backs, served as a running backs coach with the Seahawks from 1998-2007. One of his star pupils during that span was Shaun Alexander, who was a 2005 MVP and became the Seahawks all-time leading rusher.
Defensive coordinator Greg Blache has connections to Mike Holmgren.
From 1992-93, Blache coached Green Bay's defensive line while Mike Holmgren worked as Packers head coach.
Also on that coaching staff were future NFL head coaches Andy Reid, Dick Jauron, Ray Rhodes, Steve Mariucci and Jon Gruden.
The Seahawks have three players who hail from the Washington, D.C., region.
Linebacker Julian Peterson, second on the Seahawks with 10 sacks, grew up in Washington, D.C., near Hillcrest Heights, Md., and went on to play at Michigan State. He was a first-round draft choice of the San Francisco 49ers in 2000.
Second-year cornerback Josh Wilson, a backup on the Seahawks' depth chart, grew up in Upper Marlboro, Md., and attended the University of Maryland. He was a second-round draft pick of the Seahawks in 2007.
Rookie fullback Owen Schmitt hails from Fairfax, Va. Schmitt, who played college football at West Virginia, was a fifth-round draft choice of the Seahawks last year.
With the addition of Shaun Alexander to the offense on Oct. 14, the Redskins now have two of the top eight active career rushing leaders on the team.
Alexander has 9,453 yards and Portis has 8,778 yards, as of Week 11 this season. They are two of 30 players in NFL history with at least 8,500 career rushing yards on their resume.
The only other team to have a pair of 8,500-yard rushers playing together was the 1992 Los Angeles Raiders, which featured Hall of Famers Marcus Allen and Eric Dickerson.
Redskins fullback Mike Sellers hails from Lacey, Wash., where he was named Washington state's prep player of the year as a student at North Thurston High School.
He subsequently earned Juco All-America honors at Walla Walla (Wash.) Community College.
The Redskins have elected six players as captains for the 2008 season. They wear a black "C" on their jersey during games.
On offense, Jason Campbell amd Chris Samuels are the captains.
On defense, Cornelius Griffin and London Fletcher are the captains.
On special teams, Rock Cartwright and Khary Campbell are the captains.
Washington returns to FedExField to host the NFC East-leading New York Giants in a pivotal matchup. Kickoff is 1 p.m. ET.
The Redskins lost to the Giants 16-7 in Week 1 in the Thursday night NFL season opener at Giants Stadium.