Entering his fourth year with the Redskins, quarterback Colt McCoy has never been more comfortable and confident in his career. As he prepares for another season, McCoy reflects on his time in Texas, going through adversity and taking pride in an unheralded role. *
How cool was it to have both of your daughters watch you at training camp this year?
It was cool. It was the first time my family had come to training camp, have two little girls, and that was a nice break-up to camp see them after practice, let them run around for a little bit. Kids are such a blessing. It's fun to let them see their dad at work. I spend so much time here, kind of get a glimpse of what I do, even though they're not really old enough to understand yet, it's just fun to have them around.
So that was the first time they both saw you on the field?
What's it like having two daughters now?
It's awesome, it's work. Kids are great but they require a lot of time. My wife's a saint, she does a great job with them. The time that I do get to spend with them I cherish it.
And you had a full offseason to see your second daughter grow up.
Yeah, I was there for all the dirty work.
When's the last time you had to buy yourself a drink in Austin, Texas?
Not very often. People in Texas are great. It's pretty neat to be able to go back there for a month or so during the offseason and see family and friends and Austin's a great place. It makes me feel pretty special the way people feel about me there. It's pretty cool.
Do you still feel like a celebrity when you're there?
I guess a little bit. I don't really look at it that way. I try to be involved in the community there and here as much as I can. My wife and I do a lot for children's' hospitals. I'm a pretty laid-back guy. I stay out of the scene as much as possible. Playing in the NFL, we're already in a glass box, so the offseason is a time where I can relax and just spend some good family time and stay out of the spotlight.
I'd imagine it's hard to do that down there, right?
Yeah, anywhere you go you get recognized. That's nice.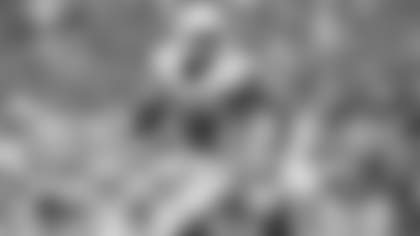 What made you commit to the University of Texas?
Well, I grew up in Texas. I always kind of felt [that] if I ever had the chance to go play at UT that I was going to do that. Late in my high school career, I got the offer and loved Coach [Mack] Brown and it was a dream come true for me. I really didn't have any doubts that's where I was supposed to be.
It's such a different city than the rest of Texas.
Yeah the perception of Texas is a little different and then you go to Austin, and you're like "Whoa, I didn't know this was really Texas." It's a great place. It's pretty, hill country, lots of water. You can pretty much find whatever you want there.
You finished in the Top-3 Heisman vote two times in your college career.  Did you ever have any bitterness about missing out?
Maybe. I thought I may win it the first year [2008] that I got invited. The second year I wasn't all that concerned because we were playing in the National Championship and that really was my ultimate goal anyways. Looking back, I got no regrets. It was cool to be honored. Football is a team sport, man, it's a team sport in college, it's a team sport in the NFL. Guys play well around you and you play well, then generally, you're going to have some success. It wasn't anything I did. I was part of a good team.
What was it like then jumping right to Cleveland? You went from big man on campus to backup in a totally new environment.**
Probably the biggest challenge of my life was that transition from college to pro. I think the thing that is probably the most challenging for me was for the first time in my life I had not been healthy. I had major shoulder issues.
From that hit in the championship game against Alabama.
Yeah, issues to where didn't know if I was going to get drafted. I went from thinking I was going to get drafted pretty high to not even knowing. That's a pretty big emotional ride there. Then I go to Cleveland and there was no lack of effort or how bad I wanted to be successful there. It just didn't work out for a lot of different reasons. I just took it on the chin and tried to bounce back and now I'm in a place where I feel confident, I feel comfortable, and I know where I'm supposed to be. Right now, I feel like I've grown up a lot since I first came into this league from that standpoint.
I feel like I've learned a lot about how this game is played. I've had the ability to sit back these last couple of years and watch and learn a whole lot of things and evaluate and figure out, if I'm given this opportunity again, how am I going to handle it? I'm in a much better position now, mentally and physically, to handle that. So yeah, it's been quite the journey, but I feel I'm where I'm supposed to be right now.
What did you take away from your time in Cleveland that you still use today?
I took away a lot. I'll never forget some of the things that happened in Cleveland, whether you want to use that as motivation or you want to use that as a chance to learn and evaluate what went on. I think in a lot of different ways, I've grown to channel some of the things that went on there and use it in a positive way and, again, I'm happy with where I am now, and I always prepare to do my best and answer the call if needed.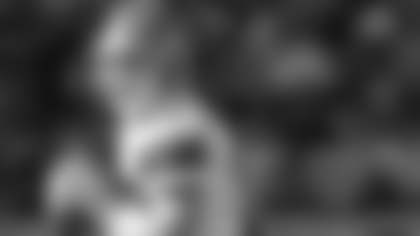 Is that from a football perspective or a personal growth one?
I think both. I think from a football standpoint and also just a life standpoint. Really, before I came into the league I hadn't faced a whole lot of adversity, had to bounce back and pick myself up from failure and things not going the way you want it to. I think I've just grown up a lot in general. I don't think there's any situation that will come that I won't be able to handle.
When you faced that adversity, did you have someone to lean on?
Yeah, I've got people around me that I feel like always shoot me straight. From a football perspective, I just had to really dial in, on my job and my responsibilities. I'm not a better athlete than everyone else anymore. I've got to learn how to play the position and all the things that come with that. I don't think there's any place I'd rather be than right where I am now because I feel confident in what we do as a unit, as an offense. I feel like I can run that show. I was in five systems my first five years in the league, where I didn't know the intricacies of things that were going on. That's a tough thing playing quarterback. Here, I've had three years now, not a whole lot of experience on the field, some, but I've really had a chance to speak the same language for this long and feel pretty confident about that.
And that's what you wrote about in The Players' Tribune last year. Is writing something that interests you after football?
That was fun to do that. I kind of go about my business as professional as I can and try to be the same person every day, but at the same time, when The Players' Tribune approached me about that, I felt like it wouldn't be a bad idea to let people who always ask me to let them know, "Here's what I'm doing, here's where I'm at."
Just because of being a backup?
Yeah, and I think at this point in my career, I hope for an opportunity at some point. But at the same time, I'm thankful for where I'm at, learning how to lead when I'm not on the field and being around guys every day and trying to help us win games. That's a challenge in itself for me, but I do feel like I bring that to the table and I mean, if anything I've learned you just never know in this league what's going to happen and the best thing you can do is always be prepared. That's kind of my approach every day.
Because you never played a snap last year in the regular season, did you get antsy?
I think you do get a little bit antsy. As the weeks go by and as the season goes by, you get halfway through the season, it's been three months since you've really played real football. I think at that point it's even more of a mental approach to coach yourself up, keep grinding, keep doing the extra stuff that you've done. Maybe grab some receivers at the end of practice if they're not gassed and work on some timing, but that's all part of this game, you know?
So how much do you cherish these next two games then?**
I certainly don't take it for granted. I think what the preseason allows me to do is realize this game is fun. You play with guys you may or may not be playing with during the season. But also look at it as a chance to help those guys to make a name for themselves, help those guys make some plays. And again, as I mentioned earlier this is the ultimate team sport. It takes 11 guys every time. I want to be able to do my job as good as I can each play, and hope that I'm doing enough that the guys around me are doing their jobs and we can go score some points. I look forward to preseason.
With that being said, how much stock can you put into these games, especially if you have a tough outing one day?
It's tough, man. Every time you want to go out on the field you want to put your best foot forward. You want to play well. I think there's a lot of things I did well against Baltimore, there's a lot of things I need to clean up. I think just as a unit overall, we all gotta clean up. We just gotta be a little more efficient and learn from some of those things.* *
When you think about Kirk Cousins ahead of you and the unpredictability of his upcoming offseason, does it give you any consternation?
I think from being in the NFL for the last seven years, if there's ever been a time where I have just been locked in on one day at a time, it's now, because you just never know. Kirk has played great the last couple of years. I think he's going to have another great year. The offense, by the time we get to the season, I think we're going to have a pretty solid identity of who we are and what we're trying to do. I know there's high expectations in the locker room, so even though I'm not on the field, I'm part of that and I'm proud of that. I gotta do my part that if something does happen, I need to come in and play a couple of games, we don't miss a beat. That's what I take pride in. Every day I'm doing what I'm supposed to do to be ready for that moment. There may be other ways to look at it, but for me, that's the way I'm going to approach it.
I heard you and Kirk both went to the Coldplay concert a couple weeks ago, too.
Yeah, it was cool, Nate [Sudfeld] went, too. It was weird to do that during training camp but it was fun.
Who sang the most out of the three of you?
Oh Kirk and Nate for sure. I didn't know many Coldplay songs. I was listening to them on the way there so I could get familiar with them, but Kirk and Nate knew all the songs.
So you just leaned on them?
Yeah, I just leaned on them.
And are you giving Kirk any fathering advice with their baby due soon?
Yeah, he's getting close. Yeah, [he's asked me] a little bit. I'm sure most of those questions are going to come when the baby's here. There's always so many things with your first child, you're just like, "I don't know what I'm supposed to do." I'm sure those conversations will heat up a lot once the baby comes.