The outside linebacker enters his seventh year in Washington having never missed a game in his career. He reflects on a variety of topics, including his social media habits, his desire to stay in the D.C.-area and what he aspires to do after his football life finishes. *
Is there a better feeling on the field than grabbing a pick-six?
I would say a pick-six in a win would be the only better feeling. Two of my pick-sixes have come in losses, the first one came in a win. It was definitely a lot easier to enjoy after the win than it was after the losses. It's definitely exciting because you catch the ball, you kind of realize you're in the open by the crowd's reaction because they're cheering, they know you're going to score. At that point it's just pure joy.
I can imagine when you're touching the football it's a weird experience.
It is a little bit, especially when you're running with it. It's one thing to dive on it in a pile and just cover it, but to catch it and run the other way and score with it, it's a little nerve-wracking because you're like, how's my ball security going to be if I do encounter someone that wants to tackle me, and how do I defeat someone if they're going to try and tackle me? It's definitely weird for a defender to do it, but it's a great feeling nonetheless.
You're a mild-mannered guy off the field and the opposite on the field. Is it strange when you think about that dichotomy?
If you actually sit down and think about it, yeah. You  think like, "Ok I have to be really aggressive, violent and try to destroy the guy I'm going against on the field," but off the field I'm pretty quiet, pretty reserved, non-confrontational. It's pretty interesting when you think about it.
I guess you have to have that to live a balanced life. **
Oh, you have to have that. You don't want to be both* *on both fields. You don't want to be nice off the field and nice on the field. You don't want to be mean on the field and mean off the field. You got to find the balance -- I know it's cliché -- to flip the switch.
Was pass-rusher a position you always wanted to play?
Yeah, ever since I started playing tackle in fifth grade, I was a defensive lineman, partially because I was too heavy to carry the ball. Otherwise I might have tried to play quarterback or something else. I've been playing defensive line and rushing the quarterback pretty much my whole football life.
Is there a big difference for you when you go through a variety of linebackers coaches, as you have in your career?
A little bit. Anytime you have a switch in coaches, it's obviously a change, but I mean I think you just try to absorb as much as you can from each coach because they're all going to help you take your game to another level.
Your birthday was last month. How did you celebrate?
My fiancée went down to the city and we went to Ben's Chili Bowl. That's my first time going to the U Street original. That's kind of my thing. Anytime I get a free chance, I want to go to the city and just experience something new in the city because there's so much to do here in D.C. That's kind of my thing. Some guys go to the country, I head east.
Did you at least have a nice dinner though?
We went to Eddie V's in Tysons for dinner. So I got one half-smoke [at Ben's] for the experience and then went to Eddie V's afterwards.
Do you have any pressure around birthdays to make it a big day?
Honestly, my birthday's always been during training camp, so it's never really been a big celebration thing to where I'm like, "I'm going to do this, I'm going to go out," it's always been whatever day of the week it is for me. Since I've been with my fiancée, birthdays have always been a big thing for her, so she's always made my birthdays a big deal and always has balloons and cooks for me. It's definitely changed since she's come into the picture.
So are you a little spoiled?
The past few I've definitely been spoiled.
Is that the biggest difference being engaged now?
Yes, I'm definitely more spoiled on my birthdays now. It's a point of emphasis for her and she takes pride in making it a good birthday.
You also help run your bulldogs' Instagram account. Did you realize this was going to be a thing?
I really had no idea. What's really funny is we'll be walking around Reston Town Center with the dogs and we'll get stopped by someone that'll say "We follow your dogs on Instagram, I can't believe it's them." It's like, "What?" These people are fans of my dogs?
Did you set up the Instagram first?
No, my fiancée did. She set it up. I'll throw up a post every once in a while, but she's the wizard with it, gets the pictures all right. It's crazy to see the following. They're awesome dogs.
Do you have more fun posting about dogs or posting on your own account?
The posts on my dog's account are more frequent, so I'd say on my account, if I'm posting about something I'm really feeling, "Ok, I want to get this out there," because I want to make my posts unique and not so frequent.
What's the main reason you don't tweet as much as some of your teammates?
I don't know. I get on Twitter all the time. I'm probably on Twitter as much as anybody I just never post anything. I just like to see what other people post. Honestly, I don't really have a lot to say, both in person and on Twitter.
I guess you can leave the posting to your fiancée.
Yeah she's a more frequent poster than I am. She probably does a better job of keeping people up to date with what I'm doing outside of football than I do. That's one of the perks of being engaged.
I ask because I know it's easy to get jealous or annoyed with people who post a lot. Is that maybe a reason for your smaller presence?
Yeah. I see people who post all the time and there might not be a lot of difference in what they post one day to the next. "Oh hey I'm working out today." Next day, "Oh hey, I'm working out." It's like, alright we get it, you like to work out.  I don't want anybody to ever feel like all he posts about is his dogs or football. I want to keep a little variety and not oversaturate it.
Do you struggle with comparing yourself to other people? On social media or on the football field?
Where does the competitive edge come from? Are you good at motivating yourself?
Yeah, definitely, because I feel like I have a lot of abilities and I have a lot of talent and a lot of good fortune in my life. So I feel like I owe it to myself and everyone around me to work hard and be the best I can be.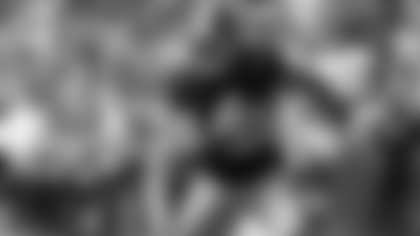 Have you allowed yourself to think about the next step after football?
Yeah, you try to think about what you want to do, how you want to stay busy, how you want to contribute to society and I've got some ideas in mind and you always want to be prepared to make the right step now so when you're done, you can make a smooth transition. I've got some things in mind.
Do you care to share any of them? I know you've expressed interest in wanting to be on camera.
I would like that, especially in Washington, D.C., there's so much opportunity for that. Obviously getting to stay in the area would be a dream come true for me, so something football-related. I'll have to do something football-related whether it's coaching at one level or another – high school, college, pro -- or doing something media-related, I feel like it would have to be football or sports-related because I'm too much of a sports guy to do something completely different.
I've been told Big Ten network is a big love of yours.
I mean, the BTN is – you heard right.
Is that just the Purdue connection?
I guess I just associate the Big Ten network with falls in Big Ten country across the Midwest. I had a lot of fond memories growing up in that time and playing college football in that area. That's probably where the fondness comes from.
Is it tough to stay present sometimes when you have ideas for the future and want to make connections throughout the year?
I'd say it's easy to stay present. It's tough to think too far ahead in the future and try to do too much to prepare. I still want to play football for a long time. That's my focus today and every day.
What's something about Indiana most people don't know about?
I feel like in Indiana we have the hottest of the hot and the coldest of the cold, weather-wise. People always think that it's this cold place, but in the summertime, it can get hot as hell there and it's humid. It can be in the high 90s, low 100s, but then in the winter it can be minus-10. So it's pretty unique in that there's so much variety.
And Indianapolis has those overhead walkways like Minneapolis because it's so cold. **
Right. Another thing that we've got in Indiana is that people are so kind and friendly. Midwest people are – and I know the term "salt of the earth" get thrown around a lot, but really, it's true. They're good, wholesome people and they'd give you the shirt off their back.
Do you think you'd like to move back there, or are you content to leave that as your childhood home?
I love it here now, so if I could ultimately stay in the D.C. area, that would be awesome. I've really grown to love the area. I'll always love Indiana and everything about it. But I'm here now and hope to be for a long time.
*Is there something in football that you feel is under-reported? *
I'd say the day-to-day, making sure your body is ready to not only get ready for Sunday, but get right for practice that day, the amount of time you have to put in to get your body ready for practice and the different treatment you've got to do both here at the facility and then at home to make sure your body is ready for the game. Because when we leave here, we might be here for 11-12 hours a day, when we leave here the football doesn't really stop for a lot of us. We go home and we watch film and we have to ice down what may be bothering us and do some stretching and whatnot. Long story short, all the extra stuff you've got to do. It's not just practicing, it's not just watching film. It's stretching after practice, it's foam-rolling, it's watching film on your own, making sure you're eating the right foods -- all the little things that are personal decisions that aren't necessarily required by the coaching staff that really give a lot of guys an edge.
And that's something you take a lot of pride in.
Definitely. It's not only something that helps me for each Sunday, but it helps your body to feel better in general so that you can prolong your football career.
Speaking of which, what's the shake you've been drinking as we've talked?
Vega-One. It's a vegan-protein, plant-based protein.
This is new. I did some bloodwork and found I had a whey-protein intolerance, so I started doing the plant-based.
So far, so good. It doesn't taste as good as whey, but it's a lot better for you, so I'll take that.
You're a fan favorite here. What's the strangest thing someone's sent to you unsolicited?
I've been invited to a number of people's weddings. The thing about that that's crazy to me is like, it will be a really nice invitation, so you can tell this is not just a wedding they're throwing together in someone's backyard. This is like a really nice event. They're inviting me and I don't know who they are.
But you have a place at their table.
To me, that's like, these people must really think a lot of me to invite me to their wedding.
If you have a free weekend and you had an invitation, would you ever go to one?
You know what, I want to. I do want to one of these days, because it would obviously mean something to them if they're willing to invite me and if I were to show up I'm sure it would mean something to them. Maybe one day I'll do that. Hopefully they can give me a plus-one so my fiancée can come.
I would think it's risky because you might take all the attention away from the bride and groom.
That's true. You wouldn't want that. And that would just be bad in general because I'm not like the life of the party guy. If I'm the life of your party, your party probably sucks.
Maybe you could just have a pen at the ready for autographs on the wedding line.
Yeah, get out there for "Shout" and call it a day.