](/news/article-1/papa-john-s-redskins-touchdown-special/048A1EB7-6061-49FD-958A-DAA6B0CAE730)
Redskins.com breaks down some of the key matchups to keep an eye on during Sunday's Redskins-Rams game at FedExField.
"Redskins-Rams: 4 Keys To the Game" is presented by Papa John's.
Every Monday, fans can order a large cheese pizza for only $9.99, plus for each TD that the Redskins score, fans get one free topping. And with a Redskins victory, fans get double the toppings.
Clinton Portis vs. Rams Run Defense
Clinton Portis has rushed for 100 yards each of the last two games. For the season, he has 514 yards and four touchdowns on 115 carries.
Credit has to go the Redskins' offensive line, which has been aggressive and physical opening up holes for Portis.
Even when the holes are slim, Portis is breaking his way through to pick up yards.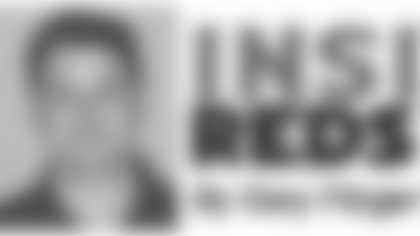 The Rams have struggled stopping the run this season. They are ranked 28th in the NFL in that department.
In Week 3, Seattle's Julius Jones compiled 140 rushing yards against the Rams.
Chris Samuels matches up against rookie defensive end Chris Long, who is 6-3 and 260 pounds.
The Redskins have been successful running to the left all season long, and the 6-5, 317-pound Samuels could try to wear down Long.
Redskins' Run Defense vs. Steven Jackson
The Redskins remember Steven Jackson. They remember him well.
In 2006, Jackson compiled 252 total yards--including 150 on the ground--as the Rams defeated the Redskins 37-31 in St. Louis. Jackson's 21-yard touchdown run up the middle of the Redskins' defense won the game in overtime.
Jackson put on a clinic, and the Redskins do not want a repeat performance on Sunday at FedExField.
Jackson's power running style is reminiscent of the Giants' Brandon Jacobs, who rushed for 116 yards against the Redskins in Week 1.
Since then, the Redskins have shored up their run defense. They are ranked ninth in the NFL in run defense and they have shut down Marion Barber and Brian Westbrook each of the last two weeks.
London Fletcher and Rocky McIntosh have been integral in run defense this season. Fletcher leads the Redskins with 41 tackles and McIntosh is next with 40.
Redskins Kick Coverage vs. Dante Hall
Dante Hall was a kick return sensation early in his career, similar to Devin Hester and DeSean Jackson now.
He is still dangerous. This year, he is averaging 8.2 yards per punt return and 20.8 yards per kick return.
Shifty and speedy, Hall has 12 career touchdowns on kickoff and punt returns.
The Redskins are ranked second in the NFL in kickoff coverage, allowing just 18.1 yards per return.
In punt coverage, the Redskins are ranked 30th, allowing 14.6 yards per return. The struggles can be attributed to two poor punts by rookie Durant Brooks.
Brooks needs to improve consistency and hang time on his punts to help punt coverage units get in position to make tackles.
Carlos Rogers vs. Torry Holt
In his fourth NFL season, Carlos Rogers has emerged as a top cornerback. Greg Blache recently said he believes Rogers is playing at a Pro Bowl level.
On Sunday against St. Louis, Rogers faces a test in Torry Holt, a Hall of Fame-caliber receiver with more than 800 career receptions.
Holt brings great speed and route-running ability. In four career games against Washington, he has caught 19 passes for 329 yards, but no touchdowns.
Even with Shawn Springs struggling with a calf injury, the Redskins' coverage has been strong in the secondary despite its 21st overall ranking. Rogers has one interception on the season.