Redskins.com breaks down some of the key matchups to keep an eye on during Sunday's Redskins-Ravens game at M&T Bank Stadium.
"Redskins-Ravens: 4 Keys to the Game" is presented by Papa John's.
Every Monday, fans can order a large cheese pizza for only $9.99, plus for each TD that the Redskins score, fans get one free topping. And with a Redskins victory, fans get double the toppings.
Redskins Running Backs vs. Ray Lewis
When the Redskins' offense is at its best, running backs are picking up chunks of yards. And that means Clinton Portis, the NFL's second-leading rusher, is having an impact on the game.
Portis is listed as questionable for Sunday's game with neck and knee injuries. Jim Zorn was optimistic that he would have his top running back available, though.
The Redskins have the NFL's seventh-best ground game. Portis has 1,228 yards and seven touchdowns on 255 carries.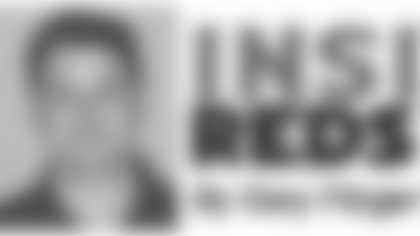 Portis had some success against 3-4 defenses earlier this season. He rushed for a season-high 175 yards against the Cleveland Browns in Week 7.
If Portis is limited, Ladell Betts could be called on for significant carries. He has 45 carries for 167 yards and one touchdown this season.
The Ravens have consistently been among the league's best in terms of run defense, led by the aggressive Ray Lewis.
Lewis, a 13-year veteran, has a nose for the ball. With a team-high 120 tackles, one sack and three interceptions, he has freedom to roam all over the field to make plays.
Here's some hope for the Redskins' running backs on Sunday night: in Week 11, the New York Giants rushed for 207 yards and a 6.7 yards-per-carry average in a 30-10 victory over the Ravens.
Redskins Run Defense vs. Ravens Running Backs
The Redskins are impressed with the arm of Ravens rookie quarterback Joe Flacco, but he is protected by the Ravens' third-ranked rushing offense.
The Ravens average 143.8 yards per game on the ground.
Le'Ron McClain is the Ravens' big, bruising back. Listed as a fullback, the 6-0, 260-pounder leads the offense with 545 rushing yards.
Willis McGahee, at 6-0 and 232 pounds, is a powerful back who has 489 rushing yards. Rookie Ray Rice, at 5-8 and 205 pounds, has provided a spark with his elusive speed, garnering 423 rushing yards.
One stat that has opened eyes is that the Ravens are only averaging 3.8 yards per carry on the ground. That's 26th best in the league.
The Redskins are ranked seventh in the NFL against the run, allowing just 90.8 yards per game.
London Fletcher, the Redskins' leading tackler with 106, has been slowed by a foot injury in recent weeks. His presence is certainly a key because he is expert at reading offenses and being in position to make tackles.
Just like last week against the New York Giants' top-ranked run game, the Redskins must swarm to running backs, stop their momentum early in their runs and match their physicality.
Redskins Kick Coverage vs. Yamon Figurs
Washington and Baltimore boast two solid defenses, so field position is certain to be a component to the game.
The Redskins come into the game with the NFL's 28th-ranked punt coverage unit and the third-ranked kickoff coverage unit.
The punt coverage ranking is high due to two early season returns for touchdowns by speedsters Reggie Bush and DeSean Jackson. Otherwise the unit has been solid.
The Ravens have a speedster of their own in second-year player Yamon Figurs.
Figurs earned a spot on the All-Rookie Team last year after he returned a punt and a kickoff for touchdowns.
This year, Figurs has struggled. He is averaging just 21.2 yards per kickoff return (30th in the league) and 6.1 yards per punt return (24th in the league).
Casey Rabach vs. Haloti Ngata
Casey Rabach began his career with the Ravens in 2001. This Sunday in Baltimore, he faces a difficult matchup in 345-pound nose tackle Haloti Ngata.
Rabach, an 8-year veteran, calls out the adjustments at the line of scrimmage for the Redskins.
Rabach will have to be equally focused on Ngata, who is so big and powerful that he forces centers to adjust their leverage. Rabach will have to stay low to keep Ngata in front of him.
Of course, Ngata's primary goal is to engage Rabach so that linebackers Ray Lewis, Jarret Johnson and Terrell Suggs can penetrate into the backfield and disrupt plays.