Redskins.com looks at some of the key players to keep an eye on during Thurday's Redskins-Ravens preseason game at M&T Bank Stadium.
"Redskins-Ravens: 4 Players to Watch" is presented by Papa John's.
Every Monday, fans can order a large cheese pizza for only $9.99, plus for each touchdown that the Redskins score, fans get one free topping. And with a Redskins victory, fans get double the toppings.
---
-- Chad Rinehart
As Randy Thomas returns from off-season neck and knee surgery, second-year lineman Chad Rinehart has seen extended action in his place.
A year ago, Rinehart went into a preseason slump after he reverted to bad habits he picked up during college.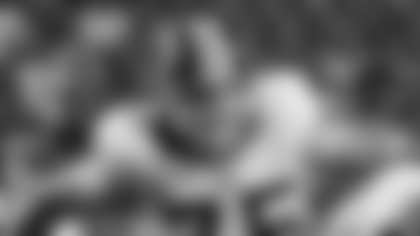 "It's night and day with Rinehart," Bugel said of the 2008 third-round draft pick. "Last year he was just a young rookie starstruck, more or less. He went back home and got on the weights. He gained some real solid weight.
"He's becoming a pretty good hitter in there. And he has improved his technique. But he hasn't played in [a regular season game] yet, so teaching him the total picture is the biggest thing."
Thomas is a battler, but if he struggles with injury, then Rinehart's role could expand.
-- Brian Orakpo
Orakpo, the Redskins' top draft pick last April, makes his Redskins preseason debut on Thursday night.
In training camp, Orakpo has caught on quickly. He is already listed as a starter on the Redskins' preseason depth chart.
And he has impressed defensive coordinator Greg Blache, who is loathe to heap praise on rookies.
"He is a very strong person, he's a very athletic person and he has great speed," Blache said. "It'll be impressive to see him Thursday night.
"He had some plays [in last Saturday's intra-squad scrimmage] that were good. He had some plays that we were very disappointed in. I could see him just getting better and better."
As Orakpo continues to adjust to linebacker, teams are sure to test him in coverage with tight ends and running backs this preseason.
-- Colt Brennan
A year ago, Brennan shined in preseason play. In five games, he completed 36-of-53 passing attempts for 411 yards, three touchdowns and no interceptions.
Brennan certainly generated some excitement about himself--and his NFL potential.
Under head coach Jim Zorn, Brennan has had to refine his mechanics--from his footwork to his throwing motion--and he remains a work in progress. He was a sixth-round draft choice by the Redskins in 2008.
His development in one year will be on full display on Thursday night.
If Brennan excels again in preseason, he could catapult himself into a competition with Todd Collins for the No. 2 backup job.
-- Kareem Moore
Moore worked his way into the lineup as a fifth safety late last season. He played in 14 games, with a start in the Redskins' season finale at San Francisco, and posted five tackles.
During training camp this year, Moore has been very active in the secondary and has shown he is ready for more playing time.
His presence gives Greg Blache more options in the secondary.
Moore backs up LaRon Landry at free safety. If coaches feel comfortable with Moore on passing situations, then Landry can play closer to the line of scrimmage and perhaps even blitz the quarterback.
It could add another threat to a potent Redskins defense.