The Redskins have re-signed defensive end Phillip Daniels, the team announced on Thursday.
Daniels, a 13-year NFL veteran, rejoins the team he has played for since 2004.
Daniels was back at Redskins Park on Thursday to sign his contract and greet his teammates.
"It feels great to be back, getting back with my old buddies and my coaching staff," he said. "It's a chance for us to get out there and do some good things this year."
The 6-4, 276-pounder suffered a knee ligament injury on the first day of training camp last year and was sidelined for the entire season.
He begins his sixth season in Washington. He could be in line for a starting job opposite Andre Carter, although he could face some competition from recently signed Renaldo Wynn, Chris Wilson and 2008 draft pick Rob Jackson.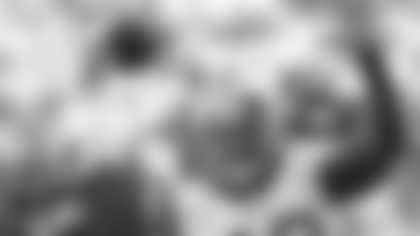 For his career, Daniels has posted 569 tackles (362 solo), 59 sacks, one interception, 16 forced fumbles and 12 fumble recoveries.
His 59 sacks rank tied for 19th among defenders who were active in 2008.
He had his best season in 2005 when he posted 48 tackles and eight sacks, including four in a memorable performance vs. Dallas at FedExField.
Daniels had entered the 2009 offseason as an unrestricted free agent.
Prior to free agency, Daniels said he hoped to return to Washington, even though he expected to explore other opportunities.
"I feel real comfortable about coming back here," Daniels said. "I've been in this defense for nine years with Greg Blache."
Prior to the Redskins, Daniels played four years for the Chicago Bears, where Blache was also defensive coordinator.
Daniels played the first four years of his career--1996-99--with the Seattle Seahawks. A fourth-round draft pick in 1996, he played college football at Georgia.
Daniels expects to be limited in off-season work, but he could pick up the pace for OTAs in May and June.
He is also resuming his power-lifting regimen, something that he believes helps improve his strength as a defensive lineman. He is uncertain if he will compete in any power-lifting competitions, because he wants football to be his priority this offseason.