The Redskins have re-signed defensive end Phillip Daniels and offensive lineman Mike Williams, the team announced on Friday.
The signings were among the first moves by the team in 2010 free agency.
Daniels has played for the Redskins since 2004 while Williams joined the team a year ago.
It's unclear how both will be used on the Redskins next season.
Daniels would likely be a fit at defensive end whether the Redskins employ a 3-4 or a 4-3 next season. Williams was a starter at right guard toward the end of last season, but he also played right tackle.
Daniels has started all 68 games in which he played over the last six seasons. Last year, he started all 16 regular season games and totaled 46 tackles, one sack and three passes defensed.
Daniels helped Washington's defense finish ranked 10th in the NFL last season. The Redskins have finished among the top 10 in overall defense in six of the seven seasons since Daniels has joined the team.
Daniels' best season in Washington came in 2005 when he totaled 72 tackles and a team-best eight sacks. He posted a career-best four sacks in a 35-7 win over the Dallas Cowboys on Dec. 18, 2005.
"We are excited to have Phillip onboard as we prepare for our off-season conditioning program," Redskins executive vice president/head coach Mike Shanahan said.
The 37-year-old Daniels will be playing in his 15th NFL season after originally entering the league as a fourth-round selection (99th overall) of Seattle in the 1996 NFL Draft out of the University of Georgia.
He spent his first four seasons with the Seahawks before joining Chicago in 2000, where he would play four more years.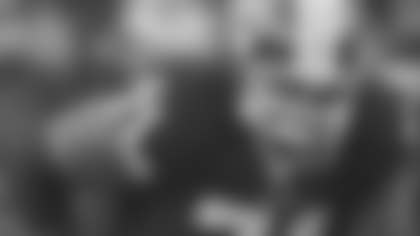 For his career, the 6-foot-6, 305-pound Daniels has played in 187 games, starting 167, and registered 615 tackles, 60 sacks, 16 forced fumbles and 12 fumble recoveries.
His 60 career sacks rank 20th among players who were active in 2009. He is the 87th player in NFL history to record at least 60 career sacks.
Williams emerged as one of the storylines of the 2009 preseason. He had signed with the Redskins on April 24 and proceeded to lose more than 100 pounds in order to get in playing shape.
He ended up playing in nine games with eight starts last season. He started five games at right guard and three games at right tackle.
Williams made his first start of the season at Carolina on Oct. 11, 2009, marking his first start since the 2005 season.
Williams missed the regular season finale at San Diego after being placed on injured reserve with a toe injury.
"Mike showed a tremendous work ethic and willingness to do whatever the team asked of him, and those are two of the traits we're looking for in Redskins players," Shanahan said. "We believe that he's only scratched the surface of his abilities so far, and look forward to seeing what he can do after a full offseason in our program."
Entering his seventh NFL season, Williams, 30, has played in 60 career games with 58 starts for the Buffalo Bills (2002-05) and the Redskins (2009). He spent the 2006 season with the Jacksonville Jaguars on injured reserve and was out of football during the 2007 and 2008 seasons.
Williams was selected in the first round (fourth overall) by the Bills in the 2002 NFL Draft. He played college football at the University of Texas.