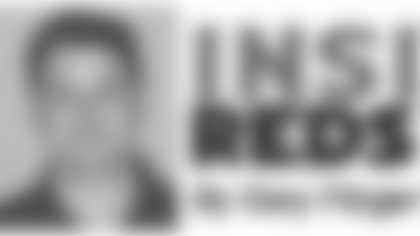 Fred Smoot has been part of a high profile secondary before. In his rookie year in 2001, he walked into a meeting room at Redskins Park to be greeted by cornerbacks Darrell Green, Deion Sanders and Champ Bailey.
So Smoot is not worried in the least about the Redskins' new high profile secondary.
DeAngelo Hall, two-time Pro Bowl cornerback, joins Smoot, Carlos Rogers and Shawn Springs. Add in safety LaRon Landry for good measure.
Collectively, that's four top 10 draft picks and a second-round draft pick.
Hall, a five-year NFL veteran, adds significant depth to the Redskins' secondary, so much so that cornerbacks coach Jerry Gray joked that he may ask to play dime coverage with four cornerbacks.
Around the league, Hall is regarded as a strong cover corner whose speed and athleticism can match the best receivers in the league.
The question around Redskins Park is this: How will Hall fit in with the Redskins?
No problem on the field, Gray said.
"He can get out on the corner, he can play inside, he can match up on the best receiver and he can make a game-changing play by intercepting the ball," he said.
For the secondary, Hall's addition keeps offenses from targeting one cornerback on passing downs.
Said Gray: "Defenses keep testing us. Can Carlos keep playing the way he's playing? Can Fred keep playing the way he's playing? Now [with Hall in the mix], who are you going to throw at? That makes us a lot better because you can't just pink on one guy.
"He'll have to fit in because I don't think the group is going to let him go outside the norm of what we already do."
What about off the field and in the locker room?
London Fletcher does not expect Hall's presence will upset team chemistry.
"We have a great locker room here and a bunch of guys who love playing with each other," Fletcher said. "Everybody has their own individual personalities. So he has to fit in with what we're doing, and we also have to embrace him.
"It's not like he has had an offseason to get to know his teammates. He has been thrust into this. I'm sure there's a little apprehension and nervousness on his part. We just have to reach out to him and make him feel comfortable."
Smoot admitted he was "shocked" when he heard of the Hall acquisition.
"Hey, they added to the strength of this team with a young, talented guy," Smoot said.
He believes that the secondary, ranked eighth in the league in pass defense, will continue to flourish when roles are defined.
"I think once everybody sees what they'll be asked to do, everything will go well," Smoot said. "So I don't see any problems. I think we have a good group and any personality can fit in.
"He's a playmaker, Corners always watch other corners, and he has played well through the years. He's very fast, very talkative, so he should fit in with this group very well."
Rogers said the acquisition helps ensure there will be no letdown in the secondary should the defense suffer injuries.
Springs, Smoot and Rogers have all had ailments this season. Springs' calf injury has been the most serious--and his status for this Sunday's game at Dallas is uncertain.
That means Hall could get 20-30 snaps against the Cowboys, Gray said.
Said Rogers: "We're a physical group. We just don't cover, we come up and hit, so we've battled injuries throughout the secondary. Now we have another starter [in Hall]. If somebody gets hurt, then there's someone who can come right in. No let-up."