The Washington Redskins Charitable Foundation and the Verizon Foundation have distributed 75,000 "Redskins Read" activity books to local library branches, after-school programs, and literacy centers.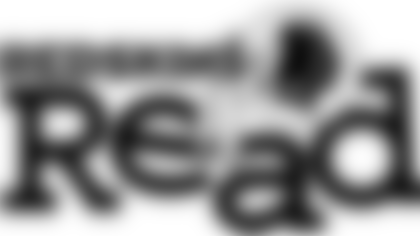 Redskins Read, a signature program of the Charitable Foundation, is designed to encourage and promote literacy among youth. Each Redskins Read activity book contains more than 40 pages of Redskins photos and activities including crossword puzzles, word searches, Redskins trivia, coloring pages, writing exercises, and more.
In addition, students have the opportunity to enter the Redskins Read Sweepstakes.
The first-place winner will have a Redskins player visit their school and read to their class during the 2006-07 school year. The second-place winner will receive autographed Redskins Read activity books for their entire class. The third-place winner will receive a book personalized and autographed by a Redskins player.
Any K-6 grade student in Maryland, Virginia or the District of Columbia is eligible to participate. Students must read five books during the summer and fill out a sweepstakes entry form, found in Redskins Read activity books at your local library, or by visiting our Redskins Read page on Redskins.com.
Entries must be postmarked or deposited in Redskins Read sweepstakes entry boxes at participating libraries by Wednesday, September 6, 2006.
Libraries participating in the 2006 Redskins Read summer reading program include those in Alexandria, Arlington, Washington, D.C., Fairfax, Loudoun, Montgomery, Prince George's, Prince William, and Takoma Park. Redskins Read activity books are available free at the libraries.
The Redskins Read program is an initiative of the Washington Redskins Charitable Foundation.
The Charitable Foundation, the non-profit philanthropic arm of the team, combines the influence and popularity of the Washington Redskins with the resources and assets of 35 Washington area corporations.
Founded by Redskins owner, Daniel M. Snyder, the Charitable Foundation is guided by its Leadership Council that consists of 35 CEOs who help shape and define the philanthropic efforts of the Redskins to achieve a measurable impact on communities throughout the region in the areas of literacy, youth development, education, community service, and health and wellness.