Redskins Announce Essay Contest Winners
---
The Washington Redskins Charitable Foundation and Scholastic Book Fairs have announced the winners in the 2008 Redskins Read Essay Contest powered by Scholastic Book Fairs. More than 1,000 entries were submitted for this year's contest.
-- 1st Place: Isabelle L. (6th grader at Spring Hill Elementary School in McLean, Va.)
-- 2nd Place:London W. (5th grader at Heather Hills Elementary School in Bowie, Md.)
-- 3rd Place: Nora J. (6th grader at Kent Gardens Elementary School in McLean, Va.)
For the contest, area students in fourth, fifth, and sixth grades submitted their own ending to the story of "Felicia Football" (found in the 2008 Redskins Read activity book and also online).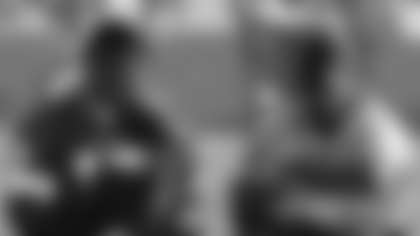 "Felicia Football" was the story of a football that had lived her entire life on the shelf of a sporting goods store, but after a series of incidents, was purchased by the equipment manager of the Washington Redskins to be used in a Redskins-Cowboys game.
Excerpt from Isabelle L.'s 1st place essay:
The batch of brand-new football arrived at the sporting goods store in late summer, eager to play ball. "I want to be in the NFL!" said a ball named Jeremy. "I'm hoping to play some college ball myself," said Trey, a ball with a southern accent. "I'm hoping for Pee-Wee touch football," said a timid ball named Martha, who liked action, but was afraid of getting squished. "What about you, Felicia?" Felicia, a quiet ball, considered the question. "Your ideas sound really exciting," she said. "But I think I'd prefer a nice boy or girl to buy me. I'd like to be well-cared for and loved, tossed around year after year in the park until my skin gets dark and worn." The other balls shrugged their leather skins and stifled a laugh. "BORING," snorted Trey. "Y-a-w-n!" murmured Jeremy.
Excerpt from London W.'s 2nd place essay:
Felicia's day was filled with highs and lows. She had won the game for the Redskins. The final score was 45 to 12 in favor of the Redskins. Felicia had stuck to her beliefs. She believed in being herself, working hard, and being determined. She also knew that just like the Washington Redskins, sometimes you may have seasons when things don't look good, but if you work hard, encourage others, and have a little patience, you can become a winner too!
Excerpt from Nora J.'s 3rd place essay:
Then it happened. Campbell hit Moss with a wonderful long spiral that had Florencia twisting high in the air like a ballerina. Then, Clinton Portis ran for 10 yards up the middle. With time running out, Cooley danced down the sideline to get even closer. With 2 seconds left, the Redskins lined up for a 50-yard field goal, but the referee demanded that a new, dry ball be brought in, and so Felicia finally got her chance. Kicked hard in the bottom, Felicia sailed through the goal posts singing her favorite song, "Mamas Don't Let Your Babies Grow Up to be Cowboys."
In addition to the individual contest winners, Spring Hill Elementary School will be celebrated with a reading assembly with a Redskins player in January 2009 for submitting the most essay contest entries.
In conjunction with the Verizon Foundation's free, comprehensive Thinkfinity.org digital learning platform, 350,000 Redskins Read activity books filled with games, puzzles, trivia, and other exciting activities for youth in grades K-6 have been distributed to area branch libraries, elementary schools, after school centers, and literacy centers in Virginia, Maryland and the District of Columbia.
The Washington Redskins Charitable Foundation, the nonprofit philanthropic arm of the team combines the influence and popularity of the Washington Redskins with the resources and assets of Washington area corporations.
Founded by Redskins owner, Daniel M. Snyder, the Charitable Foundation is guided by its Leadership Council that consists of CEOs who help shape and define the philanthropic efforts of the Redskins to achieve a measurable impact on youth development in the areas of education, community outreach, and health and wellness.