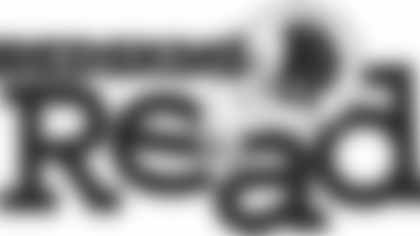 Want to get your own Redskins Read activity book featuring Jason Campbell and your favorite Redskins players?
The Washington Redskins Charitable Foundation produces a free activity book for kids in kindergarten through sixth grade that uses football to teach language arts, math, art, science and social studies.
The Redskins Read program will be featured in the Washington Post's special "KidsPost" section on Aug. 27.
This year, 350,000 Redskins Read activity books will be distributed to schools, public libraries, literacy centers, afterschool programs, and nonprofit organizations throughout the greater Washington, D.C., metropolitan area.
Pick up your copy of the Redskins Read activity book at your local public library branch or check back to Redskins.com in the next few weeks to download a selection of activities!
Beginning in September, the following library systems will have copies of the activity book:
Alexandria City Public Library
Arlington County Public Library
District of Columbia Public Library
Fairfax County Public Library
Loudoun County Public Library
Montgomery County Public Library
Oxon Hill Library
Prince George's County Public Library
Prince William County Public Library
Takoma Park Public Library
If you aren't able to pick up a copy at your local library branch, the Washington Redskins Charitable Foundation will have a limited number of activity books available for distribution. To request an activity book, write to us at:
Redskins Read Activity Book
c/o Washington Redskins Charitable Foundation
21300 Redskin Park Drive
Ashburn, VA 20147
Be sure to include your name and complete mailing address in your request. Activity books will be distributed on a first come, first served basis. Only one activity book per household.
A signature program of the Washington Redskins Charitable Foundation, the Redskins Read program promotes reading, literacy, and encourages youth to visit their local libraries.
The Redskins Read activity book is made possible with the support of the Verizon Foundation's free, comprehensive Thinkfinity.org digital learning platform.