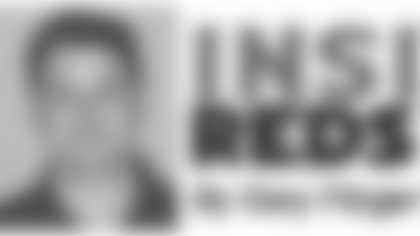 The Redskins have scored just 16 points the last two games and the offense is struggling as they advance into scoring range.
Perhaps the greatest concern is that Jason Campbell has been sacked 10 times the last two games.
Following Sunday night's 14-10 loss to the Dallas Cowboys, pass protection was a point of discussion at Redskins Park.
Jim Zorn, whose offense is reliant on the short and intermediate passing game, said he saw pass routes opening up downfield but Campbell did not have enough time in the pocket.
"Those are the frustrating things," Zorn said. "They magnify when the result is a loss."
Campbell was sacked three times by the Cowboys, once by linebacker DeMarcus Ware coming around Chris Samuels and twice by defensive tackle Jay Ratliff up the middle.
Two weeks earlier, the Pittsburgh Steelers logged seven sacks on Campbell.
It's evident that the Cowboys, who like Pittsburgh run a 3-4 defense, studied the Steelers game film closely.
"It has been a combination of things at times," Casey Rabach said. "Of the three sacks we gave up, I can speak on the sack on the first drive that I gave up. It was bad technique--and give [Ratliff] credit, he beat me."
Zorn also pointed toward technique as a reason for the breakdowns.
That's surprising given that the Redskins have a veteran offensive line. They know the proper technique, but in game situations their technique can get disrupted by the pass rush specialists like DeMarcus Ware and James Harrison, to name two.
"When you have the quality of pass rushers that we have been facing, you have to be perfect," Zorn said. "You have to play with proper technique for 70 plays. You have to play it perfect."
Several times during Sunday's game, Zorn overheard offensive line coach Joe Bugel reminding offensive linemen to play with proper technique.
"I heard Buges tell [a lineman], 'You cannot duck your head,'" Zorn said. "As an offensive lineman in pass protection, you have to have your head up. If you lunge back and duck your head, it gives the [opponent] the ability to beat you.
"Just that slight movement, as the ball is snapped--if it happens, the play can be over before it really gets started."
Added Randy Thomas: "We have to win those one-on-one battles. You can have 10 good plays and one bad one, and it can hurt the whole game. We just have to eliminate that one mistake."
Zorn indicated that he did not expect to make any personnel changes along the offensive line.
For the season, the Redskins have allowed 26 sacks, ranking them 23rd in the NFL in that category.
This is an offensive line that is an experienced unit. It yielded just 19 sacks in the entire 2006 season.
So this is a matter of the linemen--as well as tight ends and running backs who help in pass protection--stepping up and playing more consistent.
"I know what this offensive line is capable of," Rabach said. "I know what we have done in the past. To be where we are at, as far as protecting Jason, it is definitely a question mark. It is something that needs to be addressed and it is something that we need to take care of."
Zorn praised how well Campbell handled the pressure on Sunday night.
The Redskins' quarterback completed 22-of-34 passes for 162 yards, one touchdown and one interception in the game.
In one sequence, Campbell saw that the pressure from the Cowboys' defensive line was coming from the outside, so he called an audible.
He took the handoff and dropped back. Then he raced ahead on a quarterback draw, finding a wide rushing lane up the middle. Rabach issued a key block to spring Campbell for a 22-yard gain.
Zorn said he preps Campbell to adjust to pressure as he drops back into the pocket.
"When [quarterbacks] do get hit and they don't know where the pressure came from, what I try to do is give them the correct information about what happened," Zorn said. "It may be simply, 'This guy got beat, he whiffed.' I think that helps the QB to know that it is not the scheme.
"Some quarterbacks if they get hit, they didn't make the right protection call, they didn't make the adjustment properly, they didn't see the hot situation and that kind of blows their minds a little bit. It gives them a lack of confidence to think, 'Well, I'm not doing my job.'
"But if you can tell them what happened, it gives them a chance to say, 'Okay, we're going to get that taken care of because [the lineman] is not going to whiff twice. We have to help that guy who just whiffed.'
"As long as the quarterback knows that we can take care of it and we are going to take care of it, I think it keeps him playing well. It keeps him playing with some confidence."