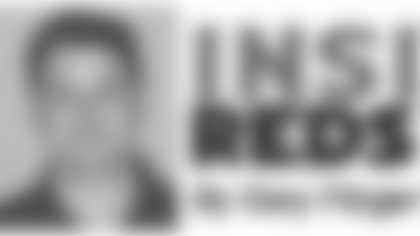 The Redskins resumed OTAs on Monday, with more than 75 veterans and rookies returning to the practice fields at Redskins Park.
The team hosts full-squad OTA sessions from June 1-4 and June 8-11 before taking an off-season break.
Attendance was not mandatory and several players were absent from Monday's work, including Clinton Portis, LaRon Landry, Mike Sellers and London Fletcher. Carlos Rogers and Rookie Kevin Barnes were absent due to illness.
The practices are significant because they are the last time players will be on the field together before the start of training camp in late July.
Jim Zorn was confident that players would work out on their own when not in attendance at OTAs.
"I know that everybody has a plan about it, but I'm not necessarily concerned that there's a problem," he said.
Zorn preferred to focus on those players in attendance, of course. He was impressed with their physical conditioning at this stage of the offseason.
"What I saw was a step-up from the first set of OTAs," Zorn said. "Guys were getting into the swing of things and in even better shape than they were the last time. It's a testament to how hard our guys have worked."
Added Santana Moss, celebrating his 30th birthday on Monday: "When you have been doing this as long as I have, you just tell yourself to go out there, take it one play at a time and don't waste an opportunity to get better."
Top draft pick Brian Orakpo returned to the practice field for the first time since the May 1-3 mini-camp, as did the rest of the 2009 draft class and 10 undrafted rookies.
Orakpo continued to see action at strong-side linebacker in OTAs. The 6-3, 260-pounder played defensive end at the University of Texas.
Malcolm Kelly participated fully in Monday's practice after missing most of the offseason rehabbing from a knee scope.
Kelly earned praise from head coach Jim Zorn after he caught a slant pass across the middle, even though the ball was slightly thrown behind him.
Off-season practices are prime time for young players looking to impress, Zorn emphasized.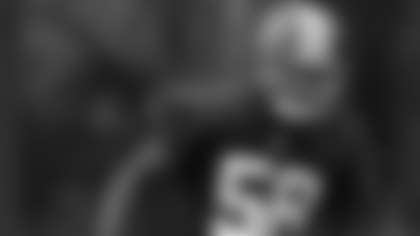 Robert Henson (Ned Dishman Photo)


"They're working and trying to work with their teammate next to them, or with the quarterback, or with the defense in whatever way they can to get the concepts down," Zorn said. "They have to get the feel of speed and agility of offense, defense and special teams.
"But I don't think anybody [during OTAs] is making the team. There were a couple of guys out there who knew that they have to impress to make the team, and they're working hard to do that."
The Redskins returned to the practice field for the first time since the release of right tackle Jon Jansen.
The ramifications of his departure are sure to be a focus during OTAs.
Stephon Heyer is expected to take over at right tackle, but he faces competition from behemoth offensive lineman Mike Williams and veteran Jeremy Bridges.
Williams weighed in at 385 pounds last week--down from 410 pounds in April--and he was expected to increase his practice workload during OTAs.
Chris Samuels appeared to be practicing at his familiar left tackle spot, opposite Heyer. Samuels is making his 2009 debut after undergoing surgery to repair his triceps last year.
Meantime, James Thrash sat out practice to continue his recuperation from a neck injury.
Also, rookie fullback Eddie Williams, the Redskins' seventh-round draft pick last April, was working on the sidelines with physical therapists to rehab a knee injury suffered last year.