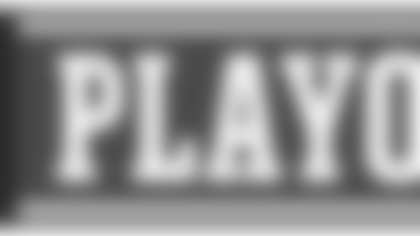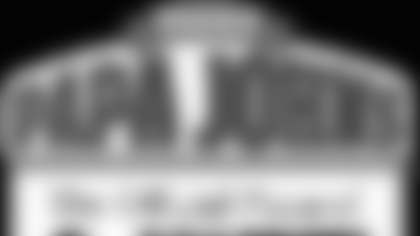 ](/news/article-1/papa-john-s-redskins-touchdown-special/048A1EB7-6061-49FD-958A-DAA6B0CAE730)
Every Monday, fans can order a large Cheese Pizza for only $8.99, plus for each TD that the Redskins score, fans get one free topping. And with a Redskins victory, fans get double the toppings!
Redskins.com breaks down some key matchups to keep an eye on during Saturday's night's Redskins-Seahawks Wild Card playoff game at Qwest Field:
OFFENSE
Clinton Portis vs. Seahawks' Defense
Clinton Portis asked the Redskins' coaching staff to put the offense on his shoulders. In the stretch run, Portis stepped up and helped lead the Redskins as a multi-purpose back.
He was as effective catching passes as he was running the ball.
And that puts Portis in a new category of backs. Think Brian Westbrook, or perhaps more appropriately since it's Al Saunders' offense, Preist Holmes.
Portis compiled 342 rushing yards and four touchdowns in the Redskins' last four games, and also caught 15 passes for 161 yards.
In the NFC West, Seattle does not face many multi-purpose backs. In Week 6, Reggie Bush logged 141 total yards in the Saints' 28-17 win over the Seahawks at Qwest Field. In Week 13, Westbrook compiled 139 total yards but the Seahawks prevailed 28-24 because A.J. Feeley threw three interceptions.
On pass routes, Portis will likely be shadowed by versatile middle linebacker Lofa Tatupu. Overall, the Seahawks are ranked 15th overall, 12th against the run and 19th against the pass. Their strength is rushing the passer and forcing turnovers.
After struggling with fumbles early in the season, Portis seemed to have the problem resolved until last week when he coughed up the football against Dallas. He'll need to hold on to the ball better for the Redskins to win.
DEFENSE
Redskins Defensive Backs vs. Seahawks Wide Receivers
The Redskins strive to get pressure on Matt Hasselbeck, but he has good mobility and can still get passes off under duress. That puts the pressure on the Redskins' secondary.
Despite the presence of former league MVP Shaun Alexander, Seattle's ground game is ranked 20th in the NFL. It is Hasselbeck and the passing game that keeps the Seahawks on the go.
Seattle employs a West Coast passing offense, with plenty of short and intermediate throws. Having faced Philadelphia's West Coast-offense twice this year, the Redskins' defense should have a game plan in place. Seattle's wide receivers are a veteran, speedy bunch that will test the Redskins.
Twelve-year veteran Bobby Engram led the Seahawks with 94 catches, fourth-most in the NFC, for 1,147 yards and six touchdowns. He had five games with seven or more catches.
And Engram is not even listed as a starter on Seattle's depth chart. Nate Burleson, a fifth-year receiver, and former Super Bowl MVP Deion Branch, a sixth-year vet, start for the Seahawks. They use speed and smarts to get separation from cornerbacks.
Burleson had 50 catches and a team-leading nine touchdowns, while Branch had 49 catches and four touchdowns. Fourth receiver D.J. Hackett added 32 catches as well.
The Redskins' pass defense, ranked 19th in the NFL, has improved steadily in recent weeks, as young safeties LaRon Landry and Reed Doughty have become more acclimated to their new roles following the death of Sean Taylor.
Shawn Springs has four interceptions in the last four games and Fred Smoot has played inspired football down the stretch. Second-year cornerback Leigh Torrence, who has also been solid in nickel packages, will likely be tested early and often.
SPECIAL TEAMS
Rock Cartwright vs. Seahawks Kickoff Coverage
Rock Cartwright struggled down the stretch, averaging just 19 yards per kickoff return in the last three games.
For the season, he had 52 returns for a 25.8-yard average, ninth-best in the league among players with 20 or returns.
Cartwright is not a game-breaker, but he identifies holes quickly and charges through for chunks of yardage, Most of the season, Cartwright's returns were key helping to set up the Redskins' offense with solid field position.
Cartwright could get back on track against a Seahawks kick coverage unit ranked 27th in the NFL.
Niko Koutouvides leads the Seahawks' special teams with 20 tackles, followed by Lance Laury with 18.
1-ON-1
Santana Moss vs. Kelly Jennings
In recent weeks, Santana Moss re-emerged as the Redskins' top receiving threat, catching 17 passes for 239 yards and two touchdowns in the final three games. He finished the season with 61 catches--second-most behind Chris Cooley--for 808 yards and three touchdowns.
Two years ago, Moss led the Redskins' offense in Seattle, catching seven passes for 103 yards and one touchdown in the 20-10 loss in the NFC Divisional Playoffs.
In that game, Moss primarily lined up against Marcus Trufant, a 2007 Pro Bowler. If Seattle's lineup stays true to form, then Moss will compete against second-year cornerback Kelly Jennings this time around.
Jennings is a 5-11, 180-pound speedster who could match up well with the 5-10, 200-pound Moss.
Jennings was not very opportunistic, failing to record an interception in 161 games this year. He finished with 55 tackles, 12 passes defended and two fumble recoveries.