Redskins.com breaks down some of the key matchups to keep an eye on during Sunday's Redskins-Seahawks game at Qwest Field.
"Redskins-Seahawks: 4 Keys to the Game" is presented by Papa John's.
Every Monday, fans can order a large cheese pizza for only $9.99, plus for each TD that the Redskins score, fans get one free topping. And with a Redskins victory, fans get double the toppings.
Redskins Offensive Line vs. Seahawks Pass Rush
The Redskins have yielded 10 sacks in their last two games--both losses--and Jason Campbell has absorbed some punishing hits.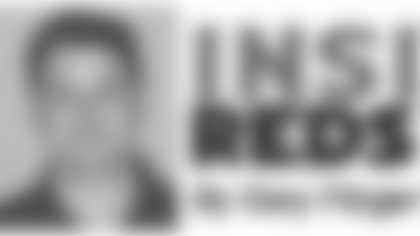 The offensive line has accepted much of the criticism for the breakdowns in pass protection. It's a matter of winning one-on-one battles and staying consistent.
Overall, Campbell has been sacked 26 times, 23rd most in the NFL through 10 games.
Seattle's defense suffered a blow when defensive end Patrick Kerney, who leads the team with five sacks, was placed on injured reserve this week.
Defensive tackles Brandon Mebane and Rocky Bernard have combined for seven sacks, so interior offensive linemen Pete Kendall, Randy Thomas and Casey Rabach will face another challenge.
The Redskins' offensive line has struggled against speed-rushing linebackers the last two games. The Seahawks employ linebacker Julian Peterson in pass-rushing situations. He has four sacks on the season.
Redskins Run Defense vs. Julius Jones
The Redskins allowed 114 rushing yards to the Dallas Cowboys' running back Marion Barber this week, so the run defense has something to prove this week.
In Seattle, they are charged with stopping former Cowboy Julius Jones at Seattle. When last the Redskins faced Jones, they shut him down with six yards on six carries in their 27-6 win over Dallas last Dec. 30 at FedExField.
Jones has 616 rushing yards on 139 carries for the Seahawks this season, a steady 4.4 yards-per-carry average.
Slow down Jones, and the Redskins' defense, ranked fifth against the run this season, turns the Seahawks into a one-dimensional unit.
London Fletcher and Rocky McIntosh are the Redskins' top tacklers on defense. Fletcher, in particular, has a nose for stopping the ground game. He leads the defense with 87 tackles and has four tackles for a loss.
The Redskins' secondary has been among the best in run defense as well. Cornerbacks Carlos Rogers and Fred Smoot and safeties LaRon Landry and Chris Horton each have 40 tackles this season.
Redskins Kick Coverage vs. Josh Wilson
The Redskins have been among the league's best in kickoff return coverage for two years running.
This week, they come into Sunday's game with the NFL's second-ranked kickoff coverage unit, allowing just 19.7 yards per return. (Only the Pittsburgh Steelers are better.)
Khary Campbell leads the Redskins with 20 special teams tackles.
The Seahawks have the NFL's fifth-best kickoff return unit, led by speedster John Wilson.
Wilson, who hails from Upper Marlboro, Md., and attended the University of Maryland, has returned 40 kickoffs this season for a 25.8-yard average.
Carlos Rogers vs. Koren Robinson
Carlos Rogers is having a Pro Bowl-caliber season, and lately offenses have not been challenging the fourth-year cornerback.
Seattle runs a West Coast-style offense, and Matt Hasselbeck wants to get the ball in the hands of playmakers.
Koren Robinson is an 8-year veteran who has excelled in West Coast offenses in the past. He has 282 career catches and 16 touchdowns, but the bulk of those catches came from 2001-04.
This season, Robinson has 19 receptions for 231 yards and two touchdowns. He caught a 90-yard touchdown pass from quarterback Seneca Wallace, the longest pass play in Seahawks history, earlier this season.