Shawn Springs began Dallas Week challenging himself to a track meet with Terrell 'Usain Bolt' Owens.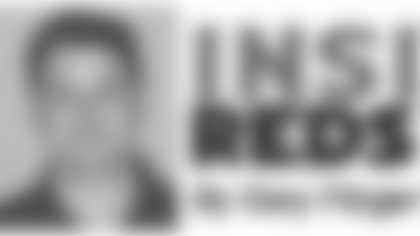 Owens, of course, had compared himself to Olympic champion Bolt in a touchdown celebration earlier this season.
Springs was able to keep up with Owens in the first half of the Redskins' 26-24 win at Texas Stadium, but he suffered a calf injury midway through the third quarter. He remained on the sidelines the rest of the game.
Springs vs. Owens was the matchup to watch heading into the game. They have been competing against each other since 1997, when Springs was in Seattle and Owens was in San Francisco.
It turned out that the entire Redskins' secondary stepped up to cover Owens. Carlos Rogers had solid coverage on Owens on three consecutive plays in a key fourth-quarter series.
There would be no four touchdown performances by Owens this time at Texas Stadium.
The Redskins had bottled up the Cowboys' run game all day, limiting running back Marion Barber to just 26 yards on eight carries.
So it was up to the Redskins' secondary to shut down quarterback Tony Romo and company.
On the game's first play, Romo went to Owens on a 7-yard pass completion. Springs appeared to have solid coverage, but Owens made the grab on a curl pattern and was pushed out of bounds.
If the intent was to send a message to Springs, it didn't work.
Springs would go on to shadow Owens all over the field in the first half. He finished with four tackles and two passes defended in the game.
In the second quarter, Springs made a nice play by breaking up a third-down pass to Owens and forcing the Cowboys to punt.
Romo tried Owens again later in the second quarter, and Springs batted the pass away for another incompletion.
Owens logged just two catches for 11 yards in the first half.
In the second half, it was apparent that Dallas wanted to get wide receiver Terrell Owens more involved in the passing game.
On the Cowboys' first drive, Romo threw to Owens twice for gains of 18 yards and 11 yards to move into scoring range.
One play later, Romo went back to Owens on a crossing pattern. Owens grabbed the ball at the 5-yard line and weaved his way through tacklers. He angled his body into the end zone for a touchdown just as he was tackled by three Redskins defenders.
In the fourth quarter, the Cowboys continued to look toward Owens.
With Springs sidelined due to his calf injury, it was Carlos Rogers who was assigned to Owens.
On three consecutive plays, Rogers broke up passes to Owens, frustrating the Pro Bowl receiver and forcing the Cowboys to punt.
With the Redskins leading 26-17 in the fourth quarter, defensive coordinator Greg Blache used five and six defensive backs to slow the Dallas offense.
Rogers, who led the defense with seven tackles in the game. and Leigh Torrence were the primary cornerbacks. Fred Smoot aggravated a hip injury, but he came back into the game.
LaRon Landry played deep free safety, and Chris Horton and Reed Doughty were also on the field to help prevent big plays.
The Cowboys mounted a furious fourth-quarter comeback, and Romo threw an 11-yard touchdown pass to wide receiver Miles Austin to narrow the score to 26-24.
Dallas could get no closer, though.
"What a major issue we had when we have these high-powered wide receivers and Shawn goes down with a little calf sprain," head coach Jim Zorn said. "I can't say enough about our young defensive backs. Our safeties played like nickel backs. They had a big challenge and they got the job done."
Added Smoot: ""We have different guys stepping up and making plays each week."
Owens finished with seven catches for 71 yards and one touchdown. Wide receiver Patrick Crayton added seven catches for 87 yards and tight end Jason Witten had seven grabs for 90 yards and one touchdown.
Romo passed for 300 yards on 28-of-47 completions, but 82 of those yards came in the Cowboys' final drive of the game.
"Dallas has one of the premiere offenses that I have seen in all of my years,' Blache said. "I compare them to the Patriots offense last year when they were on their run. We had our hands full.
For us, it's not just about devising a scheme, it's executing. A lot of things look good on the board, but you have to execute the. We did that, and then we went out and played with great intensity and passion. We played physical."