The Redskins have signed rookie wide receiver Devin Thomas, the team's top selection in last April's NFL Draft.
Thomas was the Redskins' second-round draft pick, 34th overall, in the draft.
Thomas was at Redskins Park on Friday morning, along with his agent Drew Rosenhaus, to sign the contract. It is a four-year deal, the team has announced.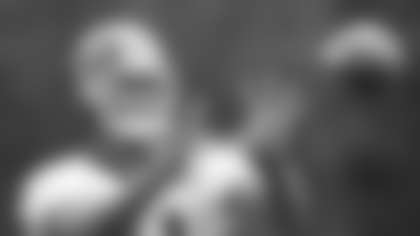 Devin Thomas (Don Wright Photo)
To make room for Thomas on the roster, the Redskins released fullback Pete Schmitt.

Thomas is the ninth of 10 Redskins draft picks to sign his rookie deal.

Only tight end Fred Davis, also a second-round draft pick at No. 48 overall, remains unsigned with two days left to the start of training camp.

Thomas was the second wide receiver chosen in the NFL Draft. He was selected immediately following Donnie Avery, who the St. Louis Rams tabbed at No. 33.

At Michigan State, Thomas played in 23 games, with 13 starts, and blossomed into one of the nation's most productive pass catchers in 2007.

Last year, the 6-2, 218-pound target caught a school record 79 receptions for a Big Ten-leading 1,260 yards and a team-high eight touchdowns.

Thomas also established a conference record in 2007 for kickoff return yards in a season with 1,135.

His 2,590 all-purpose yards last year led the Big Ten, and the total is the second-highest in the league's history. (Penn State's Larry Johnson had 2,655 all-purpose yards in 2002).