The Redskins continue to add to their depth at defensive line by signing veteran Vonnie Holliday, the team announced on Monday.
Holliday has 12 years of experience playing for four clubs in the NFL, most recently with the Denver Broncos.
The Redskins also added three undrafted rookie free agents to the roster on Monday. The team signed wide receivers Brandon Banks and Shay Hodge and cornerback Melvin Stephenson.
Holliday has experience playing as a defensive tackle in a 4-3 alignment and a defensive end in a 3-4 in his career.
He has played in 167 career games, with 144 starts, and has recorded 572 tackles, 60 sacks, two interceptions, 38 passes defended, nine forced fumbles and 11 fumble recoveries in his career.
Holliday, 6-5 and 285 pounds, played in all 16 games for the Broncos, with three starts, and registered 33 tackles, including five for loss, five sacks, two forced fumbles and one fumble recovery.
Holliday joined Denver from the Miami Dolphins where he spent four years and started 59 of the 60 games. Prior to his stint in Miami, Holliday played two seasons with the Kansas City Chiefs (2003-04).
Holliday entered the NFL as a 1998 first-round draft choice (19th overall) by the Green Bay Packers.
As a rookie, he played and started in 12 games, registering eight sacks. He was named to the All-Rookie Team.
In his five years with the Packers, Holliday played in 66 games, with 63 starts, and recorded 32 sacks, with at least five in each season.
Holliday, a native of Camden, S.C., is the sixth defensive linemen the Redskins have acquired this offseason.
In addition to Holliday, the Redskins traded for Adam Carriker and signed Maake Kemoeatu, Howard Green, Darrion Scott and Greg Peterson.
Banks, 5-7 and 150 pounds, served as a kick return specialist at Kansas State last year.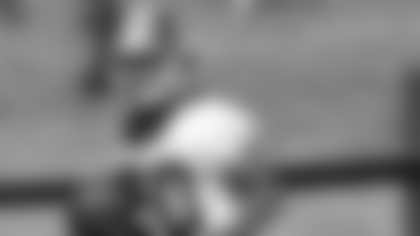 He led the Wildcats last season with 56 catches for 705 yards. Banks tied for the nation's lead in kickoff returns for touchdowns with four, while ranking fifth in kickoff return yards with 1,127, and 12th with a 28.9-yard average, on 39 kickoff returns. His 9.1 yards per punt return (17 for 155 yards) ranked 35th in the country.
For his efforts, Banks was named Big XII Special Teams Player of the Year, first-team All-Big XII kickoff returner/punt returner and second-team All-Big XII wide receiver.
In four years at Mississippi, Hodge became the all-time leading receiver in school history with 2,646 receiving yards. Hodge's 173 career catches and 22 receiving touchdowns are second in Rebels history, while his six 100-yard receiving games are tied for second.
Hodge, 6-2 and 207 pounds, earned first-team All-SEC honors last year after catching 70 passes for 1,135 yards and a team-high eight touchdown grabs.
Stephenson, 5-10 and 185 pounds, played college football at UTEP and appeared in 47 games, with 23 starts in four years. He and recorded 128 tackles, including 2.5 for loss, four interceptions, 14 passes defended, one forced fumble and one fumble recovery.
As a senior last year, he started all 12 games and registered 58 tackles, two interceptions, six passes defended and one forced fumble.