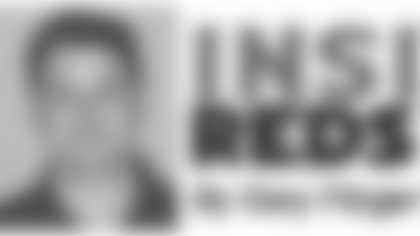 In 2007, Washington opened the regular season with a dramatic 16-13 overtime win over the Miami Dolphins at FedExField.
The Redskins won the overtime coin toss and drove downfield to get in position for Shaun Suisham's game-winning 39-yard field goal.
That day, overtime rules worked to the Redskins' advantage.
Some would say that it was an unfair advantage, though.
In recent years, the number of teams that have won the overtime coin toss and then won the game on the first possession has increased to a "significant" level, according to NFL Commissioner Roger Goodell.
During his Super Bowl XLIII press conference in January, Goodell hinted that the league's Competition Committee may look at tweaking the overtime rules.
"I think it's something the Competition Committee needs to consider," Goodell said.
According to NFL.com, the Competition Committee is expected to recommend no change to overtime rules. The recommendation was based on an "emphatic opinion" expressed by players against any modification.
Overtime rules drew scrutiny in the 2008 postseason after the San Diego Chargers scored on the first possession of overtime and defeated the Indianapolis Colts 23-17.
Goodell indicated that one proposal has the opening drive of overtime starting at the 20-yard line, forcing the offense to drive 50 yards to get into field goal range.
Other suggestions include both teams getting at least one overtime possession or requiring offenses to score touchdowns instead of field goals.
A recent survey of Redskins players suggests some of them are split on how to approach overtime.
Chris Samuels has played in nine overtime games in his 9-year career and boasts a 6-3 record.
"It's definitely an advantage if you win the coin toss and get the ball first," Samuels said. "It gives the offense a lift. You know you have the first chance to go down there and win the game."
Samuels said he was fine with the existing overtime rules. He likes that defenses also must rise to the occasion to win a game in overtime.
"I think you should keep it as it is," Cartwright said. "You win the toss, and you get an opportunity to score in sudden death. You have to score, and you have to stop them from scoring.
"That's the great thing about sudden death--you never know what's going to happen. When you get the opportunity to put someone away in a sudden death situation, you go ahead and do it."
Younger players lean toward the college overtime rules, though.
In college overtime, each team is given one possession from its opponent's 25-yard line with no game clock. The team leading after both possessions is declared the winner.
If the teams remain tied after both possessions, then the two-possession periods continue until there is a winner.
"I prefer college, because I feel in NFL overtime, whoever gets lucky enough to win the coin toss gets the upper hand," Malcolm Kelly said. "I feel like you should at least let everybody get one possession. If [a defense] can stop us and then their offense comes back and scores, then they win.
"But you have to stop us at least once. The way it is now, it's not like somebody can be better than somebody at coin tossing. Whoever wins the flip really gets the best chance to win."
Added Stephon Heyer: "I like [college overtime] because it can take the kicker out of the situation. It forces you to put points on the board to win, because you know both offenses are going to get the ball.
"I think if I had to choose, I'd go with the college way. It allows everyone to get a chance. If you flip a coin, you're not necessarily going to win the game."