Never underestimate the feel-good value of history and tradition.
Redskins fans comfort themselves with three Super Bowl trophies, though the last was won in 1992. They well remember how it felt to love a dominating football team of character and characters.
Redskins owner Daniel M. Snyder understands that. He too grew up as a Redskins fan.
His new executive vice president of football operations and general manager, Bruce Allen, lived it. His father was George Allen, the Redskins coach from 1971-77. Bruce Allen hung out at the old Redskins Park before his football career took him plenty of other places and, on Wednesday, back to this incarnation of Redskins Park.
What recollection of the Redskins' rise to prominence could he summon?
"There's not just one single memory," he said. "There's hundreds."
The Redskins introduced Allen, 53, at a Thursday news conference on a day packed with comings and goings and portents for the future. Earlier, Vinny Cerrato had resigned as executive vice president after 10 years with the club. Snyder's recent interviews of candidates to lead the team into tomorrow culminated in selecting a peripheral piece of the past.
Snyder praised Allen's "passion for the game, for winning" and his accomplishments over the years with the Oakland Raiders and Tampa Bay Buccaneers but returned to Allen's lineage to underscore his value.
"It's an added bonus that he understands the heritage, the tradition of the Washington Redskins," Snyder said.
Yes. The heritage and tradition.
"What makes it a good fit," Allen said, "is I want to be in a place with good tradition."
When losing, as George Allen said, was a little bit like dying. When the Redskins exploded in popularity. When they were within a touchdown of halting the Miami Dolphins' run to immortality in 1972, losing 14-7 in Super Bowl VII. When Sonny Jurgensen and Billy Kilmer quarterbacked and running back Larry Brown sacrificed his body on every dash through the middle. When Ken Houston patrolled the deep part of the secondary and Chris Hanburger ground opponents into hamburger from his linebacker spot.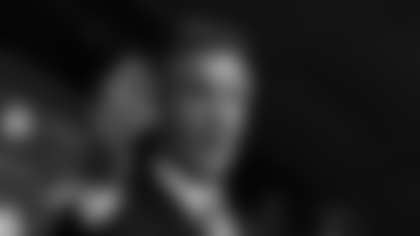 The Redskins need to rekindle that. Not so much by looking back but by looking ahead to what a new administration might bring.
Allen was part of five division winners with the Raiders and Buccaneers and Oakland's 2002 Super Bowl team. He has been an agent, a general manager and this year, after his firing by the Bucs, an observer of many teams around the league. He has visited other facilities, talked to coaches and personnel people and come away with an education.
What he knows of today's Redskins may be a bit limited but he'll catch up.
"I've seen the games," he said, "but obviously I haven't felt the pain associated with 4-9. Today I feel the pain."
Often perceived as too involved in the team's inner workings, Snyder said he was less a part of it than people thought and that Allen "has the authority. When we, when he, when the club makes a decision, it's a Redskins decision."
Allen wouldn't comment directly on the future of coach Jim Zorn, 12-17 in his two seasons and under contract for 2010. He spoke briefly with Zorn in the morning and wants to meet with him more.
Allen is aware that his ascendancy has prompted all manner of speculation that Jon Gruden waits somewhere to be tapped as the next coach, having worked with Allen in Oakland and Tampa.
"Right now is not the time," he said of discussing coaching issues.
He takes over a team with 10 players on injured reserve, including former Pro Bowl picks Chris Samuels and Chris Cooley. He inherits a roster that, at the outset of the season, was the NFL's oldest.
"From afar, as an opponent, I've liked the talent," he said. "They have a nice core of talent. That's attractive."
Keep Zorn? Keep quarterback Jason Campbell? Oh, he'll get to make some decisions.
Cerrato's departure and Allen's arrival with three weeks left in the season were, Snyder said, an opportunity "to build a plan and get a headstart on 2010."
If Allen offered a mission statement, a way to build a champion, it would have been this: "It's a team. Everybody in the building going in the same direction, with one purpose – winning."
Interesting. Seeing as this team too often falls into turf wars. An offensive consultant hired in October calls the pass plays. The offensive coordinator calls the run plays. The head coach, unhappily stripped of that authority, works into the mix at certain times. This odd dynamic and plenty else produced what Snyder called "a difficult season, one that has disappointed everybody."
Cerrato became a lightning rod for fan anger and absorbed the brunt of the criticism. Maybe that's fair and maybe it's not but it can't be argued that Redskins supporters wanted his next role to be that of a human sacrifice. His removal, if the fan boards on the internet can be trusted, engendered universal glee. He leaves and Allen accepts the challenges.
Absent from national prominence for far too long, from competing for the NFL's ultimate prize, from being a feared rival, the Redskins must regain what they surrendered. That can be found in their past and their heritage.
So they start anew. With someone who knows their past and their heritage.
---
Larry Weisman covered professional football for USA TODAY for 25 years and now joins the Redskins Broadcast Network and Redskins.com to bring his unique viewpoint and experience to Redskins fans. Go to Redskins.com for the Redskins Blitz column and NFL Blitz on Friday. Larry also appears on The Jim Zorn Show on WRC-TV on Saturday night, on Redskins Nation, airing twice nightly on Comcast SportsNet, and on ESPN 980 AM radio, all in the Washington, D.C. area. Read his blog at redskinsrule.com and follow him on Twitter.com/LarryWeisman.