](/news/article-1/papa-john-s-redskins-touchdown-special/048A1EB7-6061-49FD-958A-DAA6B0CAE730)
Redskins.com breaks down some of the key matchups to keep an eye on during Monday night's Redskins-Steelers game at FedExField.
"Redskins-Steelers: 4 Keys to the Game" is presented by Papa John's.
This week, on the Tuesday after the Redskins-Steelers game, fans can order a large cheese pizza for only $9.99, plus for each TD that the Redskins score, fans get one free topping. With a Redskins victory, fans get double the toppings.
This Papa John's promotion for the Redskins-Steelers game will also be available on Monday, Nov. 10, following the Redskins' bye.
Redskins Pass Protection vs. Steelers Linebackers
It could be tough going for the Redskins' second-ranked rushing offense on Monday night. The Steelers' run defense has been a strong point for years.
The Redskins must establish a passing game to move the ball. That means giving Jason Campbell time to throw the ball.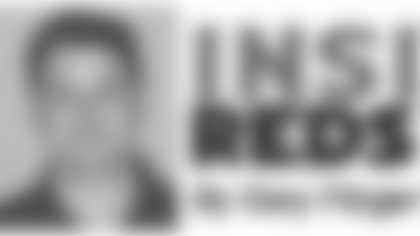 Campbell has completed 66 percent of his passes for 1,754 yards and eight touchdowns. He has been sacked 16 times this season, 21st most in the league, but he has not been pressured into mistakes. He has zero interceptions in eight games.
Pass protection is a premium this game, and offensive linemen will need to communicate at pre-snap to make sure they are coordinated at the line of scrimmage. Clinton Portis, Mike Sellers, Chris Cooley and others will have to be involved in pass blocking.
Pittsburgh's linebackers have a combination of size and speed. James Harrison is 6-0 and 242, and he leads the Steelers in sacks with 8.5. LaMarr Woodley is 6-2 and 265, and he has 7.5 sacks.
When they come off the edge, Chris Samuels and Jon Jansen must fend them off, with help from Cooley. When they come up the middle, look for Sellers and Portis to pick them up.
Redskins Pass Rush vs. Ben Roethlisberger
Washington has relied on strong pass coverage to befuddle quarterbacks this season. At some point, the pass rush should pick up the slack.
The Redskins have just 10 sacks this season, with Andre Carter leading the defense with two. It hasn't helped that Jason Taylor has been sidelined most of the season with a calf injury. His replacement Demetric Evans has one sack, but is strong in run defense.
Why is it so important to generate a pass rush against Roethlisberger? In the Steelers' two losses this season, to Philadelphia and the New York Giants, Roethlisberger was sacked 13 times and threw a combined five interceptions.
Overall, Steelers quarterbacks have been sacked 23 times, 30th most in the league.
Roethlisberger has a tendency to hold the ball longer than other quarterbacks. He does have good mobility for a 6-5, 241-pound quarterback.
Left tackle Marvel Smith is out for the game due to a back injury, so Carter is expected to match up against Max Starks, a 6-8, 345-pound fifth-year pro.
Antwaan Randle El vs. Steelers Punt Coverage
For the second week in a row, the Redskins go up against the NFL's second-ranked punt coverage unit. The Steelers have yielded just 4.9 yards per punt return this season.
This season, Antwaan Randle El is averaging just 6.5 yards per return.
It was Santana Moss who recorded the Redskins' only touchdown on a punt return. Last week, he returned a punt 80 yards for the game-winning points in the 25-17 win over the Lions.
Randle El continues to get the bulk of returns, though. The punt return group is ranked 19th in the NFL following Moss's big return.
Randle El played in Pittsburgh from 2002-05 and that could provide some extra motivation to make an impact in Monday night's game.
Casey Rabach vs. Casey Hampton
For the second time in three weeks, Casey Rabach goes up against a massive nose tackle in 6-1, 326-pounder Casey Hampton.
Rabach held his own against Cleveland's Shaun Rogers on Oct. 19. Hampton is one of the elite defensive linemen in the NFL, earning trips to four Pro Bowls in the last decade.
Hampton has missed three games due to a groin injury this season. He has nine tackles in four games, but no sacks.
Rabach has been part of an offensive line that has been dominant in run blocking. He'll need to get a strong push against Hampton to make sure he does not disrupt plays in the backfield.