Redskins.com looks at some of the key players to keep an eye on during Saturday's Redskins-Steelers preseason game at FedExField.
"Redskins-Steelers: 4 Players to Watch" is presented by Papa John's.
Every Monday, fans can order a large cheese pizza for only $9.99, plus for each touchdown that the Redskins score, fans get one free topping. And with a Redskins victory, fans get double the toppings.
---
-- Jason Campbell
Campbell has had a rough go of it when he has faced the Pittsburgh Steelers.
Two years ago, early in preseason, Steelers defensive lineman Brett Keisel fell into Campbell's knee on a pass rush. Campbell left the game and was diagnosed with a bruised knee. He did not return until the preseason finale.
Last year, the Steelers pressured Campbell repeatedly and sacked him seven times. During a media session this week, he recalled feeling woozy after one of the sacks.
Now Campbell gets a third chance to shine against the Steelers and their No. 1-ranked defense.
How far has he come? That's a question that seems to define Campbell right now.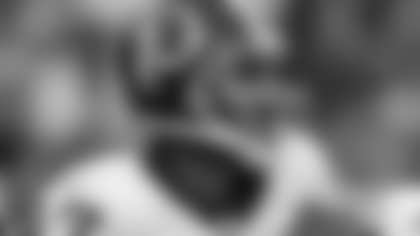 Team officials and coaches hope he can emerge into an elite-level quarterback. He threw for 3,245 yards, 13 touchdowns and six interceptions in his first full season as a starter last year.
It's still early in preseason, and Campbell is expected to play just 2-3 series, but Redskins fans are sure to be looking for positive signs from the fifth-year signal-caller.
-- Fred Davis
Davis was one of the standouts of training camp, catching passes over the middle and proving tough to take down.
In last Thursday's preseason opener in Baltimore, he fumbled twice on the same drive. The second fumble was recovered by the Ravens.
Coaches worked with Davis in practice, reminding him of the fundamentals of holding on to the ball.
Jim Zorn hopes it pays off.
Davis's presence in two tight end sets is expected to help open up the Redskins' passing game.
"Fred has got a lot of pride in his own game," Zorn said. "I don't think we will have to worry about his ball security. He is going to be conscious of hanging on to the ball...We have been doing distraction drills and he has made a good effort to make sure he secures the ball before he turns and runs."
-- Albert Haynesworth
Hard to believe, but in seven NFL seasons Haynesworth has never played at FedExField.
Well, the big man makes his debut on Saturday night.
Even if Haynesworth plays only one or two series, it's the first opportunity to get a glimpse of what the Redskins' defense could look like in the regular season.
"I'm going to go out there and show what I can do," Haynesworth said. "I'm going to knock some of the rust off. You can do some of that in practice, but you need the lights, you need the game speed, you need the crowd to get you ready to go."
Haynesworth, all 6-6 and 350 pounds of him, is expected to provide a strong push up the middle. If he's double teamed, then that should open up pass rush lanes for defensive ends, linebackers and safeties.
Coaches have already added a wrinkle with Haynesworth in which he lines up at defensive end.
-- Justin Tryon
Early in training camp, Tryon was a candidate for most improved Redskin. After struggling in 2008 preseason, Tryon had shown progress this year with his technique and coverage skills.
Tryon lined up with the first-team defense and was picked on repeatedly by quarterback Joe Flacco--including consecutive plays in the Ravens' second drive.
The Redskins have three proven, veteran cornerbacks at the top of the depth chart. A quality fourth cornerback is needed for depth purposes and to serve in dime packages.
Tryon is in line for that role, but he knows he needs to play better.
"I told Justin that I haven't lost faith in him, but I was disappointed in his performance," Gteg Blache said. "When we run you out with the [the first string], we expect you to act like a big dog, run with the big dogs and play like one."