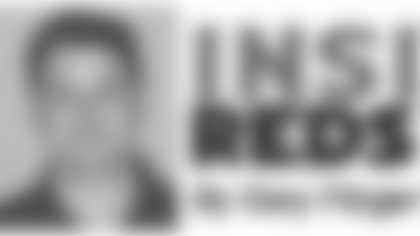 Jason Campbell is expected to enter the 2009 season as the Redskins' starting quarterback.
"I think what you do is you go year to year and you have to evaluate everything," vice president of football operations Vinny Cerrato said on Wednesday.
It's evident that Campbell needs to have a strong season in 2009 to secure a long-term future in Washington. And to secure his standing as the Redskins' quarterback of the future.
Campbell is scheduled to become a free agent after the 2009 season. His status--restricted or unrestricted--is to be determined. It is dependent on the Collective Bargaining Agreement between the NFL and the player's union.
As it is with most NFL teams, the quarterback position remains a key for the Redskins.
Campbell showed strides in his fourth NFL season and third as a starter.
He completed 315-of-506 passes--a solid 62.3 completion percentage--for 3,245 yards, 13 touchdowns and six interceptions.
Cerrato was encouraged by Campbell's improvement last season.
Campbell cut down on turnovers last season. He had just seven fumbles and interceptions in 2008, down from 19 the year before.
He also guided the Redskins to several fourth quarter comebacks, including Week 2 when he tossed a 67-yard touchdown pass to Santana Moss to defeat the New Orleans Saints 29-24.
He worked closely on fundamentals and technique with head coach Jim Zorn last offseason and improved his ability to manage games at the line of scrimmage.
Still, the Redskins finished 19th in the NFL in offense and 23rd in passing. Campbell was the NFL's 19th ranked passer with an 84.3 QB rating.
Defenses ramped up the pressure on Campbell in the second half of the season and he was sacked 38 times. The offense struggled in the red zone and finished 28th in the league in scoring.
Said Cerrato: "Is Jason where he wants to be? No. Does he still have a high ceiling? Absolutely. So he's still making a lot of progress."
Cerrato said that, in general, finding a long-term solution at the quarterback position is the most important decision for a franchise.
"It's the most important position on a football team," he said. "You can't win without one."
And once the quarterback position is solved, many other personnel decisions fall into place.
"It makes everything easier," Cerrato said.