The Redskins have tendered contracts to all 10 of their restricted free agents, including quarterback Jason Campbell, cornerback Carlos Rogers and linebacker Rocky McIntosh.
Campbell and Rogers received first-round tenders, while McIntosh, Kedric Golston, Reed Doughty, Stephon Heyer and Chris Wilson received second-round tenders.
"We thought all of the tenders were appropriate for the player," general manager Bruce Allen said on Thursday. "We can see them in our game plan for the 2010 season and beyond, and that's how we're looking at it."
Restricted free agents are players that the Redskins can tender a contract offer to prior to the start of free agency. Other NFL teams can sign the player to an offer sheet in free agency, but the Redskins can match the offer and retain the player. If the Redskins do not match, they can receive draft pick(s) as compensation depending on the tender offer.
Here is the full list of restricted free agents tendered by the Redskins:
Lorenzo Alexander, DL (Undrafted-Right of First Refusal)Alexander saw action at both defensive end and tackle last season, recording 22 tackles, two sacks and one forced fumble. He also excelled on kickoff and punt coverage, posting 12 special teams tackles.
Jason Campbell, QB (1st Round)Campbell started all 16 games for the second year in a row for the Redskins. He completed 327-of-507 passes for 3,618 yards, 20 touchdowns and 15 interceptions, all career highs. His QB rating was 86.4.
Reed Doughty, S (2nd Round)
Doughty returned from back surgery to play in 15 games, with nine starts. He posted 88 tackles, two sacks and one fumble recovery before he landed on injured reserve with an ankle injury in Week 17.
Kedric Golston, DT (2nd Round)
Golston was part of a defensive tackle rotation in 2009, playing in all 16 games with six starts. He logged 50 tackles, two sacks and one forced fumble.
Stephon Heyer, OT (2nd Round)Heyer played in all 16 games for the first time in his career last season. He opened at right tackle, shifted to left tackle for three games when Chris Samuels was sidelined, then moved back to right tackle at season's end.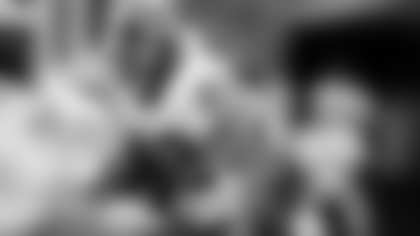 Rocky McIntosh, LB (2nd Round)
McIntosh has started at weak-side linebacker since 2007. Last season, he posted 115 tackles (second-most behind London Fletcher), two interceptions and two forced fumbles.
Anthony Montgomery, DT (5th Round)
Montgomery saw limited action in his fourth NFL season, playing in six games and recording five tackles as part of a defensive tackle rotation.
Will Montgomery, OL (7th Round)
Montgomery's versatility as a guard and center proved valuable after the Redskins' offensive line struggled with injuries last year. He played in all 16 games, with three starts at right guard.
Carlos Rogers, CB (1st Round)Rogers was part of secondary that finished tied for eighth in pass defense last year. He started 15-of-16 games in 2009 and posted 46 tackles and one fumble recovery.
Chris Wilson, LB/DE (2nd Round)
Wilson backed up Brian Orakpo last season, playing in 16 games as a pass rushing outside linebacker and defensive end. He logged nine tackles and one sack.