The Redskins have tendered contract offers to restricted free agents Kedric Golston and Anthony Montgomery.
Under restricted free agency, NFL teams can sign Montgomery or Golston to an offer sheet, but the Redskins can match any offer to retain them.
If the Redskins do not match, they may receive draft picks as compensation.
Golston and Montgomery, both defensive tackles, joined the Redskins in 2006 as mid-round draft picks.
Golston was a sixth-round selection while Montgomery was chosen in the fifth round.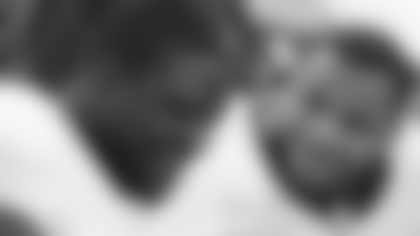 Anthony Montgomery, Kedric
Golston (Ned Dishman Photo)


Golston has started 25 games in three seasons and posted 83 tackles, 3.5 sacks and a safety in that span.
Last season, Golston started 12 of 13 games and logged 44 tackles and a half-sack.
He also is a contributor on special teams units and he has a blocked field goal and a blocked PAT to his credit.
Montgomery has started 22 games in three years, logging 74 tackles and three sacks.
Last season, Montgomery started six of 14 games and logged 23 tackles and two sacks.
Both Golston and Montgomery have been regulars at Redskins Park this offseason.
Golston has been rehabbing a foot injury that sidelined him for three games late in the year. Montgomery had arthroscopic knee surgery, a minor procedure, in January.
Shaun Suisham, Reed Doughty and Justin Geisinger are also restricted free agents this offseason.
On Wednesday, the Redskins tendered a contract to Suisham, the third-year kicker.
Thus far, there is no word on whether Doughty or Geisinger have been tendered a contract by the Redskins. If they are not tendered, they become unrestricted free agents and free to negotiate with any team.