The Surrattsville Hornets football team stood in the end zone of their Clinton, Md., high school football field, waiting patiently for the start of their homecoming pep rally.
For the first time this year, they looked out at a football field that was perfectly manicured, just days before their homecoming game.
"We're able to not worry about if there's glass on the field or if there's something dangerous on the field that we might trip or hit or fall on," junior running back Joseph Rollins said.
On Tuesday, the Redskins Charitable Foundation and Prince George's County Public Schools announced a partnership which adds eight high school football fields to the team's successful "Fields For Tomorrow" field renovation and maintenance program.
The partnership was announced at a press conference at Surrattsville High School.
Redskins owner Daniel M. Snyder was in attendance alongside players Clinton Portis, Mike Sellers, London Fletcher, Derrick Dockery and Lorenzo Alexander.
"It's really important that we really work hard with the community to give back," Snyder said. "We've got an obligation with our football team and our players, and an opportunity. So we're excited. They're beautiful fields, and we hope they're put to good use."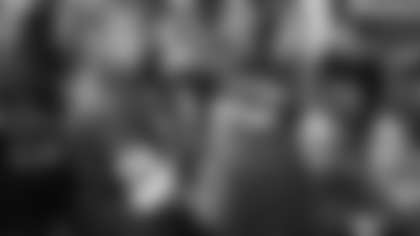 Lorenzo Alexander greets students.
(Ned Dishman Photo)


As part of the "Fields For Tomorrow" program, the Redskins consult with a professional grounds crew to renovate, upgrade and maintain high school football fields in the Greater Washington, D.C., area.
The team has dedicated nearly $1 million to the program since its inception. Schools already in the program include Central, Fairmont Heights, Frederick Douglass and Largo High Schools.
In addition to Surrattsville High School, football fields to be renovated in Prince George's County include Crossland, Flowers, Wise, Potomac, Parkdale, Suitland and Forestville Military Academy.
"When you have a field that you're proud of, you want to go practice and you want to play games," Redskins defensive lineman Lorenzo Alexander said. "You want to work hard and you want to show the community that you're proud of the field."
In addition, the Charitable Foundation will install the Coaches in the Classroom program and provide an academic coach at Fairmont Heights High School.
The partnership outlines the commitment of the Redskins Charitable Foundation to continue a number of signature programs within the school system including Coaches in the Classroom, Fields for Tomorrow, Redskins Read, 4th & Life High School Football Forums, Atlas & Athena, Harvest Feast, and Skins Santa Shoppe.
Under the Coaches in the Classroom program, the Redskins fund an academic coach that provides academic and life skills counseling to student-athletes through one-on-one mentoring, study halls, college field trips and community service programs.