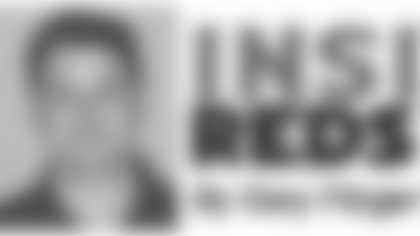 It's often said that football is a game of momentum.
If that's the case, then the Redskins are on the downward side of momentum right now.
After a 6-2 start, including impressive wins over the New Orleans Saints, Arizona Cardinals, Dallas Cowboys and Philadelphia Eagles, the Redskins have faltered in the last six weeks.
The Redskins have a 7-6 record through 13 games and they are in last place in the highly competitive NFC East. They struggled on both sides of the ball in Sunday's 24-10 loss to the Baltimore Ravens at M&T Bank Stadium.
The offense turned the ball over three times and mustered just 62 rushing yards. The defense allowed 147 rushing yards, including 55 in a key fourth-quarter drive.
Head coach Jim Zorn recognizes that it has been a frustrating stretch.
His task is to renew the team's confidence while staying positive and emphasizing that a Wild Card playoff berth is still within reach.
"We have to hold our team from getting so frustrated that they pack it in," Zorn said on Monday. "I don't see this as a team that in any situation has that sense of packing it in. I really felt like we had a good week of practice [last week]. Our guys were right there both mentally and emotionally.
"I think we've become more fragile with our confidence. If anything, we've got to get our confidence back up. It's hard to get your confidence back up unless things can be successful."
Zorn said the turnaround has to start this week.
And then it has to carry over into Sunday's contest in Cincinnati against the 1-11-1 Bengals.
It's safe to say that, given their recent stretch of games, the Redskins won't be taking the Bengals lightly.
Zorn said he would rely on his team captains to "set the pace in the locker room and the practice field."
Jason Campbell, Chris Samuels, Cornelius Griffin, London Fletcher, Rock Cartwright and Khary Campbell represent the Redskins as captains.
"Everyone is down," Zorn acknowledged. "This was a hard blow, much like last week [in a loss to the New York Giants]. It's not fun. It's a hard thing to do given what we've gone through the last few weeks, but we can't flinch.
"The thing that will turn us is if we can have some success this next week. If we can get some success, then I think we'll rebound."
And once Zorn and the Redskins get on the positive side of momentum, anything can happen in the playoff picture.
"For the guys that have been here and been in this league for a while, we know what it takes," Mike Sellers said. "We have to get everybody else to feel the same way. It is just all about leadership and trying to guide younger players in the right direction."