Players love Victory Monday. What's not to love?
An extra day to laze in bed. No running. No practice. No meetings. All because of that victory on Sunday.
The Redskins reached into the distant corners of their minds to recollect the tone and texture of such interludes, how sweet the extra leisure can be in a grind of a season, the pure pleasure of applause and huzzahs cascading down from every tier of FedExField.
The flush and flood of feelings contrasted starkly with the agony of the recent weeks. More than 85,000 sun-splashed fans hung with their team, found reasons to cheer and respond to the exhortations of the players as time wound down and the defense closed it out. The drought was over.
"We've had a desert experience, very arid, if you will," coach Jim Zorn said late Sunday afternoon, one of those too-rare triumphs just minutes behind him. "You come out with a win and you forget how to feel. We remembered very quickly."
He put his battered lineup on the field against the Denver Broncos and asked for grit, competence, confidence and trust. He asked the healthy bodies to overcome some early errors and hold true. He used every receiver and running back at his disposal in trying to jump-start a stalled offense.
At the end, the team that had forgotten what it was like to win taught a lesson to one now trying to remember the same thing. The Redskins rallied for a 27-17 victory against the Broncos, overcoming critical early mistakes and allowing the visitors only 36 second-half yards.
"We were only down by one score. Never two scores. That was important," quarterback Jason Campbell said.
The Redskins (3-6) stayed in it and won, ending a four-game losing streak while handing Denver (6-3) its third consecutive defeat.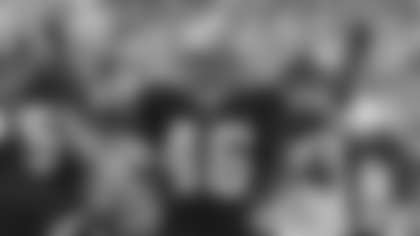 An offensive line with three changes in its five-man starting group since last week blocked well for Ladell Betts, subbing for the injured (concussion) Clinton Portis.
Punter Hunter Smith, he of the problematic groin pull, threw a touchdown pass on a fake punt that everyone saw coming (except, apparently, the Broncos).
The defense, shaken early, stirred itself and shut out the Broncos and second-string quarterback Chris Simms in the final two quarters.
Even though the Redskins trailed early, they did not fall so far behind that they could not execute the simplified attack they needed to implement with so many backups taking on starting roles.
They used the recently-signed Levi Jones at left tackle, bumping Stephon Heyer back to right tackle. Chad Rinehart stepped back in at right guard for Will Montgomery.
Staying close allowed the Redskins to stick to their running game, even minus Portis. Betts ran for 114 yards on 26 carries, 91 of those yards on 18 attempts in the second half, including the go-ahead touchdown from 1 yard out.
"We had to make tough yards," said Betts after his first 100-yard game since 2006. "The o-line? I can't talk enough about them. They did a great job."
Betts, Rock Cartwright and Quinton Ganther took on Portis' responsibilities and Campbell added 15 yards on a pair of scrambles. The 174 rushing yards and 40 runs were both season highs.
"Every running back fought for yards," Zorn said.
None was more effective than Betts. The eight-year veteran's performance was the Redskins' best this season.
"I'm glad I was able to provide a little spark," he said.
Sparks light fires and this one raged.
The Broncos held the ball for only 8:51 of the second half as the Redskins drained the clock with two long drives, one for the tying field goal and one for Betts' plunge to take the lead. Kyle Orton started and staked his club to a 17-14 halftime lead but he did not return for the third quarter due to an ankle injury and Simms showed nothing.
"This certainly wasn't about Chris Simms," said Josh McDaniels, Denver's first-year head coach. "We didn't do much in the second half nearly as well as we did in the first half and that wasn't just about the quarterback."
Orton passed for 193 yards and touchdowns of 40 and 75 yards to Brandon Marshall. He had a passer rating of 134.7 in his two quarters of play; Simms rang up a rating of 7.5 on three-of-13 passing for 13 yards. All three of the Redskins' sacks came against Simms, two on Denver's final, painful possession.
Just as the running backs ham-and-egged it, so did the receivers. Campbell put passes in the hands of 10 different receivers, throwing a touchdown pass to backup tight end Todd Yoder for the second consecutive week. Yoder has only two receptions all year. Four receivers had 35 yards or more and five caught two or more passes.
Yet nothing works, or had worked, with the offensive line getting its ears boxed and starters succumbing to injury. The group assembled for this outing had a few rough patches in pass protection but opened holes for the running game and did not suffer the grievous breakdowns of some of the past incarnations.
Jones was a starter for seven years with the Cincinnati Bengals and a No. 1 draft pick. Heyer might prefer left tackle but seems better suited to the right side. Rinehart, benched after two starts earlier this season, held up well at a position in flux since Randy Thomas was hurt in Week Two.
"It really starts with the offensive line," said Zorn, whose team posted its biggest victory margin in his 25-game tenure and scored its most points getting 29 against the New Orleans Saints in the second game of the '08 season. This was the first game this season in which the Redskins scored more than 17 (on which they'd landed four times).
It may actually have started somewhere else. Defensive tackle Albert Haynesworth's mother, Linda, phoned Zorn during the week. She wanted him to emphasize fun instead of wins and losses because a loose team might more easily ditch its endless funk.
"She told me she called coach Zorn. And again this morning she sent me a text saying go out there and have fun, don't worry about winning and losing," Albert Haynesworth said.
"She's a competitor," Haynesworth allowed.
Now, suddenly, that description might fit the Redskins as well. They play the Dallas Cowboys on the road Sunday and get a chance to win a division game for the first time, a road game for the first time. Those have been rare achievements.
Which makes them more precious. Just like Victory Monday.
---
Larry Weisman covered professional football for USA TODAY for 25 years and now joins the Redskins Broadcast Network and Redskins.com to bring his unique viewpoint and experience to Redskins fans. Go to Redskins.com for the Redskins Blitz column and NFL Blitz on Friday. Larry also appears on The Jim Zorn Show on WRC-TV on Saturday night, on Redskins Nation, airing twice nightly on Comcast SportsNet, and on ESPN 980 AM radio, all in the Washington, D.C. area. Read his blog at redskinsrule.com and follow him on Twitter.com/LarryWeisman.