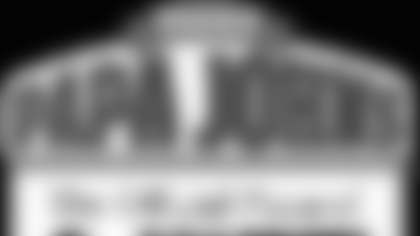 ](/news/article-1/papa-john-s-redskins-touchdown-special/048A1EB7-6061-49FD-958A-DAA6B0CAE730)
Every Monday, fans can order a large Cheese Pizza for only $8.99, plus for each TD that the Redskins score, fans get one free topping. And with a Redskins victory, fans get double the toppings!
Redskins.com breaks down key matchups to keep an eye on during Sunday night's Redskins-Vikings game at the Hubert H. Humphrey Metrodome:
OFFENSE
Todd Collins vs. Vikings Secondary
In his first NFL start in 10 years, Todd Collins struggled throwing the ball at the windy Meadowlands. The conditions should be much improved indoors at the Metrodome.
Running the ball against Minnesota should prove difficult, since the Vikings have the NFL's top-ranked run defense the last two years.
Collins should have an opportunity to get into a rhythm in the passing game, though. Minnesota's defense is ranked last in the league in pass defense. They allow 266.4 passing yards per game, but that's because offenses usually give up on the run.
The Redskins will have to try to establish Clinton Portis against the Vikings so that the downfield passing game opens up for Collins. Last week, Santana Moss caught several deep passes from Collins. The week before, it was Portis who proved effective catching passes out of the backfield.
The Vikings secondary includes three solid veterans in cornerback Antoine Winfield and safeties Darren Sharper and Dwight Smith. Plus, there's promising second-year corner Cedric Griffin. Smith and Sharper have four interceptions apiece.
DEFENSE
Redskins Linebackers vs. Adrian Peterson
The Redskins' defensive line will be occupied with one of the NFL's top offensive lines on Sunday, so that means the linebackers will need to be aggressive in filling the gaps and tackling rookie running back Adrian Peterson.
Peterson leads the NFC with 1,278 yards and he can dominate a game. The Redskins' defense is ranked ninth in the league, averaging 98 yards per game.
The unit has been solid in the tackling department this year, led by London Fletcher's team-high 148 tackles.
The defense will be without Rocky McIntosh, who is sidelined with a knee ligament injury. In his place will be a rotation of rookie H.B. Blades, Randall Godfrey and Khary Campbell.
Along with Marcus Washington, they will need to be sure tacklers to keep Peterson, as well as backup Chester Taylor, from breaking loose. Peterson has a 73-yard touchdown run this season, while Taylor has an 84-yard touchdown run.
SPECIAL TEAMS
Redskins Kickoff Coverage vs. Aundrae Allison
The Redskins' kickoff coverage units have been among the league's best all year, even after competing against top kick returners like Devin Hester, Michael Spurlock and Leon Washington.
The unit is ranked third in the NFL, allowing just 19.6 yards per kickoff return. Rock Cartwright and Khary Campbell are the top tacklers on special teams.
For the Vikings, rookie speedster Aundrae Allison has taken over kick return duties in recent weeks. Allison has 15 kick returns this season for a 30.9-yard average, tied with Cleveland's Joshua Cribbs for tops in the league. His longest return was a 104-yarder for a touchdown against Detroit on Dec. 2.
Sunday's game will be the Redskins' first this season in a dome, so the kick coverage will need to be disciplined to make sure Allison does not break a long one on the fast track.
1-ON-1
Andre Carter vs. Bryant McKinnie
The Redskins' pass rush has improved this season, and Andre Carter's 10.5 sacks is a big reason for it.
Carter and the Redskins' defensive line will need to be a factor in pressuring quarterback Tarvaris Jackson, who is susceptible to mistakes. Jackson has been sacked 15 times in 10 games and thrown 10 interceptions.
McKinnie is a 6-8, 335-pound left tackle who can dominate along-side Pro Bowl guard Steve Hutchinson.
In the Redskins' Week 1 game against Minnesota last year, Carter had four tackles and no sacks against McKinnie. Carter was just getting acclimated to Washington's defense, though. In his last 19 games, he has 14.5 sacks.