PHILADELPHIA –The Redskins walk a penciled line in shoes made of erasers.
They skirt that narrow divide between victory and vivisection, between karma and calamity, between getting it done and getting done in.
When they left Lincoln Financial Field late Sunday evening, they were a 2-2 football team with a 17-12 victory over the Philadelphia Eagles narrowly packed away.
They had made Donovan McNabb's return to his long-time home a success, even as McNabb turned it into in a trial by endurance.
One last throw at the end. By Eagles quarterback Kevin Kolb, subbing for an injured Michael Vick. A last pitch into the end zone. If one of his receivers makes the catch, the Eagles win and the Redskins tumble to 1-3. They would be reminded again and again of their failure to put away teetering teams.
As head coach Mike Shanahan said afterwards: "It was a little bit like déjà vu."
As in losing a 17-point lead (and game) to the Houston Texans. This time, however, the defense made the play, DeAngelo Hall came away with the football and the Redskins preserved a victory.
The Redskins ultimately made their 14-0 early edge stand up and McNabb got his due from fans not always so friendly during his 11 seasons in the city's service. The fans who so often jeered him rose and applauded during the player introductions and McNabb noticed.
"I'd said all week I wasn't going to let the hoopla upset us but I was just a little overwhelmed at the standing ovation," he said.
"I spent 11 years here," McNabb said with a grin. "You knew it was coming. They weren't going to cheer for me all game."
In a perverse way, they could have. He completed only eight of 19 passes for 125 and was two of 11 in the second half when the Redskins' six possessions ended with five punts and an interception. They gained only 110 yards after halftime.
The Eagles (2-2) had their own problems. After all the buildup of McNabb vs. Michael Vick, Vick went out with a rib injury on the second-to-last play of the first quarter and Kolb, the guy originally chosen to replace McNabb, entered.
He moved the team with short passes but ultimately produced only one touchdown drive and the Redskins' defense came up with the critical stop on the final play when Hall intercepted a batted pass in the end zone.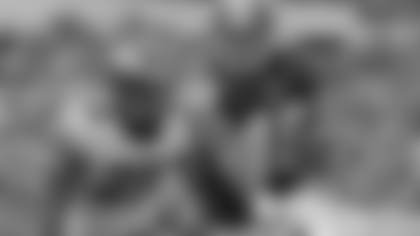 "It was tipped. I just saw the ball and somebody had a chance to get it and it bounced right up," Hall said.
That play saved a game in which the Redskins may have found themselves defensively.
They stayed disciplined in their rush lanes, both with Vick in the game and with Kolb replacing him. They got all over the receivers, forcing the Eagles to dump the ball underneath. They made the Eagles drive the ball, consume time and plays and then stiffened and stopped them.
The Eagles completed 27 passes but 12 went to running back LeSean McCoy. Those scary deep threats, DeSean Jackson and Jeremy Maclin, combined for four catches for 34 yards.
"We just tried to get hands on them on them and disrupt them at the line and disrupt their timing," said safety Kareem Moore, who recovered a fumble for the Redskins' first takeaway.
That 17-6 halftime spread might have been larger were it not for one of the continuing uh-ohs of the season – penalties in the red zone.
A 57-yard pass from McNabb to Anthony Armstrong and a 12-yard run by Clinton Portis put the ball on the 3-yard line and then left tackle Stephon Heyer, filling in for the injured Trent Williams, got flagged for holding on the back side of a running play.
The Redskins never recovered from that and settled for Graham Gano's 26-yard field goal and a 17-3 lead.
The Redskins also showed they still face issues in communication, in getting plays in to McNabb in a timely fashion. Moving with the third-quarter kickoff, they called a timeout on their third play and another after two more snaps. The half was 86 seconds old.
Minor quibbles, those. Mere thorns in the parade of roses. Nobody's perfect. Nobody's ever perfect. The quest here was to get better.
How about Albert Haynesworth getting his mad on, turning it loose during his plays in the rotation of the defense line?
He pressured Vick into an incomplete pass on third down on the first series of the game. He stopped LeSean McCoy on the Eagles' next possession on third down, allowing two yards when the Eagles needed three, forcing them to punt. He stopped McCoy for no gain on a third and one, though the Eagles would convert on fourth down en route to their first field goal.
How about Brandon Banks? Signed from the practice squad on Saturday to the active roster, he immediately brought back memories of his dynamic punt returns during preseason (minus the fumbles). His 53-yard sprint set up the Redskins' first touchdown.
And don't forget the old standbys. Clinton Portis, who seemed uncertain of his role after last week's debacle, hit holes hard, showed some wiggle and the ability to make cuts. Portis ran six times for 29 yards and caught two passes for 26 yards in the first half, though he went down with a groin injury and was replaced effectively by Ryan Torain.
Andre Carter lost his starting job as the left outside linebacker to Lorenzo Alexander but came up with a key sack of Kolb (and a forced fumble) to terminate a Philadelphia possession.
Glum after the Texans' loss, puzzled after falling to the Rams, the Redskins suddenly sit atop the NFC East with a .500 record and two division wins in their account.
"That's 25 percent of the season down and we're in the driver's seat," linebacker Brian Orakpo said.
Hang on. The ride will surely get bumpy.
---
Larry Weisman, an award-winning journalist during 25 years with USA TODAY, writes for Redskins.com and appears nightly on Redskins Nation on Comcast SportsNet. Read his Redskinsblitz blog at Redskinsrule.com and follow him on Twitter.com/LarryWeisman.