GLENDALE, Ariz. – The only score that mattered was 29-5.
Well before kickoff of Thursday's night's preseason finale, the Redskins announced that 29 players were "not expected to play" against the Arizona Cardinals. The Cardinals only listed five in that category, and the lone starter was receiver Larry Fitzgerald.
For the Redskins? Every starter saw his name on that list but offensive tackles Trent Williams and Jammal Brown and neither one played.
No Donovan McNabb, though we knew that going in because of his sore ankle. No Chris Cooley. No London Fletcher. No Rex Grossman, whose role all week bounced around from not playing to, according to offensive coordinator Kyle Shanahan, "probably starting," to not playing.
It's not whether you win or lose a preseason game, it's who plays in it. So forget the final tally of 20-10 in the Cardinals' favor.
Like to read the tea leaves, do a little fortune telling? The Redskins, like every NFL team, must trim the roster from 75 players to 53 on Saturday, so what did all of this mean, not only for the guys who played but for those who didn't?
Running back Larry Johnson was not expected to play. That had to be good news for him. It meant Willie Parker needed to supplant him as the No. 2 guy behind Clinton Portis while also beating out youngsters Ryan Torain and Keiland Williams. Bad sign.
Devin Thomas figured to play nearly every offensive snap after getting none last week. That would theoretically allow him to show what sort of receiver he is, but without benefit of either the No. 1 or No. 2 quarterback throwing the passes.
And if Anthony Armstrong was on the "no play" list, along with Joey Galloway and Santana Moss, wouldn't that mean three receiver spots were sewed up? Would Thomas be battling rookies Brandon Banks and Terrence Austin and veteran Roydell Williams for a place on the final 53?
Banks' hands betrayed him twice. Austin led the team with five catches for 94 yards and the only touchdown. How do the Redskins balance the potential for explosiveness by Banks against steadier, superior performance by Austin?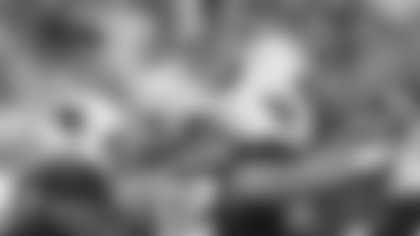 Defensive end Vonnie Holliday didn't have to play but Albert Haynesworth did. Hmm.
No, the Redskins won't be releasing Haynesworth. He needs the time on the field but had a tantrum when he didn't get in until the third quarter of the game against the Baltimore Ravens.
In this one he was on the field, unofficially, for 49 of Arizona's 55 snaps. Forty nine of 55? Now?
Sending a message? Getting him in game shape? Who knows? And did any of this mean that Holliday could unseat Kedric Golston at right end, where Haynesworth should ultimately be the starter, when Golston also got a pass?
Decisions, decisions for football's mystery ship.
Sure seems like most of them were made before the Redskins even embarked on this 1,980-mile trip to satisfy the simple requirement of showing up and putting enough players on the field to create game-like situations.
At least the Cardinals (3-1) came in with some drama and noise surrounding them. Matt Leinart's endless whining and seeming loss of the starting quarterback role to the more intense (and less accurate) Derek Anderson set off reports of trade talk with several clubs and "earned" Leinart playing time in the game no one wants to play in. How the mighty have fallen and can't get up.
For what it's worth, Richard Bartel, nominally the No. 3 quarterback, started.
Given that the Redskins (2-2) reportedly extended John Beck's contract by two years last week, making them likely to carry three quarterbacks, it stands to reason that Beck will leapfrog Bartel. So of course Bartel put up better numbers.
Willie Parker started at running back. Wish there were a whole lot more to say. Once known as "Fast" Willie Parker, he is now "Moderately Quick" Willie Parker and that probably won't be enough for him to hang around.
Neither Clinton Portis, Larry Johnson nor Parker plays special teams and the Redskins cannot go forward with three older backs who don't help on specials.
Banks, speedy but Munchkinesque, ripped off a 40-yard kickoff return that had people immediately declaring he'd earned a roster spot. Then he fumbled a punt for the third time this preseason and the luster faded. Yet he also caught five passes for 65 yards. Keep him? Hope he gets through waivers and can be signed to the practice squad?
Linebacker Robert Henson helped himself and hurt himself. He had a blown coverage early and a holding penalty on a field goal try but Graham Gano bailed him out on the infraction by making a 50-yard try and Henson added a sack while playing aggressively. Then he incurred another penalty, for holding on a kickoff return before tweaking a knee. If he's on the roster, it's to play special teams. Can't commit penalties and do that.
Absent so many starters, the Redskins left themselves few chances to win a game that doesn't count. They saw an opportunity to look at players, with general manager Bruce Allen saying on the television broadcast that six jobs were open. Six, with 23 people to cut.
It didn't seem like it would be entertaining to take in the fourth and final preseason game. Make no mistake, it wasn't. The worst of it, though, is over. Unless you're a coach and must watch the tape.
---
Larry Weisman, an award-winning journalist during 25 years with USA TODAY, writes for Redskins.com and appears nightly on Redskins Nation on Comcast SportsNet. Read his Redskinsblitz blog at **Redskinsrule.com* and follow him on *Twitter.com/LarryWeisman*.*