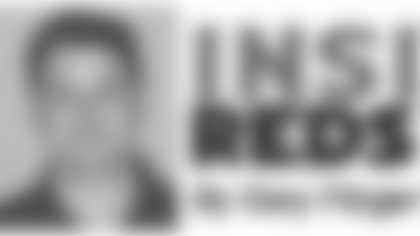 Ready to rehab, Jason Taylor was at Redskins Park on Monday wearing a brace to support his right knee.
Taylor hopes to heal quickly from his sprained knee, suffered in Saturday's preseason game at Carolina.
Taylor, 33, is expected to be sidelined 10-14 days.
His availability for the Redskins' regular season opener against the New York Giants on Sept. 4 is in question.
"I have been a quick healer in the past," Taylor said. "People think I'm old, but I'm not that old yet. I feel all right. If we had to play [Tuesday], I couldn't do it. But we have time. I'll put my best foot forward in rehab and we'll see where we are next week."
Is he optimistic he'll be ready to play by Week 1?
"It's too early to tell," he replied. "I'm still in a brace--the knee won't support itself yet. The next few days will tell a lot."
Taylor suffered the injury in the second quarter of Saturday's 47-3 loss to the Panthers.
He got his right leg tangled up in a pile of players on a run play.
"It was scary," he said. "When it happened, you just hoped that it wasn't a career-ending injury or anything like that. This is a physical game, and things happen. Preseason or not, you go out and try to play hard."
Taylor referenced the season-ending knee injury to Giants' defensive end Osi Umenyiora, suffered in a preseason contest last Saturday night. Umenyiora suffered the injury on the Meadowlands Astroturf field.
"He didn't even get touched," Taylor said. "I feel very fortunate."
Also at stake is Taylor's consecutive games streak of 130, which is seventh best in the league.
Asked if the streak matters to him, Taylor replied: "It's something you take pride in because you don't want to miss games. But some things are out of your control, too.
"I have to be smart, too. It's a long year. If it's not right, it's not right. So we'll see."
After the Giants game, the Redskins have a 10-day layoff before their next game on Sept. 14, against the New Orleans Saints at FedExField.