Ask Trent Williams about the time he and Adrian Peterson were next door neighbors, living in a duplex in Norman, Okla., and he lets out a slow laugh.
"We obviously spent a lot of time there," he says, followed by an elongated pause, contemplating what to say next.
"Some funny stories," Peterson offers to fill the gap, looking at him laughing, his memory filling. Williams jumps back in.
"I remember one time," he starts, recalling his first offseason at the University of Oklahoma. "I was getting ready to hit the gym for my little annual pickup basketball game, and I end up walking past Adrian – they were working out in the garage like prison weight style, just working out in the garage."
Peterson, preparing for the NFL Draft, saw Williams and called him over. "Nah, I gotta go," Williams shouted, knowing he was already late for his game.
"Adrian's always been like a big brother figure to me, so he's always been the one to tell me when I need to step it up," Williams says. "So it was hard to say no. I'm trying to like, I really don't want to burn my legs out before I go hoop, and they're waiting on me… He overly insisted that I come over and do a squat. Then that turned into curls, and that turned into hang cleans."
"A full work out," Peterson says.
"Before you know it, I'm still sweating like I ain't never sweat before in the dang old garage at 3 o'clock in the day," Williams says. "And all my buddies waiting on me to hoop, and I never showed up."
There are other stories, ones they won't tell, part of an unspoken agreement that happens after years of friendship and parallel individual success. But that one registers for Williams. Peterson saw his greatness at an early age, and his commitment to improvement has never rubbed off.
"I try to be that way with everybody and just try to motivate guys to get the best out of themselves, to reach that full potential," Peterson says. "That has always been my mindset, especially a young guy from East Texas, seeing the potential that [Williams] had, knowing that, 'Hey, one day, he's going to be playing in the NFL.' That's what you do – you look out for your brothers."
Peterson now has that chance on a daily basis, wearing the same color uniform as Williams again.
The Redskins signed the former MVP a few days before their third preseason game, after a workout convinced head coach Jay Gruden and the entire front office that it would be a regrettable decision to let him leave the facility without a signed contract. They've been proven right.
Since re-entering the league at 33 years old, he's already looked 10 years younger, amassing 236 rushing yards on 56 carries for three touchdowns, breaking milestones in the process. Other than himself, the only person happier that this has all happened is Williams.
"I'm super excited. I can't even…" Williams paused upon Peterson's arrival. "It's a dream come true."
The first time Williams and Peterson met each other was on the infield of a track meet at Longview High School. It was spring, after football season, the legend of Peterson in full bloom. Williams was a sophomore at Longview. Peterson was a senior at Palestine High School, competing in his second love that day, before becoming a Sooner.
Williams remembers it vividly. Peterson finished first in the 100-meter sprint but placed second in the 200-meter, losing to Corderra Hunter (Williams is quick to remind him), who went on to play cornerback at TCU.
"He was supposed to be all that, you know?" Williams says with a smile. "Had a guy beat him."
It was a brief encounter, and the only one they had in high school. Because Longview was a 4A school and Palestine was 5A, much bigger and an hour's drive away, they never faced each other during the football season.
The next time they intersected was during Williams' official college visit to Oklahoma. By then, Peterson had become a household name in Norman. In his first two years, he totaled 3,029 rushing yards and 29 touchdowns in just 24 games, averaging around 5.5 yards per carry.
Williams was certainly enticed, and it helped that wide receiver Malcolm Kelly, a Longview, Texas, native was there, too. He felt comfortable around his East Texas brethren. "Obviously seeing guys from my area out there making plays, there was an extra incentive to go there," Williams says. Peterson knew about the recruits taking visits and was eager to play with Williams.
"I remember Coach [Bob] Stoops coming up to me saying, 'Hey, we really need to get this guy in here, he would really be a good addition to our offensive line,'" Peterson says. "The best tackle I've seen in years, so I knew all about him."
Peterson had another dynamic start to his junior season, but it ended abruptly with a collar bone injury during his sixth game. Williams started at left tackle two games later, and the pair played together during the 2007 Fiesta Bowl. As Peterson recovered and rehabbed, then began preparing for the draft, the two grew closer, moving in beside each other. "It's natural for all the guys in that area of Texas to be around each other quite a bit," Williams says.
The Vikings' eventual No. 7 overall pick finished his three-year Sooners career with 4,041 rushing yards and 41 rushing touchdowns, a unanimous All-American after his freshman year and a three-time first-team All-Big-12 selection. Four years later, in 2011, the Redskins drafted Williams with the fourth selection in the draft, after the tackle also earned a unanimous All-American distinction in 2009 and protected quarterback Sam Bradford to produce one of the highest scoring offenses in college football history.
"I knew immediately he was going to play in the NFL," Peterson says, after he watched Williams start his freshman year. "I knew that hands down. I seen it."
After Williams' first season finished in Washington, Peterson called him up and urged him to come to Houston. He wanted Williams to meet James Cooper, his personal trainer.
"I didn't know James from a can of paint," Williams says. "Adrian insisted, and I wanted to turn him down again because he said one key word that didn't sit well with me. He said it was like 'college workouts' and I was like, you know, I'm past college I really don't want to revisit that."
Williams thought on it, a little longer than his decision to postpone his pickup game years earlier. Peterson had been in the league for four years and things, let's just say, had been going well – he amassed 5,872 yards and 52 touchdowns in that span. Williams took a step back.
"You know, Adrian never really steered me wrong ever and he's one of the best to ever touch the football," Williams says. "And if it's something that he's doing, that he's going to preach to me that I need to do and he believes in it that much, I should probably take a look at it. I mean, what is there to lose?"
The decision to join him and Cooper in Houston would prove fruitful in a variety of ways. The most obvious was that it continued to pound a message – Peterson might be extremely, athletically gifted, but his dedication to improving himself showed that the greats in the league didn't rest on their laurels. The less obvious was that Williams found the perfect workout partners to spend eight months with while the NFL lockout happened later that year.
Peterson knew he had been blessed with talent – his Pop Warner highlights will make that clear. His mother and father were both outstanding athletes, and Peterson recalls his dad, before being incarcerated, would always do extra work with him outside as a kid.
"Adrian never really steered me wrong ever, and he's one of the best to ever touch the football." Trent Williams
"I remember like going to the YMCA at a young age and watching him work out and doing little stuff that I could do with him as well," Peterson says. "I always had it in my mind that, yeah okay I got the talent but, if I push myself to the max and still outwork everybody then it'll be amazing what I am capable of doing. So, I kind of brainwashed myself at a young age and it just kind of carried with me throughout my career."
It's not hard to understand growing closer in those environments, pushing yourself to the limit with someone else.
"Once he started working out with us, that's when the relationship just really got even tighter," Peterson says of Williams. "We spent a lot of time around each other, we were going through that same grind, that process we went through in college. Where you go to motivate, you go to pick your brother up, you got to encourage through these workouts because you know what level you're trying to stay at. With that, that's when you have your circle, your circle of people that you surround yourself around. So with that, that relationship and that bond just continues to grow."
The pair continued to work out in Houston with Cooper each offseason. Cooper had a strict and diverse regimen that they abided. They would swim, run hills, lift weights, run track and practice their field work. It all required different venues but both of them, with time on their hands, were game.
That's when the vision for their own training facility, O Athletik, came into view. Cooper had always liked the idea of having his own place – a one-stop shop, so to speak – that would cut down on all the transportation between fields and gyms and hills. With Peterson and Williams able to supply a significant financial backing, and desiring to have a central location for each offseason, the workout facility came to fruition in spring of 2016.
"It was one of those deals where it was kind of like, it was helping both of us out," Williams, a co-founder with Peterson, says. "We were helping [Cooper] with his dream, and in return it helps us sharpen our craft and help us to be better in our profession. Same time, it's still a business move as well. You always want to be lucrative in any type of business and the plan that we seen we thought we had a good chance to do so."
"We actually got the ball rolling and put it all together finally," Peterson adds. "Stopped talking about it and put some action into it and got it done."
There's been rough patches here and there, and Williams and Peterson have gained some credible business tactics in the back halves of their careers. It's kept them close, added a professional tint to their relationship. Williams, for the last couple of years, has invited the entire Redskins offensive line down for a "Hogs 2.0" week to work out with him and Cooper. Peterson would attend dinners with them, almost like he was a part of the team those weeks.
"Being around all those guys, seeing those guys come down and work out as a unit, it showed me the dedication they had as a group," Peterson says. "And obviously watching them and seeing how they performed, they were all in sync. For me, it was ideal to be around an offensive line like that, especially when you have the best left tackle in the game."
But at the end of each July, Williams and Peterson would part ways and catch up in the new year. It was an ingrained long-distance working relationship. Playing together – the idea alone – seemed unrealistic.
"I didn't really think that there was a way I would end up in Minnesota and I didn't really foresee him not being in Minnesota," Williams says. "So it was one of those things where it was kind of just like, I had to just admire watching him from afar."
"Likewise," Peterson says.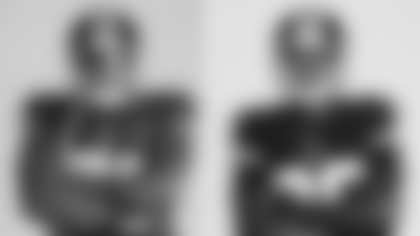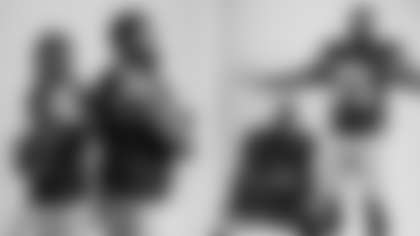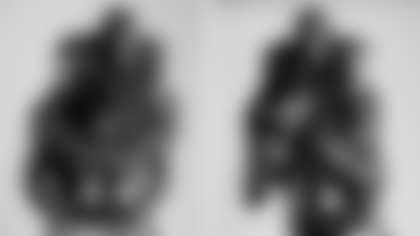 The crack of hope for a reunion came last year. Williams saw Peterson leave Minnesota and sign with New Orleans and began engaging with Redskins front office members, offering little reminders that, should the team feel compelled to enhance the running backs group, a former MVP and longtime friend was available.
"I was always in the guys' ear in the front office like, 'Hey you know, you need to go take a look at Adrian. You know, Adrian this, Adrian that.' They listened, but the opportunity [never] really presented itself," Williams says. "And he gets traded to Arizona. I want to say it was for what, a fifth-round pick or sixth-round pick? And I remember saying to myself, a fifth-round pick for a back who can really do something for this offense to me doesn't really seem like much."
This past spring, the Redskins "got lucky," as Williams believes, drafting LSU standout Derrius Guice in the second round to compete for the starting role come September. In the shadow of Guice's towering potential was a reminder that Peterson remained unsigned as teams entered training camp.
"I remember talking to Trent and saying 'Hey, you need to talk to your guys and let them know, try to get me up there,'" Peterson says. "And he was like 'Yeah, I know they're trying to, in the second round, I know they're going to try and get the young guy from LSU, if he's still there, I know they're going to take him. I was like 'Yeah, I feel that, he's a heck of a back I wouldn't pass on him as well.'"
Three weeks later, another opportunity came at the expense of heartbreak. In the Redskins' first preseason game, Guice tore his ACL, the team confirmed the following day, ending a rookie season that never began. Once again, the Redskins had a gap to fill.
"Soon as I got to my phone, I got a text from Adrian," Williams remembers.
"Hey, let the guys know I'm ready," the text said.
"It was kind of crazy, I was already thinking the same thing," Williams says. "Thinking like, alright, Guice went down, we got Adrian out there, we can go get him."
"I remember talking to Trent and saying 'Hey, you need to talk to your guys and let them know, try to get me up there.'" Adrian Peterson
Fans knew Peterson was available and in shape, too. A video taken in July inside O Athletik showed Peterson working on agility drills with Williams, who went toe to toe with him, quite literally. The video made some waves as fans inquired about Williams' health following knee surgery the previous winter.
Williams knew his workout partner would be ready should the Redskins come calling. And they did after the second preseason game, when running backs Samaje Perine and Byron Marshall injured their ankles, leaving three running backs on the preseason roster.
Washington brought in Jamaal Charles and Orleans Darkwa for workouts the next Sunday, which Peterson, out of town in Tulsa, Oklahoma, found out through his agent.
"[My agent] was like 'Yeah they brought in Jamaal Charles, this that and another,' and I was like 'Alright, they're tripping.' I didn't know what they were thinking," Peterson says. "So I hang up the phone, and just getting up and getting ready to head back to Houston, and once I turned my phone on, I got a lot of messages, and he was like 'Hey please answer the phone, the Redskins want to bring you up.' So it was kind of like everything was just going fast and I flew out that next day and it had already hit the news."
"Once the news broke that they were going to bring him in for a workout, I already knew that he would crush the workout," Williams said. "At that point, before it was even official I knew we would be teammates."
Peterson wasn't initially asked to work out for the team -- the Redskins just wanted to meet with him -- but he volunteered to show them his physical shape. "I don't think I'm better than the next person," he says. "I'm all about, if you follow my career, I don't mind showing you what I can do. For me it was like 'Hey, I'm going to come out and work out for you guys so you guys can see for yourself where I'm at as far as my conditioning and things I'm able to do."
Head coach Jay Gruden was thoroughly impressed, and the workout alone was all the convincing he needed.
"We do listen to Trent quite a bit," Gruden joked at his press conference following Peterson's signing. "We really signed him because of the workout and how good he looked in the workout, how explosive he was. Not only early in the workout, but at the end of the workout and he was not even breathing heavy. He's in fantastic physical shape…He could have gone for another two hours. That played mostly into it -- his great physical condition."
Because Peterson needed to be ready three days later to play against the Broncos – the first opportunity to see how he'd play in a game after missing training camp – Williams let him crash at his place.
"He had no choice," Peterson jokes.
Williams says Peterson, who has his own space now, had the guest room locked down, occasionally sharing it with linebacker Pete Robertson, Williams' cousin, who spent the preseason with the Redskins.
"I mean there was times I'd walk in and he's sleeping on the floor and I was like, 'Bro why are you sleeping on the floor?'" Williams says of Peterson." I guess the twin sized beds were a little small for him."
"I slept in the twin beds a majority of the time," Peterson defends himself, adding that his kids occasionally would take them, too. "But I'm from the country, I'm used to sleeping on the floor. Being in where you fit."
"I mean, he's driving my car now," Williams says laughing. "I got to kind of ask for my own car. I got to -- 'Yo, I need the Range Rover to drive the kids, can you drive this?' I was so happy to have him here I didn't even care. I didn't mind how long he stayed, I just was so happy to have him in Washington I didn't care one way or another."
Through three games, Peterson looks like he's on the cusp of a renaissance. How he'll hold up through an entire season is still a question the Redskins are waiting to see answered, but the rejuvenation he's brought to the team is undeniable.
Williams seems lighter, more relaxed, more open, prone to smiling his new set of teeth more than he might have been previously. He knows the friendship will remain, "until the wheels fall off. And when the wheels fall off that's when you get the tow-truck," Peterson says.
Sometimes, Williams still can't believe Peterson – the East Texas native, his college neighbor, his workout and business partner – is now his teammate, looking to achieve the same goal, a Super Bowl, they've never achieved in the NFL.
"I still walk through the hallways sometimes and see him out the corner of my eye and be like, 'Man, he looks familiar…' It's crazy man, you never expect for it to turn out like this," Williams says, turning to Peterson.
"I had mentioned to him, like, 'Man if I had an offensive line like you guys...if I had the opportunity to run behind you guys, it would be crazy what I'd be able to do,'" Peterson says. "So now, living in the moment and being in this position was like 'Wow, your words do have power.' It might take a few years, but if you keep speaking it, it will come into existence."