Veteran quarterback Rex Grossman has been in sophomore quarterback Kirk Cousins' shoes before, albeit under slightly different circumstances.
In 2010, Grossman took over for a struggling Donovan McNabb, whose numbers were trending downward into disappointment. He was gone before the 2011 season.
Last week, Shanahan decided to sit Robert Griffin III in order to ensure that he would be healthy for offseason workouts with the rest of his teammates.
Cousins started Sunday and will be finished out the season at the helm as the starting quarterback.
Just like Cousins, Grossman was given an opportunity to prove his ability, taking over the offense in Week 15 of the 2010 season.
"It's a big opportunity for me to go out and go play well and lead this team to victory," Grossman told reporters back in 2010. "I think it's pretty obvious what's at stake. I am very excited about it. It is an unbelievable opportunity to go down to Dallas in this rivalry game and show what I can do with this offense and this team.
"I am very excited about it."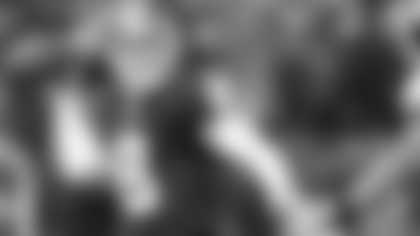 Playing the Cowboys in enemy territory, Grossman struggled early in his first extended look in Washington.
He completed just eight of his 14 first half attempts for 115 yards, one touchdown and one interception. Years later, Grossman recanted the story to ESPN 980, blaming inconsistency on a combination of rust and forcing too much in an effort to gain his teammates' confidence.
"If you're in there, everybody's confident that you're moving the ball and still playing well and playing together as a team," he said. "You want to establish that success pretty quickly. I didn't really have that.
"I got in there and we didn't really play very well, I didn't play very well. It was 20-7 and I was like, 'Holy crap, what are we going to do?'"
Grossman got into a groove in the second half, torching Dallas' talent-laden secondary with three touchdown passes.
With each touchdown toss, Grossman said that his confidence grew and nerves began to dissipate.
Learning from the situation, Grossman articulated to Cousins that he must play loose irrespective of what's being said by anyone outside the locker room.
"Well, obviously, you haven't played in four, four-and-a-half months since preseason and there's a lot of media going on," Grossman explained. "You want to go out there and play well to prove yourself and prove to your teammates that you can get it done."
It was that learning experience that Grossman imparted on Cousins going into Sunday, his first start of the year and second of his career.
"This was my second start so I'm going to take all of the help I can get and I've said it to Rex from Day 1," Cousins told the media after the game. "[Grossman] said to me on the way into the game 'Do you want to be left alone [or] do you want me to be in your ear?'
"I said 'I'll take anything you can give me' and the same for Robert [Griffin III] and obviously for Kyle [Shanahan]. Anytime I'm on the sideline, I want to gain as much from them as I can and Robert and Rex."
Almost one year to the day of his first NFL start, Cousins took the reins of the offense and recorded career highs in yards (381) and touchdowns (three).
"I was nervous. I'm nervous before every game because I care [and] it matters to me," Cousins said. "I think before the game, some people were telling me to just stay calm, don't get too worked up.
"But halftime Rex said to me, 'I think part of the reason you played so well is because you are nervous, because you do care that much, because you are that locked in.'"
In addition to his role on the sideline, Grossman has been a veteran leader in the meeting room as well, helping his teammates get acclimated to life and work at the NFL level.
Grossman has returned to Washington on a pair of one-year deals since the Redskins drafted Griffin III and Cousins. Despite knowing that he would be the team's third option at quarterback, Grossman chose to continue to be a steadying presence for the sophomore duo.
"Rex, he's a guy's guy. Everybody loves him," offensive coordinator Kyle Shanahan said. "He doesn't care what the circumstances, are he's going to go out there and do his best, and do whatever he can to give everyone a chance to win and people feed off that.
"Rex has been through a lot, and it doesn't faze him. I think guys go to him and they respect him for that. He's a guy that everyone in our locker room really appreciates and respects."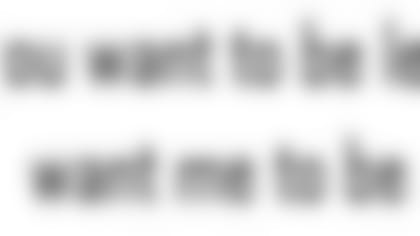 At age 33 and with five years in offensive coordinator Kyle Shanahan's system, Grossman said his decision to stay was easy.
"I really like this offense, I wanted to be a part of it, I wanted to help out Robert and I wanted to be around Kyle in this offense," Grossman told former teammate Chris Cooley on ESPN 980. "I've enjoyed my time here as a Redskin and I wanted to come back and be a part of it.
"You never know if you're going to get another opportunity, that's another part of it. When it came about, I took it and I didn't really want to wait for somebody to get hurt or some other situation.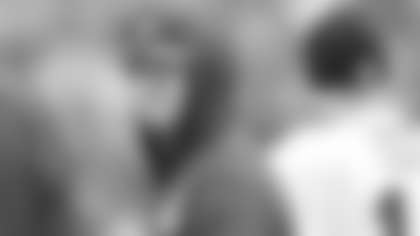 "I enjoy playing, I enjoy making the tough throws and manipulating defenses and things like that, but I had to weigh that against a pretty much sure thing. I knew what was going to happen."
With Griffin III still recovering from surgery during the offseason and Cousins running the first-string offense, Grossman filled in with the second-stringers.  
The 11-year veteran took a good chunk of training camp snaps in 7-on-7 and 11-on-11 action and attempted 53 preseason pass attempts.
"Robert was [recovering] and I knew I was going to get some reps in the preseason," Grossman said. "I decided to come back and I don't regret it. I just wish things had gone a little bit better [for the team]."