He had an immeasurable quantity of heart and desire. He was hard-nosed, a throwback to the blue-collar NFL of the past. And he was a true leader on and off the field.
Such compliments are used so loosely in sports, but in the case of Brian Mitchell, they were true.
He earned his place in franchise history when he was inducted into the Redskins Ring of Fame at FedExField on Oct. 26 before a Monday Night game against the Philadelphia Eagles. He became the 44th player, coach and administrator to be inducted into the team's Ring of Fame.
Mitchell never took a play off in his 14-year NFL career, his first 10 with the Redskins.
He discarded the welfare of his 5-10, 220-pound body every time he touched the ball, always seeking to make contact with defenders and even punish them.
The multi-dimensional threat, a kickoff and punt returner, running back and receiver, used his bulldog mentality to rack up chunks of real estate. He accumulated 23,330 all-purpose yards, still the second-most in NFL history. (Jerry Rice had 23,546.)
Running back kickoffs and punts was Mitchell's specialty, and he will be remembered as one of the most feared kick returners in league history.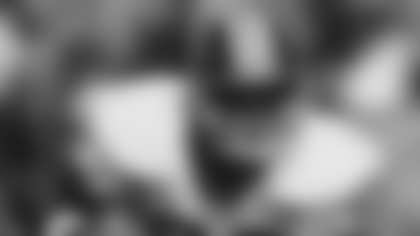 He amassed 19,013 return yards, one of the nine NFL special teams records he held upon retirement in 2003.
He retired holding 16 Redskins records for kick returns.
That Mitchell played with such a reckless abandon, instead of the finesse employed by many other kick returners, makes his accomplishments even more stunning. Kick returners in general don't last that long in the NFL, but Mitchell defied the law of averages and thrived.
His pugnacity, as he tells it, stemmed from his youth.
"That's the way I was brought up, that's the way I've always been," he said. "My dad boxed in the Army, and he would make me box with my older brothers. I never backed down. I would always feel I could accomplish something.
"My dad basically gave me the attitude that, 'If you think you can do it, you can. And if you do everything you possibly can to do it, you will.'"
Mitchell joined the Redskins as a fifth-round draft pick in 1990 out of tiny Southwestern Louisiana and raised eyebrows in training camp by engaging in constant fights, including a bout against 290-pound defensive end James "Jumpy" Geathers.
That he never backed down in his career and even instigated a lot of friction held as a Brian Mitchell trademark.
When there was jawing in a Redskin game, you could bet Mitchell was in the thick of it.
"I thought about everything out there that I did," he said. "I would pick the biggest guy on the team or the supposed toughest guy and get in his face and mess with him. And if I'm in his face, they're thinking, 'He's not that big, he has to be a little bit crazy.'
"I did it all the time. It was more a way of motivating myself. Football is 95 percent mental. I believe that, because if you get guys thinking about something other than their jobs, that's half the battle."
As a rookie in 1990, Mitchell's explosiveness as a running back and returner was in full view. The first time he touched the ball, he returned a kickoff 92 yards in a preseason game. He ended up leading the team in 1990 with a 26.3 kickoff return average.
In ensuing years, Mitchell proved to be one of the most versatile and talented all-around performers the NFL has ever seen.
He set a single-season league record for most kick return yards with 1,930 in 1994, and he led the NFL in combined yards from 1994 to 1996 and in 1998.
Mitchell received All-Pro honors in 1994 and 1996 and made the Pro Bowl in 1995, his only invitation to the annual all-star game.
One of his greatest achievements occurred late in the 1999 season. He returned the opening kickoff 43 yards in a game against the San Francisco 49ers, breaking Gray's all-time record for combined kickoff and punt return yards.
Rumors were then swirling that Mitchell had lost a step after 10 years in the league, but he quieted his critics in a second-round playoff game against Tampa Bay, returning a kickoff 100 yards for a touchdown.
The Redskins released him in June 2000. He played three seasons with the Eagles and one with the Giants, before calling it quits after the 2003 campaign.
Mitchell returned to the Redskins in February 2005 and signed a one-day contract that allowed him to officially retire as a member of the burgundy and gold.
"I can honestly say Brian is one of the toughest guys I've ever been around," former Redskins head coach Joe Gibbs said at Mitchell's retirement press conference. "Football meant a lot to him, and he was very emotional."