Until the Redskins convened for training camp in mid-July, it was widely believed that Carlos Rogers would not see game action at least until the start of the regular season.
That was the general thinking because Rogers seriously injured his right knee against the New England Patriots last Oct. 29, ending his season.
It normally takes a year to return from such injuries, but Rogers defied that time frame.
He played for the first time in the Aug. 16 preseason game against the New York Jets.
He has started every Redskins game this season.
And he is displaying Pro Bowl-caliber form, according to one defensive coach.
"Carlos has grown up a lot," defensive coordinator Greg Blache said. "He is a big-time corner right now and if he keeps playing like he has been playing, then Carlos has to be considered for the Pro Bowl this year.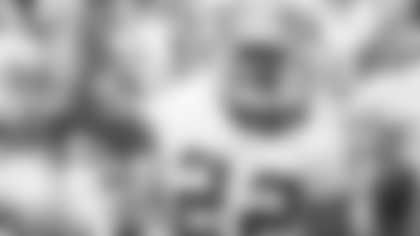 "Based on the way he has played this season, for a guy who wasn't supposed to play until October, he is playing exceptionally well against some big-time receivers and big time offenses."
Rogers has recorded 24 tackles, fifth-best on the team, one interception and a team-high 12 passes defended this season.
Said Rogers: "I feel real good about the way I'm playing. It's a long season and I still see things that I need to improve on. There are always things that I can get better at."
Last offseason, Rogers rehabilitated his knee while working out with two of his former Auburn teammates whose 2007 seasons were also cut short due to right knee ligament injuries.
Those two are Bucs running back Carnell "Cadillac" Williams and Dolphins running back Ronnie Brown.
They rehabbed at a facility in Birmingham, Ala. Rogers said there was no friendly competition as to who would recover faster because the severity of the injuries was different.
"We knew there would be a time difference when each of us would come back, like Ronnie was going to be first, me second and Carnell last," Rogers said. "We all wanted to rehab together and get back, but we knew Ronnie would be the first one to get back because he just had an ACL injury.
"Carnell could never say he was going to get better faster than Ronnie. He tore his patellar tendon. That's almost a career-ending injury. After a while, each one of us went back to our own teams and finished rehabbing."
Rogers, now in his fourth season, made great strides in 2007 after a difficult 2006 campaign. He made 25 tackles, defended seven passes and returned an interception 61 yards for a touchdown versus Detroit.
The 6-0, 194-pound Rogers injured his knee as he was blocked on a short pass to Patriots running back Kevin Faulk.
When Rogers entered the NFL as a first-round draft pick (ninth overall) in 2005 after winning the Jim Thorpe Award as the nation's best defensive back, his mentor on the Redskins was veteran Shawn Springs.
Four years down the road, Rogers now sees himself as a mentor to the rookie defensive backs on the roster, a list that includes cornerback J.T. Tryon and safeties Kareem Moore and Chris Horton, all 2008 draft picks.
"They've got a lot to learn," Rogers said. "I told them the speed of the game is much faster. They need to watch how we prepare because this isn't college. You have got to sit down and study a lot, and your coach can't be there to baby sit you about every little thing."
Rogers, a native of Augusta, Ga., added: "It's good they've had experience to see what it's really like to play. You can show them different looks and what they're going to get out of certain formations, so we're all in it together."