Washington Football Team head coach Ron Rivera knows the effects of proton therapy more intimately than most. After all, it's why he's cancer-free.
During training camp ahead of the 2020 season, Rivera announced that he was diagnosed with squamous cell carcinoma, a form of cancer. It was shocking news that rocked him and his family to their core, but with the help of proton therapy, still a fairly new method of fighting cancer, he was able to recover and finish his final round of treatment on Oct. 26, 2020.
Now Rivera wants to be an advocate for the treatment, which is why he chose St. Jude Red Frog Proton Therapy Center as his charity for this year's "My Cause, My Cleats."
"One of the things Stephanie [Rivera] and I have tried to be involved with is some sort of charity that affects children and their families," Rivera said. "St. Jude is about as great an example as it gets."
That cause will be on full display during Washington's Week 13 game against the Las Vegas Raiders. The cleats are also available for auction, and you can bid for them, HERE.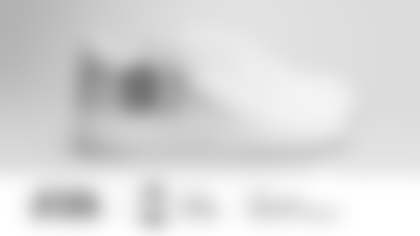 St. Jude is the first research hospital that utilizes a proton therapy center exclusively for children. The treatment allows doctors to aim high-dose radiation at cancer cells and spare healthy cells, according to the organization's website. It's one of the most advanced and precise forms of radiation treatment and is used to treat a variety of cancers, including brain tumors, retinoblastoma and ewing sarcoma.
Rivera's insurance initially determined that proton therapy was too experimental, according to Stephanie, but with a vouching from Rivera's doctor and some help from Washington Football Team owner Dan Snyder, Rivera's was able to get the treatment covered.
Rivera said they were fortunate because of the insurance, but he also knows that many people don't have that luxury. That's why he and Stephanie donated $100,000 to the charity in April to make sure the treatment is more available to children in need.
"Every dollar that's raised goes right back into research and to supporting the families and these children that are going through their treatments," Rivera said.
The benefit of proton therapy, Rivera said, is that the beam is so highly focused that there is little collateral damage to healthy tissue that can happen in photon therapy. Another benefit, according to the St. Jude website, is that there are fewer late effects on tissue, such as harming brain development.
Rivera was not always someone who believed players and coaches in the NFL should use their platforms for anything beyond football. He has since seen the positives that can come from such advocacy, and in this case, it's more than just a donation.
"This is something that is personal to me," Rivera told ABC7 in May. "I lost my brother five years ago to cancer, and proton therapy is something that might have helped. So what we wanted to do was we wanted to help out with research, help out with making sure that the kids are able to get this kind of treatment."