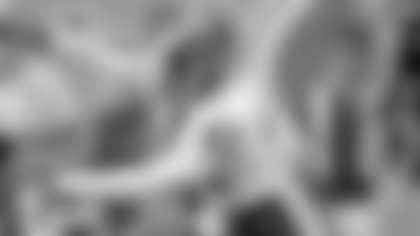 Kareem Moore lays a hard tackle on Jerrico Cotchery. (AP Photo)
Kareem Moore drew the start at free safety in Saturday night's preseason game against the New York Jets.

For Moore, it was a positive sign that he is moving up the depth chart at safety.

Moore made his presence known early in the game.

He leveled a punishing tackle on Jets wide receiver Jerrico Cotchery, hoping to jar the ball loose on a pass downfield.

Cotchery held on to the ball, though, for a 19-yard catch.

For the game, Moore finished with two tackles.

Moore started for LaRon Landry, who remains sidelined with a lingering hamstring injury.

Landry and Reed Doughty remain the projected starters at safety, but a competition is brewing for backup jobs.

Moore is primarily competing with Vernon Fox, six-year veteran, for the backup job at free safety. Youngsters Patrick Ghee and Justin Hamilton are also in the mix.

Last week in practice, Fox was getting the bulk of reps with the first-team defense. But as the week went on, Moore started to get more playing time with the first team.

Moore was the Redskins' sixth-round draft pick (180th overall) in last April's NFL Draft.

The 5-11, 213-pound safety played his college ball at Nicholls State, totaling 141 career tackles, five interceptions (two returned for touchdowns and two forced fumbles.

Defensive coordinator Greg Blache has been high on Moore all training camp.

"[In college], I liked the way he played physical," Blache said. "He hit people like the late Sean Taylor. He doesn't have the range or size that Sean had, but there were times when I saw [Moore] come across and intimidate receivers.

"I told myself, 'I want this guy on our football team. I think this guy can come in and be a force in the NFC East as a safety.' Time will prove me right or wrong."

It took a while for Moore to work his way onto the practice field. He had arthroscopic knee surgery on April 27 and was sidelined for mini-camp and OTAs.

Blache said the Redskins were aware of Moore's injury and pending surgery at the time they drafted him.

"We felt like he might fall back to where we could get him," Blache said. "We feel like we got a real fine football player in the later rounds because of the injury."

Moore practiced with the team for the first time during the second week of training camp.

He made his preseason debut on Aug. 9, recording two tackles against the Buffalo Bills at FedExField.