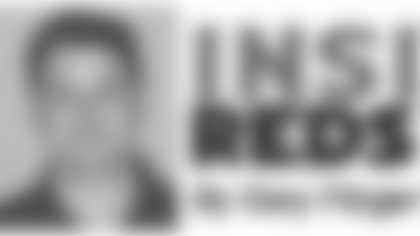 The Redskins' 2009 draft class and undrafted rookie crop have returned to Redskins Park this week to take part in the team's off-season strength and conditioning program.
It's the first chance that coaches get to work with rookies since the May 1-3 mini-camp. Per NFL rules, rookies were required to return to their respective colleges until after graduation.
Now that rookies are back, strength and conditioning coaches can start to evaluate them and adjust their workout habits.
"Right now, they're so fresh--it's only their second day here," head strength and conditioning coach John Hastings said on Tuesday. "Basically we're seeing them for the first time, what they can do and what they can't do. As we gain more information about them, we can better assess them and create programs that will individually help or strengthen some of their weaknesses."
It's often a mixed bag in terms of physical condition of rookies heading into off-season workouts.
While many rookies work out regularly through the NFL Draft, some others have not worked out since the NFL Scouting Combine in February.
"Generally, for some guys it's an eye-opener training alongside [veterans] who have already been in the program for eight weeks," Hastings said. "And there are some guys who come right in and look pretty good right away."
Apart from the strength and conditioning program, position coaches get to work with rookies in the classroom this week. Learning the playbook is the priority.
Next time the rookies and veterans will be on the practice fields is June 1, when OTAs resume at Redskins Park.
During mini-camp, Jim Zorn was asked who among the rookies could break out in 2009, similar to how Chris Horton emerged as a starter last year.
"We haven't gotten to that point yet, and I don't think we even knew it with Chris last year until we got him into preseason games," Zorn replied. "Our young guys have a ton of work to do before they come out of any woodwork to surprise anybody.
"I think the guys that we chose, and the guys that are here that are new, they all have that same attitude that Chris had when he came in--workmanship, learning from the vets, and then going hard."
One rookie expected to see playing time this year is top draft pick Brian Orakpo, the 13th overall selection in the draft.
Orakpo impressed coaches with his ability to retain what coaches taught him and apply it immediately in practice.
"One of the things that [defensive line coach] John Palermo said was that he would tell Orakpo to make a correction, and the next play Brian would make that correction," Zorn said. [Linebackers coach] Kirk Olivadotti liked what he saw of Orakpo at strong-side linebacker position, and he felt like that was a pretty good position for him as well. So [Orakpo] is going to be a real versatile athlete."