These are nervous times for Redskins rookies and roster hopefuls.
With the conclusion of the third preseason game, time starts to wind down.
Next Tuesday, NFL teams must pare their rosters to 75 players.
Then, after next week's preseason finale, teams must reduce their rosters to the league-mandated 53 players.
Simply put, this is the time to shine.
Which roster hopefuls stood out in the Redskins' 16-11 preseason win over the New York Jets on Friday night?
Anthony Armstrong is one, but he has been a standout all training camp and preseason. At this point, it would be stunning if he didn't make the final roster.
Here are six others to keep an eye on:
-- TERRENCE AUSTIN, WR
Amid a crowded wide receiver competition, Austin shined early in training camp. He opened eyes with some impressive catches on the practice field despite not being allowed to participate in most off-season work.
Austin was relatively quiet in the Redskins' first two preseason games, but on Friday night in New York he made an impact on a third quarter scoring drive.
Austin caught three passes for 34 yards on the drive, including a 12-yard gain on 3rd-and-3 and a 17-yard pickup on 3rd-and-8. He also had a nifty 14-yard punt return early in the third quarter.
-- JOHN BECK, QB
Beck played in his second preseason game for the Redskins and alternated with Richard Bartel in the second half. He played in three series and completed 7-of-11 passes for 76 yards. His QB rating was 83.9.
Beck engineered the Redskins' opening scoring drive of the third quarter, converting three third downs – two to Terrence Austin and one to Roydell Williams – to lead the offense to a field goal.
He converted another third down – a 3rd-and-13 – when he tossed a 20-yard pass to Brandon Banks in the fourth quarter.
-- ROBERT HENSON, LB
Entering his second NFL season, Henson admitted that learning the Redskins' new 3-4 defense was a challenge. Once the preseason games kicked off, he emerged as an active presence at inside linebacker.
In Friday's game against the Jets, Henson had two tackles and a forced fumble. He also had an assist on a special teams tackle. For preseason, he has posted eight tackles, one sack and a forced fumble. He also leads the defense with four special teams tackles.
Henson is playing with confidence. He won't beat out London Fletcher or Rocky McIntosh for playing time at inside linebacker, but if he continues to excel on special teams, then he could earn himself a roster spot.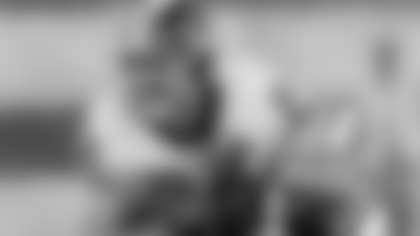 -- LOGAN PAULSEN, TE
The Redskins have plenty of depth at tight end with Chris Cooley and Fred Davis playing a big role on offense. Plus, Lee Vickers at 6-6 and 275 pounds has great size as a blocking tight end.
Then there's Paulsen, a rookie out of UCLA who impressed during training camp. On the Redskins' game-winning drive against the Jet, he caught a 14-yard pass – his first of preseason – from Richard Bartel. He also had two assisted tackles on kick coverage.
Paulsen, who is 6-5 and 228 pounds, and Vickers are competing to be the Redskins' third tight end. Vickers has two years of NFL experience, so he has the inside track. Paulsen is making a strong bid, though.
-- PERRY RILEY, LB
As a 2010 fourth-round draft pick, Riley is likely to make the Redskins' roster. With a strong preseason showing, he could find himself with a greater role on defense and special teams than coaches anticipated.
Against the Jets on Friday night, Riley led the Redskins' defense in tackles with seven. He also alertly pounced on a fumble along the sideline and managed to keep his body in bounds for the recovery.
Riley is tied with Henson and LaRon Landy to lead the defense in preseason tackles with 12. He has proven himself to be a smart, instinctive inside linebacker with good awareness.