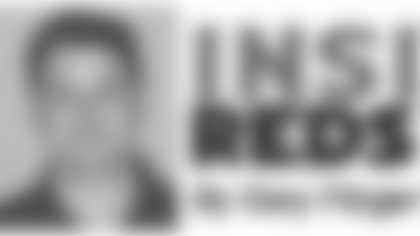 Redskins.com breaks down the Redskins' roster position-by-position and identifies potential need areas. Up next: fullbacks.
After eight NFL seasons, Mike Sellers finally reached a goal last season. He was named to the Pro Bowl for the first time and started for the NFC squad.
With his imposing 6-3, 284-pound frame, Sellers helped bulldoze tacklers to open up holes for Clinton Portis, who rushed for 1,487 yards last season. Sellers is often described as another offensive lineman.
Sellers is also a threat as a short yardage runner and pass-catcher, too. Last season, he posted six carries for 24 yards and 12 catches for 98 yards and a touchdown.
After serving in a multi-dimensional H-back role in 2004-05, Sellers has embraced playing fullback, his natural position, the last three years.
In January, the Redskins added Jonathan Evans to the roster. Evans is a 6-1, 247-pound fullback who has had NFL stints with the Buffalo Bills, Tennessee Titans, San Diego Chargers and Dallas Cowboys.
Positional Analysis
Sellers returns as the Redskins' starting fullback in 2009. He brings an aggressive attitude to the offense and he has turned run blocking into an art form.
Sellers also plays a key role on multiple special teams units, too.
He turns 34 in July, so the Redskins may look to groom a replacement at some point.
The Redskins have kept one fullback on the roster each of the last three years.
---
Three NFL Fullbacks Eligible for Free Agency
As of Feb. 25, 2009; names listed are in no particular order
-- Heath Evans, New England Patriots: Evans is an 8-year veteran who has had stints with the Patriots, Miami Dolphins and Seattle Seahawks. He was a blocker for former Redskin Shaun Alexander in Seattle.
-- Justin Griffith, Oakland Raiders: Griffith was released on Feb. 23 by the Raiders. He has also played for the Atlanta Falcons. A 6-year vet, he has 87 catches for 871 yards and 11 touchdowns.
-- Terrelle Smith, Arizona Cardinals: Smith's forte is run blocking. He is a 6-0, 250-pounder who has had stints with the Cardinals, Cleveland Browns and New Orleans Saints.
Three Fullbacks Available In NFL Draft
As of Feb. 25, 2009; names listed are in no particular order
-- Quinn Johnson, LSU: At 6-1 and 262 pounds, Johnson is regarded as a dominant lead blocker and a special teams standout. He began his college career as a linebacker.
-- Brannan Southerland, Georgia: The 6-0, 240-pounder was slowed by injuries last year. In 2006, he posted 128 rushing yards and eight touchdowns.
-- Javorskie Lane, Texas A& M: Lane, 6-0 and a whopping 285 pounds, could be a Sellers clone. He compiled 2,193 rushing yards and 49 touchdowns in four years with the Aggies.