Redskins.com breaks down the Redskins' roster position-by-position and identifies potential need areas. Up next: guards/centers.
Right guard was a revolving door for the Redskins in 2009.
When Randy Thomas went down with a triceps injury in Week 2, it was the second time in three seasons that he was sidelined early in the campaign.
It also set in motion an offensive line reshuffling that would ultimately affect three positions.
Chad Rinehart was first in line to replace Thomas. The 2008 third-round draft pick assumed the starting job in Week 3.
Rinehart started four games before suffering a fractured fibula in Week 11 at Dallas. The injury ended his season.
Rinehart lost his starting job midseason to Mike Williams, the Redskins' reclamation project. Williams had returned to the NFL after a three-year absence after losing more than 100 pounds last offseason.
Listed at 6-7 and 337 pounds, Williams ended up starting eight games, five at right guard and three at right tackle.
He moved outside to tackle, his natural position coming out of college, when Stephon Heyer shifted to left tackle to replace Chris Samuels.
Like Rinehart, Williams' season ended on injured reserve when he suffered a toe injury in Week 16 vs. Dallas.
Will Montgomery, who backed up at center last season, shifted to right guard as well. He played in 15 games last season and started three.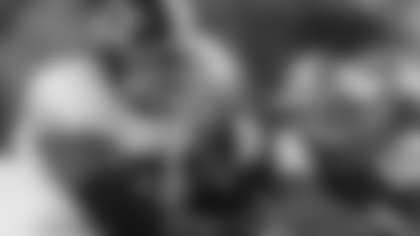 It was decided midseason that Montgomery, a Centreville, Va., native, would better serve the line as a backup given his ability to play multiple positions.
Late in the season, the Redskins turned to undrafted rookie Edwin Williams, who joined the team as a center.
He quickly got up to speed at guard and his newfound versatility helped earn him a roster spot.
Williams saw his first NFL action at right guard after Rinehart suffered his season-ending injury. He started in Week 12 at Philadelphia and Week 17 at San Diego, gaining valuable experience.
The seemingly constant reshuffling along the Redskins' offensive line took its toll.
The ground game finished 27th in the NFL, although it didn't help that both Clinton Portis and Ladell Betts suffered season-ending injuries. Pass protection units yielded 46 sacks, tied for fourth-most in the league.
Center and left guard were the only two positions on the offensive line that had stability last season.
For the fifth year in a row, Casey Rabach manned the center position, starting all 16 games.
Rabach's presence has been a key because he calls adjustments at the line of scrimmage. At 6-4 and 295 pounds, he also has good mobility to pull on run plays and screen passes.
At left guard, Derrick Dockery returned to the Redskins in 2009 after a two-year stint in Buffalo.
Amid all of the changes, Dockery quietly emerged as a leader of the line.
He also continued his impressive starting streak. He has started every NFL game since Week 4 of the 2003 season.
Paul Fanaika joined the Redskins' roster on Nov. 24 after spending the first 11 weeks on the Philadelphia Eagles practice squad.
Fanaika, a seventh-round draft choice by the Eagles last year, showed enough improvement to warrant consideration for a start at right guard late in the season.
The Redskins added to depth at guard with the signing of Kory Lichtensteiger on Jan. 12.
Lictensteiger was a fourth-round draft pick by the Denver Broncos--then coached by Mike Shanahan--in 2008.
He played in 16 games as a rookie for the Broncos and had a brief stint as a backup with the Minnesota Vikings last year.
Positional Analysis
Lots of question marks at guard and center heading into the 2010 offseason.
Some of the questions will be answered when Shanahan determines if he wants to install a zone blocking scheme, which requires smaller, mobile offensive linemen.
The only certainty is that Dockery returns at left guard.
Rabach became a 2010 unrestricted free agent after he met playing time incentives last year, so his future in Washington is uncertain.
Even though Rabach is 32, it would appear he would be a good fit for Shanahan's zone blocking scheme, if that's the direction the Redskins go.
Thomas is rehabbing at Redskins Park and remains steadfast that he wants to return for another season. He is 34 years old, though, so he is not the long-term solution at right guard anymore.
There's no shortage of candidates to compete at the position: Rinehart, Edwin Williams, Fanaika and Lichtensteiger all could get a look.
Mike Williams is also an unrestricted free agent this offseason, so it's uncertain if he is going to return.
Montgomery is also scheduled to be an unrestricted free agent, but if there is not a new Collective Bargaining Agreement in place by March 5, then he would be classified as a restricted free agent.
Look for the Redskins to address the interior offensive line when free agency and the NFL Draft get underway.
---
Three NFL Guards/Centers Eligible for Free Agency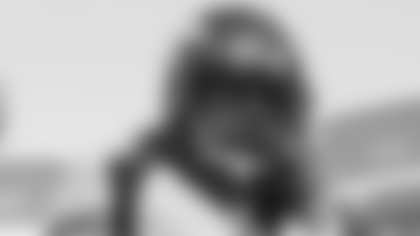 As of Feb. 15, 2010; names listed are in no particular order
-- Ben Hamilton, Denver Broncos: Hamilton is 32 years old, but he has plenty of experience playing for Mike Shanahan from 2001-08. He has started 104-of-111 games at guard since coming to Denver as a fourth-round draft pick in 2001.
-- Jason Spitz, Green Bay Packers: A 2006 third-round draft choice, Spitz ended last season on injured reserve with a lower back injury. He has started 45-of-49 games in his career and can play both center and guard. If there is no CBA extension by March 5, then Spitz would be a restricted free agent.
-- Chris Spencer, Seattle Seahawks: Spencer, a 2005 first-round draft pick, returned from a back injury in 2008 to start 14 games for the Seahawks. If there is no CBA extension by March 5, then he would be a restricted free agent.
Three Guards/Centers Available In NFL Draft
As of Feb. 15, 2010; names listed are in no particular order
-- Mike Iupati, Idaho: An American Samoan, Iupati is widely regarded as the best offensive guard in the draft and could be a first-round pick. He was a three-year starter at Idaho and a team captain.
-- Mike Johnson, Alabama: Johnson was a three-year starter at guard at Alabama and helped the Crimson Tide win a National Championship in 2009. He was a first-team All-American last year.
-- Maurkice Pouncey, Florida: Pouncey served as Tim Tebow's center the last two years and can also play guard. He won the 2009 Rimington Trophy as college football's best center.