Redskins.com breaks down the Redskins' roster position-by-position and identifies potential need areas. Up next: linebackers.
As the Redskins eye a 3-4 next season, linebackers could emerge as the primary playmakers of the defense.
Of course, London Fletcher would be a playmaker in any defensive alignment.
The 12-year veteran inside linebacker earned his first Pro Bowl berth last season, his third in Washington. Fletcher posted a team-high 172 tackles, two sacks, one interception and one forced fumble.
It marked the 11th consecutive year that Fletcher has had 100 tackles in a season.
Perhaps more importantly, Fletcher is a leader of the defense and he helps set the tone with his energy and intensity.
Fletcher was joined at the Pro Bowl by rookie Brian Orakpo, who made an immediate impact in his first year in the league.
Orakpo, the Redskins' 2009 first-round draft pick, lined up at both linebacker and defensive end and emerged as a pass-rushing threat.
He finished with 60 tackles and was tied with Andre Carter for the team lead in sacks with 11. He also posted one forced fumble.
His breakout game was at Oakland in Week 12 when he posted four sacks to tie a franchise record. He was named NFC Defensive Player of the Week for his efforts.
Rocky McIntosh was a solid presence on the weak-side and continued to improve as a coverage linebacker.
McIntosh completed his third season as a starter for the Redskins.
He finished with 115 tackles, second-most behind Fletcher, and had a career-high two interceptions and two forced fumbles.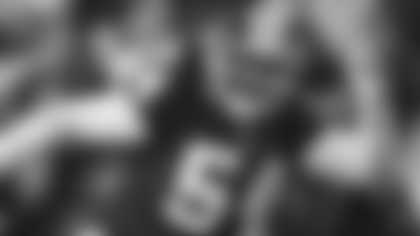 H.B. Blades was a backup at middle and outside linebacker and continued to showcase versatility and toughness.
During Washington's bye in Week 8, Blades underwent arthroscopic knee surgery. It was thought he would miss 1-2 weeks, but he was able to return for the Redskins' next game after the bye.
Blades played in all 16 games and posted 19 tackles as a reserve. He also emerged as a special teams standout, leading kick and punt coverage with 29 tackles.
Chris Wilson was Orakpo's primary backup after he converted to linebacker from defensive end.
Wilson has good speed as a defensive end, so it was a smooth transition even though he did not see extensive playing time on defense.
He played in 16 games and posted 13 tackles and one sack. He also excelled on special teams, recording eight tackles on kick and punt coverage.
Lorenzo Alexanderis making the conversion from defensive line to linebacker this offseason.
Alexander has been the Redskins' "one man gang" the last few years. He has played defensive end, defensive tackle, guard, fullback and even tight end. Now he's a linebacker.
Last season, Alexander saw action in all 16 games--the most playing time of his young career--and recorded 21 tackles, two sacks and one forced fumble.
The Redskins have a young group of linebackers looking to make their mark this offseason.
Robert Henson joined the Redskins as a sixth-round draft pick last year and made the roster coming out of preseason.
He saw limited action, playing in four games mostly on special teams.
Curtis Gatewood and Alvin Bowen were late-season additions to the Redskins' roster last year.
Gatewood was signed by the Redskins off of the Pittsburgh Steelers' practice squad last December. He began his NFL career as an undrafted rookie free agent with the Redskins in 2008. He has also had brief stints with Kansas City, Detroit and Philadelphia.
Bowen is a 2008 fourth-round draft pick of the Buffalo Bills. He spent his rookie season in 2008 on injured reserve with the Buffalo Bills.
Darrel Young was on the Redskins' practice squad for three weeks in September 2009. He was with the club in preseason but was released in final roster cuts.
POSITIONAL ANALYSIS
Lots of changes could be in store at linebacker if the Redskins switch to a 3-4.
For now, versatility is the name of the game--it gives defensive coordinator Jim Haslett more options as he mixes and matches in his scheme.
In a 3-4 or a 4-3, Fletcher would remain an inside linebacker and Orakpo would become a full-time outside linebacker.
McIntosh has the ability to play inside or outside linebacker. A restricted free agent this offseason, he was tendered at the second-round level.
Carter could also be in the mix to play outside linebacker in a 3-4 alignment.
Wilson and Alexander both signed new contracts this offseason. They were restricted free agents entering the offseason.
The Redskins met with free agent linebacker Joey Porter before he signed with the Arizona Cardinals, so it's evident the team considers linebacker a need as the draft approaches.
---
Three NFL Linebackers Eligible for Free Agency
As of March 30, 2010; names listed are in no particular order
-- Akin Ayodele, Miami Dolphins: Ayodele has experience in a 3-4 as an inside linebacker. He has had stints with the Jacksonville Jaguars and Dallas Cowboys. Last year, he started 15 games for Miami and posted 71 tackles.
-- Antonio Pierce, New York Giants: The one-time Redskins middle linebacker is still a free agent after he was released by the Giants in February. He spent the latter part of last season on injured reserve with a neck injury.
-- Steve Octavien, Dallas Cowboys: Octavien had a brief stint with the Redskins in 2008 before emerging as a backup linebacker and special teams contributor in Dallas last year. He is just 25 years old.
Three Linebackers Available In NFL Draft
As of March 30, 2010; names listed are in no particular order
-- Brandon Spikes, Florida: Spikes, a 3-year starter for the Gators, could play inside linebacker in a 3-4 or a 4-3. He had 68 tackles, three sacks and two interceptions as a senior and is the cousin of NFL linebacker Takeo Spikes.
-- Rolando McClain, Alabama: McClain, an inside linebacker, started three years for the Crimson Tide. He logged 105 tackles, four sacks and two interceptions as a senior.
-- Sergio Kindle, Texas: Kindle, 6-3 and 236 pounds, was a teammate of Brian Orakpo at Texas. He could fit best as an outside linebacker in a 3-4. He had 70 tackles, 22 tackles for a loss and 5.5 sacks last year.