Redskins.com breaks down the Redskins' roster position-by-position and identifies potential need areas. Up next: offensive tackles.
When Chris Samuels suffered a neck injury in Week 5 last year, it was a turning point in the Redskins' season--and perhaps for the franchise.
The 6-time Pro Bowl left tackle has been a mainstay along the Redskins' offensive line since 2000 when he was the third overall in the NFL Draft.
Samuels was eventually placed on injured reserve, ending his season. He had started 141 games for the Redskins in the last decade.
Samuels' absence forced the Redskins to shuffle the offensive line. With so many new faces in new places up front, the line struggled with consistency all season long.
The Redskins' ground game finished 27th in the NFL, although it didn't help that both Clinton Portis and Ladell Betts suffered season-ending injuries. Pass protection units yielded 46 sacks, tied for fourth-most in the league.
First it was Stephon Heyer shifting to left tackle and Mike Williams moving in at Heyer's spot at right tackle. (Williams ended the season at guard.)
Heyer played in 16 games last season, starting three at left tackle and 13 at right tackle.
Versatility proved to be a good quality for Heyer, but by season's end it appeared he was more comfortable at right tackle.
On Oct. 20, the Redskins signed free agent lineman Levi Jonesto help solidify left tackle for the remainder of the season.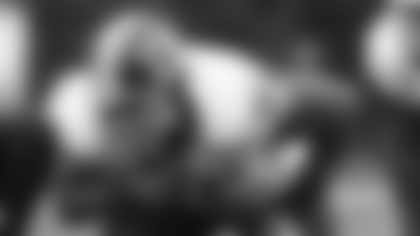 Jones, a 7-year veteran previously with the Cincinnati Bengals, quickly got up to speed on the Redskins' offense.
He made his first start for the Redskins on Nov. 15 and had an impact, helping the offense compile 174 rushing yards in a 27-17 win.
Jones and the offensive line were solid until mid-December, when pass protection units yielded eight sacks in back-to-back games against the New York Giants and Dallas Cowboys.
William Robinson, a second-year lineman, was promoted to the Redskins' roster from the practice squad on Dec. 9.
A developmental prospect, Robinson was forced into action in Week 15 when Heyer was briefly sidelined with an injury against the New York Giants.
Clint Oldenburg joined the Redskins' practice squad on Nov. 2, also as a developmental prospect.
A fifth-round draft pick by the New England Patriots in 2007, Oldenburg has also had stints with the Minnesota Vikings, Denver Broncos, St. Louis Rams and New York Jets.
Positional Analysis
Samuels' status remains uncertain. He has played with spinal stenosis--a narrowing of the spine--since high school and the neck injury aggravated the condition.
Samuels hopes to continue playing, but due to the severity of his injury, he is considering retirement.
Even if Samuels comes back, offensive tackle is a glaring need for the Redskins.
With Samuels turning 33 years old this summer, the team may need to find a left tackle of the future.
By his own account, Heyer had an up and down campaign in 2009. He struggled with a knee injury most of the season and it didn't help his cause that he alternated between left and right tackle.
Heyer is likely to stay as a right tackle. He is scheduled to be a restricted free agent this offseason.
Jones was out of football until he was signed by the Redskins midseason. Playing for his NFL future, he solidified the left tackle position in the second half of the season.
Jones enters the offseason as an unrestricted free agent. He has said that he would welcome a return to the Redskins in 2010.
The Redskins are expected to address the offensive tackle position early and often when free agency and the NFL Draft get underway.
---
Three NFL Offensive Tackles Eligible for Free Agency
As of Feb. 11, 2010; names listed are in no particular order
-- Jeremy Trueblood, Tampa Bay Buccaneers: Trueblood started all 16 games at right tackle the last three seasons for the Buccaneers. Trueblood was a 2006 second-round draft pick by Bruce Allen, then the Buccaneers general manager. If there is no CBA extension by March 5, then he would be a restricted free agent.
-- Marcus McNeil, San Diego Chargers: Since entering the NFL as a second-round draft pick in 2006, McNeil has emerged as one of the league's top left tackles. He has started 62 games since his rookie year and earned Pro Bowl berths in 2006 and 2007. If there is no CBA extension by March 5, then McNeil would be a restricted free agent.
-- Tony Pashos, San Francisco 49ers: Pashos is a 7-year veteran who suffered a fractured shoulder blade last season, playing in just five games for the 49ers. He started 31 games at right tackle for the Jacksonville Jaguars in 2007-08. Pashos is scheduled to be an unrestricted free agent.
Three Offensive Tackles Available In NFL Draft
As of Feb. 11, 2010; names listed are in no particular order
-- Russell Okung, Oklahoma State: The consensus is that Okung is the top-rated offensive tackle available in the NFL Draft. The 6-5, 300-pounder started all four years and was the anchor of the Cowboys' line at left tackle.
-- Bruce Campbell, Maryland: Will Campbell be the latest Maryland lineman to join the Redskins (joining Stephon Heyer and Edwin Williams)? The 6-7, 310-pounder played in 27 games, with 17 starts at left tackle for the Terrapins. He bench pressed 490 pounds last year.
-- Trent Williams, Oklahoma: Williams, 6-5 and 318 pounds, started at right tackle in 2007-08 and replaced Phil Loadholt (now with the Minnesota Vikings) at left tackle in 2009. He is projected to play right tackle in the pros.