Redskins.com breaks down the Redskins' roster position-by-position and identifies potential need areas. Up first: tight ends.
The Redskins appear to be well stocked at tight end, with a two-time Pro Bowler and a young, emerging standout at the position.
Chris Cooley was turning in another strong season last year until Week 7 when he suffered a fractured ankle.
He underwent surgery with the hope that he would be able to return in 4-6 weeks, but he was eventually placed on injured reserve, ending his season.
Cooley was leading the offense in receptions at the time of his injury. He finished with 29 catches for 332 yards and two touchdowns.
Heading into the 2010 season, Cooley is 89 catches behind Redskins great Jerry Smith for most catches by a tight end in franchise history.
Fred Davis, a 2008 second-round draft pick, was Cooley's replacement in the lineup.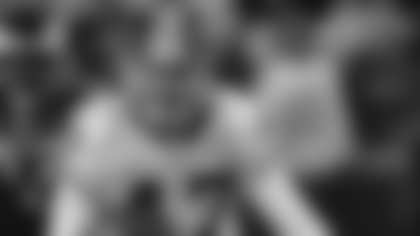 While most teammates took a break from football during the Redskins' bye in Week 8, Davis stayed at Redskins Park and studied film and worked out.
His hard work paid off. He ended up starting 10-of-16 games, recording 48 catches for 509 yards and a team-high six touchdowns.
Todd Yoder continued in a supporting role as a backup tight end.
The 10-year veteran was mostly used as a blocker, but he was effective as a surprise receiver in the red zone.
Yoder caught four passes last season, and three were for touchdowns.
Lee Vickers joined the Redskins' roster in January. An undrafted rookie free agent, he has had NFL stints with the Pittsburgh Steelers, Philadelphia Eagles, Baltimore Ravens and New York Giants.
Vickers has two career receptions, both with the Ravens, for four yards.
Positional Analysis
Tight ends have been an integral part of offenses run by head coach Mike Shanahan and his son Kyle, the offensive coordinator.
During Mike Shanahan's first few seasons in Denver, from 1995-97, he had Shannon Sharpe leading the offense in receptions each year. Kyle Shanahan made a star out of Owen Daniels in Houston the last two years.
With Cooley and Davis on the roster, tight end does not appear to be a need position this offseason.
The question that comes up with Cooley and Davis is how best to use them on the field at the same time.
They both have considerable talent and their presence should create matchup problems for the defense. But there is only one football to go around.
Davis needs to continue to work at his game, particularly in pass blocking at the line of scrimmage. As a receiver, he needs to secure the ball better and shake off tacklers--instead of trying to leap over them--when running downfield.
Yoder enters the offseason as an unrestricted free agent, so his future with the team is uncertain.
Vickers, at 6-6 and 275 pounds, would fit the bill as a blocking tight end. He is trying to find an NFL home.
---
Three NFL Tight Ends Eligible for Free Agency
As of Feb. 9, 2010; names listed are in no particular order
-- Owen Daniels, Houston Texans: Daniels emerged as a productive player in Kyle Shanahan's offense, catching 110 passes and seven TDs the last two years. His 2009 season was cut short due to a knee injury. If there is no CBA extension by March 5, then Daniels would be a restricted free agent.
-- Tony Scheffler, Denver Broncos: Scheffler was a second-round draft pick by Mike Shanahan in 2006. In four NFL seasons, he has 138 receptions and 14 touchdowns. If there is no CBA extension by March 5, then Scheffler would be a restricted free agent.
-- L.J. Smith, Baltimore Ravens: Smith played six seasons in Philadelphia before landing in Baltimore last year. He has struggled with injuries the last two years, but has 233 career receptions and 18 touchdowns.
Three Tight Ends Available In NFL Draft
As of Feb. 9, 2010; names listed are in no particular order
-- Jermaine Gresham, Oklahoma: Gresham did not play in his senior year after undergoing surgery for torn cartilage in his right knee. Playing with quarterback Sam Bradford, he caught 66 passes for 950 yards and 14 TDs as a junior.
-- Anthony McCoy, USC: McCoy took over for Fred Davis at USC and started the last two years. He posted 22 catches for 457 yards and one touchdown last year. His 20.8 yards-per-catch average led all of college football.
-- Rob Gronkowski, Arizona: Gronkowski sat out the 2009 season after undergoing back surgery. He posted 75 catches for 1,197 yards and 16 touchdowns in two seasons at Arizona.