Chris Samuels is emerging as one of the top offensive linemen in Redskins franchise history.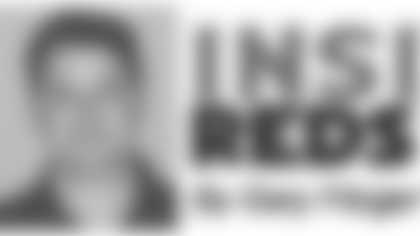 With Samuels's fifth Pro Bowl nod announced this week, he exceeds the four Pro Bowls that Redskins greats Joe Jacoby and Russ Grimm achieved during the 1980s.
Former Redskins center Len Hauss was a six-time Pro Bowler from 1967-72.
Samuels was one of three Redskins voted to the Pro Bowl this year. Chris Cooley earned his first Pro Bowl berth, while Sean Taylor was voted in posthumously.
"It's a blessing," the ever-humble Samuels said of making the Pro Bowl. "It's a hard season and a hard game. It has been kind of rough for us in dealing with everything with Sean [Taylor[ and losing four tough games in a row. It just shows the guys in the league and the coaches respect me."
Samuels, an 8-year veteran, entered the 2007 season unsure how the left side of the line would shake out with the departure of Derrick Dockery.
Todd Wade was the starter in training camp, but he eventually moved to right tackle and the team acquired Pete Kendall in a trade.
The Samuels-Kendall combination proved effective.
"I was worried about the left guard position and Pete Kendall came in and we jelled right away," Samuels said. "I couldn't have done it without him. He's a great player."
The 6-5, 317-pounder has started every game at left tackle this season. He has helped lead a ground game that is ranked 11th in the NFL with an average of 116.7 yards per game.
Cooley, in his fourth season, was happy to be acknowledged as one of the elite tight ends in the league. He has been a steady presence in the passing game, he leads the Redskins with 60 receptions for 711 yards and seven touchdowns.
"There are a lot of great tight ends, especially in the NFC," Cooley said. "Even in our division, there are a lot of good tight ends. It's really cool and an exciting feeling to be elected by everyone that you play with, and players on other teams and coaches."
Asked if he feels like this is his best season, Cooley replied: "I feel like it's been my most consistent year. I think I've done a good job catching the ball and running with it."
Taylor, who passed away on Nov. 27 as a result of a shooting at his home in Miami, was also voted in by coaches, players and fans as a starter. It was Taylor's second Pro Bowl nod.
The NFL is expected to fly Taylor's family to Hawaii for the Pro Bowl, scheduled for Feb. 10.
"I thought it was great as an honor to Sean," head coach Joe Gibbs said. "Obviously, he was off to a great start. It was great to see everyone recognize him that way. It is a real tribute to him. Like I have said, I think Sean was somebody that was made to play football."
Added Samuels: "Sean was big time. He was definitely on pace for a lot of interceptions. He had all of those interceptions right away, early in the season. He had respect. They knew he was a Pro Bowl player."