The Redskins have announced that offensive tackle Chris Samuels has decided to retire after 10 seasons in the NFL.
Samuels will host a press conference at Redskins Park on Thursday, March 4 at 12 noon ET. Stay tuned to Redskins.com for complete coverage.
Samuels, 6-5 and 310 pounds, spent his entire decade-long career with the Redskins after joining the team as the third overall pick in the 2000 NFL Draft. The anchor of the offensive line, Samuels earned six Pro Bowl selections.
His playing career ended in Week 5 last season when he suffered a neck injury in a game against the Carolina Panthers.
Samuels has played with spinal stenosis--a narrowing of the spine--since high school, so any injury to his neck was a concern.
He met with several medical specialists during the last four months to determine whether he could--or should--play again.
"I've been through some good years and some bad years here," Samuels said in mid-January. "I've been through it all. My decision-making will be about my health. If I'm okay to go out and play and there's not a big risk to get permanently injured, then I'll definitely play."
Turns out that the risk was too great.
Samuels was the focal point of a consistent offensive line for the Redskins. He played in 141 regular season games from 2000-09, all starts.
His career really took off in 2004 when the Redskins re-hired offensive line guru Joe Bugel.
Samuels credited Bugel with helping him to reach elite-level status as a left tackle.
"When 'Buges' came in here, I had some bad habits I developed in 2003, and Buges broke them right away in the mini-camps," Samuels said. "I've got to give him credit for a lot of that. He helped me just restore my game basically.
"When 'Buges' got here, he just worked with me. He stayed patient with me and believed in me, and I believed in myself, and things came back."
In March 2005, Samuels signed a contract extension that made him, in his words, "a Redskin for life."
Samuels blocked for a 1,000-yard running back in seven of his 10 professional seasons.
He led the way for six of the top 10 singe-season rushing totals in team history, including Clinton Portis's franchise-best 1,515 yards in 2005.
A native of Mobile, Ala., Samuels attended the University of Alabama where he was recognized as one of the finest offensive linemen in school history.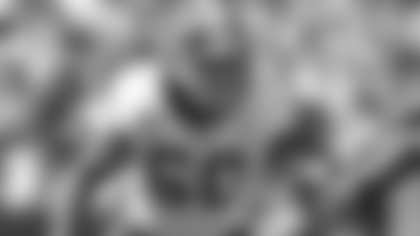 A first-team All-American in his senior season in 1999, Samuels was awarded the Outland Trophy as the nation's top lineman. He did not yield a sack or quarterback pressure in his senior season.
---
Daniel M. Snyder, Washington Redskins Owner
"It has been a pleasure to watch Chris develop over the last 10 years as a player on the field, as well as see his growth as a leader in our community. He has been an All-Pro player and teammate, an outstanding citizen and a good friend. These wonderful qualities will benefit him as he pursues his next professional endeavor. I sincerely appreciate everything that Chris has given to this team and the NFL."
Joe Gibbs, Washington Redskins Head Coach (1981-92, 2004-07)
"Chris was one of the best athletes to play left tackle. He was a critical part of our game plan each week because we could put him out on an island at left tackle and count on him to handle some of the best defensive ends in football without any help. He is a classy guy with great leadership and I just hate to see his playing career end with Redskins."
Joe Bugel, Washington Redskins Offensive Line Coach (1981-89, 2004-09)
"Chris Samuels is an NFL Hall of Fame tackle. He is a great, great football player. He's been to the Pro Bowl six years. He's got everything it takes to be a Hall of Fame football player. He was the kindest person and football player I've ever been around. On and off the field he was outstanding. He was a great leader for us. The guys listened to him, and like I said, he was one of the finest players I had the privilege to coach. He's probably one of the top three tackles that I've ever coached in 32 years. He was very, very smart football-wise, and he was one of the best athletes that I've ever been associated with. Here's what typified Chris Samuels – he was smart, he was tough, he was physical, and he was violent. That makes up a great pro right there. You have to have a great player at that position, especially if you have a right-handed quarterback. I watched him in college and he was every bit as good as I thought he was and he got better and better when he got into the pros. I had the pleasure of coaching him for six years, and he got better and better each year."
Russ Grimm, Washington Redskins Offensive Lineman (1981-91) and Assistant Coach (1992-2000)
"I remember when Chris was coming out of college and we took Mr. Snyder's plane down to work him out. It obviously went well. I remember on the way back Mr. Snyder asked me what stood out about him. I told him the No. 1 thing was that confidence would not be an issue. He was ready to play, an outstanding talent, and a student of the game. He was that way throughout his career and I enjoyed coaching him."
Marty Schottenheimer, Washington Redskins Head Coach (2001)
"I think Chris was probably the most athletic left tackle that I've been around in my career. We had John Alt in Kansas City and he was certainly a terrific athlete, as well, but as a left tackle I thought Chris had everything that it took to play at the highest level, which was evident by his performance. He was very competitive. He had excellent leadership ability, particularly along that offensive line unit. The injuries obviously have been the issue that he's had to deal with, particularly over the last couple of years, and that's unfortunate, but that notwithstanding, I still think he's as good a left tackle as I've ever seen."
Norv Turner, Washington Redskins Head Coach (1994-2000)
"From the very beginning…going into Alabama and working him out, having lunch with him, it was obvious the type of person he was. When he came in, he was such a good player. He was ready to play. It's hard to be a starter at left tackle at anytime, much less a rookie. He was just an impressive guy, and really made a difference on that football team."
Joe Pendry, Washington Redskins Offensive Line Coach (2001)
"Chris was a very talented young player who had a lot of pride in his performance and wanted to be as good as he could be on Sunday afternoon and he worked to do that. He was a fun-loving guy, great guy, good guy to have in meetings. He was an extremely hard worker on the field and a great guy off the field. He was such a hard worker he was a leader by example. He was very enjoyable to be around. The good Lord blessed him with a lot of ability and he worked extremely hard to get everything he could out of that ability."
Mike Dubose, University of Alabama Head Coach (1997-2000)
"He was just a tremendous leader on and off the football field and if you talk to his mom and dad, you understand why Chris is such an outstanding person, not just a football player, but an outstanding person. Obviously, for our program at the University of Alabama, he raised the standards for offensive linemen. He was just a complete package as a player, as a person and as a student. You just couldn't ask for better. "The thing that jumps out is that he is probably the best offensive tackle that I've ever had the opportunity to be around as a coach or watch play. I thought he was a great, great football player; one of those special types of offensive linemen who probably could have went over and been very successful as a defensive linemen – just a big, athletic guy with tremendous work ethic.
Ladell Betts, Washington Redskins Running Back (2002-present)
"I definitely had the luxury of playing with one of the better offensive tackles in the game. Chris played 10 years, and I think as an organization the Redskins can look back and say they definitely got it right. When you take a guy No. 3 overall, he lived up to every expectation, all of the pressure, was perennial Pro Bowler and a 10-year starter. What more can you ask for? "Chris has a ton of personality. I think anybody that knows him knows he has a lot of charisma, a lot of character, is a good guy in the locker room and a leader in his own respective room as far as offensive linemen. He brought a lot of fun and a lot of passion to the game.
Mark Brunell, Washington Redskins Quarterback (2004-07)
"Chris is a tremendous person as well. He is a good guy in the community, who is all about giving and helping out others. That shows a lot about his character. He will be missed. We will miss his leadership, his play that helped us on the field and what he did off the field."
Jason Campbell, Washington Redskins Quarterback (2005-present)
"What I will remember most about Chris is him playing through pain when he was hurt. He didn't complain, he would just get out there on Sundays and give 100 percent to try to help us win. I knew when he was on my blind side, I never had to worry about anything. He would do everything he could to keep the guys off of me and he did just that. We could be playing against some of the most highly-touted pass rushers in the league, but I didn't have a worry if he was in there. He was going to do his job. "Chris is one of the toughest competitors I've ever played with. He was a leader on and off the field, and certainly in my estimation one of the best Redskins' linemen in team history. He was a true professional."
Rock Cartwright, Washington Redskins Running Back (2002-present)
"I hate to see anybody have to call it quits due to an injury, but I think Chris had a great career. I enjoyed playing with him and he has always been a great leader in the locker room. He was somebody I followed. I will definitely miss him, but I wish him the best in retirement. "I know he took pride in his work and he always worked real hard. When you got a guy who has a lot of pride and wants to be successful, it's kind of hard to stop him. He was a great leader and guys looked up to him. He was always honest with guys and that is what you want from a teammate. We'll definitely miss that in the locker room."
Stephen Davis, Washington Redskins Running Back (1996-2002)
"Chris always came ready to play. He was a great guy who played with a lot of enthusiasm. When you ran behind Chris Samuels, you knew you were going to get four-plus yards a carry. He was the type of player when you were on the ground – he would come and pick you up off the ground, and that is always good for a running back to see one of your linemen running down the field to help you up. That always meant a lot to me. I remember when we were 0-5 in 2001 with (Head Coach) Marty Schottenheimer and then we won five straight games. We had a picture on the cover of Sports Illustrated and he was my lead blocker on the cover. The picture says a lot about him and the type of player and leader he was on the field. He is a guy who also led the offensive line and was the lead blocker for the running backs. When you have a guy like that – with his background coming from Alabama – he is great for an organization and for the team. He was a great friend to play with on the field with and the primary reason I was able to have those 1,000-yard rushing seasons with the Redskins."
Derrick Dockery, Washington Redskins Guard (2003-06, 09-present)
"It has been a privilege to have had the opportunity to play along side not only a friend, but one of the greatest tackles to play the game. Chris has impacted my career immensely through his demonstrated performance on and off the field. He has made me a better player and I am grateful for it. His leadership and presence will definitely be missed."
Pete Kendall, Washington Redskins Guard (2007-08)
"Chris was a heck of a football player. He was blessed with a lot of talent, worked very hard, and had a tremendous career because of it."
Casey Rabach, Washington Redskins Center (2005-present)
"Along with Jonathan Ogden, Chris Samuels was one of the two best offensive linemen I ever played with. When he played, it was a different game. He meant a lot to this team, not just the offensive linemen, but the team. I think his biggest strength was that he was a tremendous athlete, he really was. The fact that he tried to play each and every play with the correct technique, he was just a guy you could always count on getting the job done. His career was cut short by injury, but he definitely went out on top of his game and deserves all the accolades he will garner once retired."
Mike Sellers, Washington Redskins Fullback (2004-present)
"Chris is a guy that always came to work, and I had the pleasure of being one of the first people to know him and stick around him for all this time. He's a hard act to follow. You come in here playing that left tackle position, you better bring your game because Chris made it look so easy. He's up there with the best obviously, and he should go to the Hall of Fame eventually. It's just been a pleasure. I'm sad to see him go."
Randy Thomas, Washington Redskins Guard (2003-present)
"Chris Samuels was a leader. He showed by example. We've been through a lot together – of course coaches and wins and losses. We didn't get a ring together, but we did get something that was priceless, and that's friendship. That was built all these years being here with him. He's retired, but he's living through me. I bet you he's going to want me to accomplish that ring thing for him. He's got enough money he can buy one. It's a sad day. It's very smart for him to think about his life and one day his family. If there's something you got to do, then you got to do it. But, we're going to miss him. I'm going to miss his laugh, his fat, his body that he claims is more defensive-back type, but it's more messy. If there's one thing I can say to Chris it's that I appreciate you, and all the laughs, and especially the cake I smashed in your face on your birthday. That was classic. Classic. He's a legacy. A future Hall of Famer in my eyes. First ballot. He should go in the 'Worst body at left tackle ever to play the game,' but probably one of the best."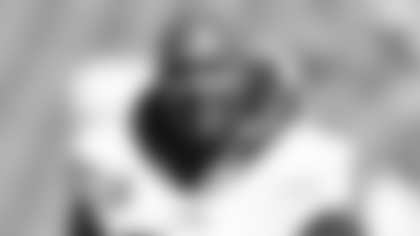 James Thrash, Washington Redskins Wide Receiver (1997-00, 2004-08)
"I remember when Chris came in, being a young guy, a first-round draft pick and having everybody on the outside having these high expectations for him. I remember meeting him and he was just a genuine, nice guy and someone that was really humble, which was surprising especially as a first-round draft pick when a lot of guys come in and they're kind of arrogant. I'll never forget the first year of training camp for him. He held out for a number of weeks, but the first day he came back, Norv Turner put him up and they did a one-on-one drill with another guy. Chris just pretty much crushed the defensive end, and it was awesome to see that. He really impressed me with his whole work ethic, and for all the years that he's played, he's approached training camp as if he had to make the team. I thought that was very impressive how he prepared himself and he was just a constant pro. That's why he had the nickname, 'Big Pro.' A great friend and a great brother as well."
Sonny Jurgensen, Washington Redskins Quarterback (1964-74) and Broadcaster (1981-present)
"He was an exceptional player that had the perfect body for an offensive tackle. He had good fundamentals, but he had great legs. His legs really helped him as far as having the body that he had to play left tackle. He played it as well as anybody played it for the Redskins for a long time. "In dealing with the press and being off the field, he was as good as he was on the field because he had a good head on his shoulders. He knew what the game was all about. He was special. I hate to see him retire."
Rick 'Doc' Walker, Washington Redskins Tight End (1980-85) and Broadcaster (2008-present)
"The thing about Chris that stood out from day one was his maturity level. I never saw him really as a rookie. He didn't show any of the immaturity that usually is tagged along with the top draft choices. He went right to work, taking on the best defensive player every week. I thought he was underrated, underappreciated in this town, but yet, the league understood his value and people who played against him understood his value. You ask any of those quarterbacks what life was like when he wasn't in the game and they will also echo his value. The guy, to me, barring injury was headed towards that Hall of Fame area because he was just so professional, so efficient, and played hurt as well as anybody I've seen, and really deserves everything that he gets."
Trent Cole, Philadelphia Eagles Defensive End (2005-Present)
"I thought he was a great athlete, first of all. He was the prototype offensive lineman with the size and the height and then he moved his feet very well. Anytime we went up against the Redskins, I knew there was going to be problem on my hands and I was in for a battle all day long. He was one of the best tackles I have ever faced in the NFL. I really hope someday he can become a coach or a mentor to young lineman. He was very well respected around the league."
Hugh Douglas, NFL Defensive End (1995-2004)
"He was one of my worst nightmares as a player. He was one of the toughest and most physical players I ever went up against. When you think of an offensive lineman and the guy you want to pattern yourself after, in terms of aggressiveness, technique and overall athletic ability, he's the first one I would consider."
Simeon Rice, NFL Defensive End (1996-2007)
"Chris is a tenacious competitor that always came to play, always brought his game, and brought a lot of passion to the game. When he hit the field he wanted to show that he was one of the best offensive tackles out there in the game. He was one of the better offensive linemen that I faced in terms of performing, in terms of what he brought, his intensity, and playing at a high level. He always competed well, he was strong, he was balanced, he was really talented and those things allowed him to be able to perform at a high, high level. When you played against guys like that, you're playing against one of the best offensive tackles in the league, it would always, quite naturally, bring out the best in you. No matter what occurred, no matter what happened, you knew you were in for a fight. "From a defensive position, defensive-minded guys, if you're going into the game against a guy like Chris Samuels you better know that he's going to bring his best. You better know that or you're going to be embarrassed."
Osi Umenyiora, New York Giants Defensive End (2003-present)
"Chris was all-around the best and most physical offensive tackle I've faced. Every time you played him it was a war. He is also the only tackle I've seen over the last couple of years who played the entire game with no help from additional blockers. They let him go one-on-one with the game's best pass rushers and he often came out on top. It was an honor to have competed against him and I'm sure he will be equally successful at whatever he does next."
DeMarcus Ware, Dallas Cowboys Linebacker (2005-present)
"Chris is one of the most challenging players I have faced on the field, but off the field, he is one of the most humble and classy guys. He is a fierce competitor and the NFL is not only losing a great player, but a great person as well as one of my greatest friends."