Chris Samuels says he feels fine. He looks the same as he did a week ago.
He hopes both statements can be borne out medically.
The six-time Pro Bowl left tackle won't play Sunday for the Redskins when they meet the Kansas City Chiefs at FedExField. He suffered a stinger – a neck injury – on the Redskins' second offensive play against the Carolina Panthers, did not return to the game and was declared out of the next one by head coach Jim Zorn on Monday.
Now the question is not only when he might return but if.
Samuels suffers from spinal stenosis, a narrowing of the spinal canal. He has been aware of the condition since high school and that's the reason he wears the big roll collar around his neck and the huge shoulder pads during games.
He will see his doctor again next Tuesday. He will pray before, during and after that meeting. And then?
"The good Lord will give me my answer on what I need to do," Samuels said Wednesday in the locker room. "I'm just working hard and staying optimistic."
Samuels said a "kind of an electric feeling" shot through him when he took a shot to the head from a Carolina defensive lineman who bullrushed him on the play that resulted in a touchdown pass from Jason Campbell to Clinton Portis for a 7-0 Washington lead. He left the field and did not return to the game, which the Panthers won 20-17.
"I've had mild episodes before but nothing serious," Samuels said. "I was able to play through that. But this one was pretty bad. So I pretty much sat out the game."
A narrowed spinal canal can cause pressure on the spinal cord and create weakness in the upper body. Depending on its severity, players may be advised to not play for an extended period or ever again. In 2007, Seattle Seahawks fullback Mack Strong retired early in October after suffering a stinger – just as Samuels did – in a game.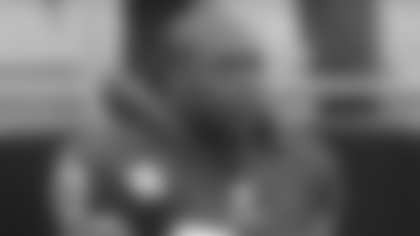 A spine specialist told him he'd heal if he stopped playing and he did so – immediately. That ended a 15-year career of 201 games.
Hall of Fame receiver Michael Irvin's days with the Dallas Cowboys ended in 1999 after a neck injury and a similar diagnosis. The injury revealed the stenosis and Irvin announced did not play again that season, retiring the following July.
In 1986, a neck injury ended the playing days of Green Bay Packers cornerback Tim Lewis, who also suffered from stenosis. He is coaching the Seahawks' defensive backs.
Asked if it were possible his season was over, Samuels simply said, "I don't think so."
But he doesn't know so. Caution now is key.
"You have to take it all into account," he said. "Any time you're dealing with the spine, you've got to be safe about it."
Samuels, 32, is in his 10th season with the Redskins. A No. 1 pick, and the third player chosen overall in 2000, he became an immediate starter and has started every game he has played in (141). He has missed only eight games. His 2008 season ended early with a triceps tear that kept him out for the final month and he also has been nursing a sore knee since training camp.
In his absence, the Redskins must reconfigure their offensive line. Stephon Heyer moves from the right side to the left to replace him, Mike Williams moves from right guard (where he played one game) to right tackle and Will Montgomery starts at right guard against the Chiefs.
The medical meeting next week, Samuels said, will allow him to find out "the ups and downs" of playing.
"I'm just staying positive right now," he said.
When Strong retired, he called the decision "a no-brainer" and said "there's more to life than football. Samuels can only hope that's not an issue the doctor puts in front of him.
They will talk. He will pray. Time will tell.
---
Larry Weisman covered professional football for USA TODAY for 25 years and now joins the Redskins Broadcast Network and Redskins.com to bring his unique viewpoint and experience to Redskins fans. Go to Redskins.com for the Redskins Blitz column and NFL Blitz on Friday. Larry also appears on The Jim Zorn Show on WRC-TV on Saturday night, on Redskins Nation, airing twice nightly on Comcast SportsNet, and on ESPN 980 AM radio, all in the Washington, D.C. area. Read his blog at redskinsrule.com and follow him on Twitter.com/LarryWeisman.